Demolition shows progress in Portsmouth North End development
Statey Bar & Grill comes down to make way for city's first micro housing units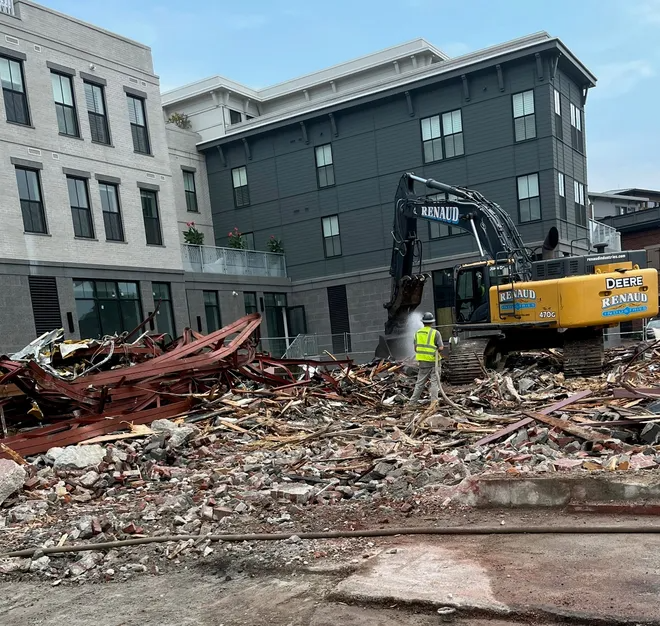 Workers on Friday began demolishing the former site of the Statey Bar & Grill off Deer Street in the city's rapidly developing North End.
The building that once housed the popular restaurant and bar seemed to come down quickly, as a small group of people sat and watched, and passersby stopped briefly to glance at the demolition crew as they worked.
The site at 238 Deer Street is being converted into a housing development featuring 21 market-rate micro units of 500 square feet or less.
The property is being developed by 238 Deer Street LLC. Restaurateur Eli Sokorelis is the principal of the company.
The building being razed on Friday will be replaced with a new four-story building with micro units on the second, third and penthouse levels, and retail space on the ground floor.
Before it became the Statey, the same building was the headquarters of VFW Post 168. Its members agreed to sell the property to Sokorelis in 2017.
Asked about the demolition on Friday, Mayor Deaglan McEachern said, "I'm happy that the Statey lives on."
In terms of the new housing on-site, McEachern said he welcomes that, and hopes "that the micro units will rent lower than what a typical apartment would cost."
McEachern walks by the site every day and said whenever there's change like the razing of the former Statey, it always causes a mixture of feelings.
When he thinks about the Statey and VFW post being there, he feels some sadness, but hopes the new project will offer housing for Portsmouth residents.
"The character of Portsmouth is our people, and there's going to be new people living there," McEachern said.
"I hope when we look back this will be seen as a positive step for Portsmouth," McEachern said.
The project is moving forward after the Planning Board granted a conditional use permit (CUP)  for the redevelopment to allow no on-site parking.
The site is located directly across the street from the Foundry Place Garage, the city's second municipal parking garage.
Attorney Sharon Somers, who represented the developers at the May Planning Board meeting, said receiving the parking CUP was the "last step required before construction can begin."
This article is being shared by partners in The Granite State News Collaborative. For more information, visit collaborativenh.org.