Demise of Keene kitchen incubator leads to a successor
Meredith firm seeks to open Genuine Local space by December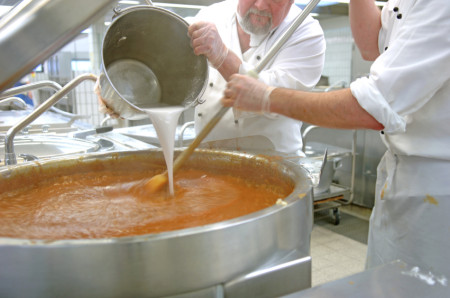 With news of the Oct. 1 closing of Neighbor Made, a kitchen incubator for specialty food manufacturers in Keene, barbecue sauce and rub maker The Discerning Palate plans to fill the gap with its own small business food incubator in Meredith.
Starting Dec. 1, The Discerning Palate will open Genuine Local, which will have its own kitchen with equipment available for rent to small "foodpreneurs," while also serving as a place to help them start and expand their business, for instance, buying ingredients collectively, in bulk.
"Part of what Genuine Local is all about is providing assistance to smaller specialty food producers and helping them learn the very complicated rules associated with the food industry," says The Discerning Palate's co-owner, Mary Macdonald.
For instance, once a recipe is developed, before it can be labeled and sold, it must be submitted to the University of Maine for testing, to make sure it meets federal regulations and quality requirements. (The other closest facility is Cornell University in New York.)
She says the process is complicated, but, taken step by step, is manageable and affordable. The turnaround is quick, too, usually a couple of weeks, though it depends on staff availability.
"We had the benefit of working with Neighbor Made, and that's a big part of the reason why we want to do this," says Macdonald. "It's really about doing what we can to pay it forward."
Capital-intensive
The idea for Macdonald's business began when her kids gave their father a meat smoker for Father's Day. They joined the national Kansas City Barbecue Society and started entering competitions, developing barbecue sauces in the process. That developed into a catering business in 2008, which led to people asking where they could buy the Macdonalds' sauces.
In 2011, as a part-time gig, they developed Swineheart's Signature Sauces, Our Local Table Gourmet Condiments and Old's Cool Wild Game Sauces, which really took off in 2014, says Macdonald.
The three brands are sold in throughout New England and New York state.
Macdonald says the original plan was for Genuine Local and Keene-based Neighbor Made to operate together, in collaboration, providing greater distribution opportunities across the state. However, after changing hands early this summer, Neighbor Made announced it would close its doors Oct. 1.
Justin Somma, marketing manager at Neighbor Made, told NH Business Review the decision was made due to financial reasons. "The business is capital-intensive and, despite a recent investment, it's just not able to sustainably operate."
He adds: "It's tough to operate a business under this model," due to high operating costs, says Somma. The model does better in areas with larger economies.
As part of their shutdown, Somma is contacting other area kitchens – for instance, in Dover and Portsmouth – to make sure there is no disruption for Neighbor Made's participating food businesses.
Genuine Local is moving forward, with an online fundraiser with a goal of $18,500 to purchase stand mixers, fully jacketed steam kettles and commercial refrigeration to allow for greater production and more demand. As a member of NH Made, Macdonald surveyed members to find out what sort of equipment would be needed, and these were the most common requests.
"Now, with Neighbor Made closing, we're trying to accelerate our efforts to get the facility up and running," says Macdonald. "If you look geographically, the central and the northern part of the state don't have ready access to a facility like this so it will be filling a need to that regard."
With help from Members First Credit Union, every avenue is being explored to establish a facility that can provide the same type of support and a similar range of services to small food startups and local farmers seeking to create value added products. This includes creating a crowdfunding campaign to assist with acquisition of additional equipment.