DEKA's robotic prosthetic arm ready for commercial use
FDA approval clears way for production later this year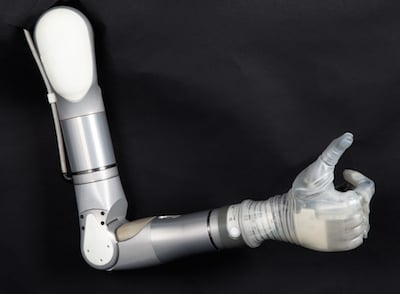 The LUKE robotic arm developed by Manchester-based DEKA Research & Development is set to be marketed commercially this year after receiving approval from the U.S. Food and Drug Administration as the first prosthetic in the newly formed product category of integrated prosthetic arms.
The arm, which has been tested by almost 100 amputees for more than a collective 10,000 hours of use, will be marketed by Mobius Bionics LLC. In a release, it said the
arm offers flexibility, strength and dexterity "to provide greater independence for people with forearm through shoulder-level amputations."
Features include a powered shoulder, which gives patients the capability to reach behind the back and overhead, a powered elbow with enough strength to lift a bag of groceries from the floor onto a table, and a powered, multi-movement wrist with which patients can lift a glass of water overhead or at waist level without spilling.
The hand itself features four independent motors which offers the flexibility to hold a range of objects, such as a delicate egg or a heavy gallon of milk without the fear of the item slipping or breaking, the announcement explained. A grip-force sensor can detect how firmly the hand is grasping something and can communicate that information to the patient.
The arm can be controlled in different ways which include electromyographic (EMG) electrodes and foot mounted inertial measurement sensors. The announcement also noted that the arm does have some protection from water and dust, making it easier to use in different environments.
"We developed the LUKE arm to change the game for amputees, creating an innovative, integrated system that offers greater functionality and independence to our wounded warriors and other amputees," said Dean Kamen, president of DEKA.
The LUKE arm was developed through the Defense Advanced Research Project Agency's Revolutionizing Prosthetics program. Additional funding came from the U.S. Army Medical Research and Materiel Command through the Army Research Office.
DEKA worked with DARPA and the Department of Veterans Affairs Rehabilitation Research and Development Service to conduct studies to best understand the intersection of biology and engineering, in an effort to advance prosthetic technologies.
"Working one-on-one with the amputees and learning what they liked and didn't like about using prostheses proved invaluable to our product development process," Kamen expressed in the announcement. "Thanks to their insight and input, we have been able to construct the most advanced FDA-cleared design that the world of upper-limb prosthetics has seen to date."
The LUKE arm will be manufactured by Universal Instruments Corp. in Binghamton, N.Y., with a launch currently set for late 2016.