Deborah Merrill-Sands, 2019 Outstanding Woman in Business
Dean of Peter T. Paul College at the University of New Hampshire in Durham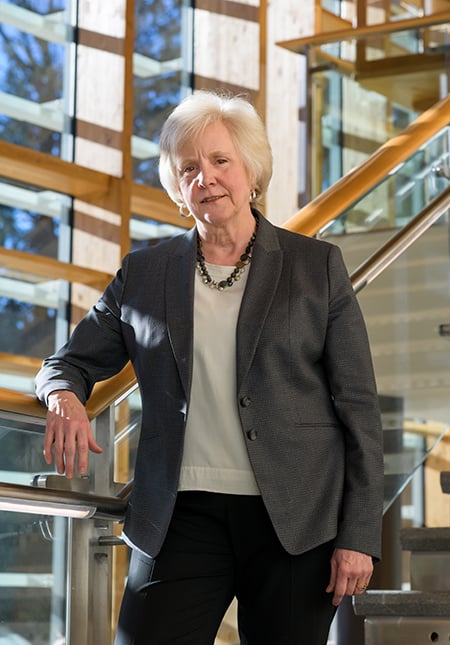 In the words of her colleagues, Deborah Merrill-Sands is a visionary who is focused on empowering every member of her organization as well as serving as an approachable mentor to students.
When she joined the University of New Hampshire in 2015, Merrill-Sands adhered to the skills she developed as an anthropologist and ethnographer: listen deeply and intentionally, learn to engage different views and consider your own implicit assumptions.
This course has paid off in less than three years. With staff motivated behind the goal of gaining national recognition and improving the quality of the college's offerings, Paul College now has record enrollments, secured funding for scholarships and built experiential learning programs that help students become job-ready.
For women entering the business world, though, there still remain challenges.
Devoting much of her career to developing methodology to bring about gender equity in organizations, Merrill-Sands is a renowned expert on gender dynamics in the workplace. This valuable insight is something she shares regularly with up-and-coming women who can now strategically manage themselves for success.
Q. How can companies and organizations achieve gender equity?
A. There are a couple of things we know today that are really important. The first is any organization that wants to see gender equity has to recognize it's not there. It's not just an issue that there aren't women in the profession, but how do you attract women who have the talent you're looking for? The second thing is we've gotten much more aware of what people call implicit bias and the unconscious bias we all carry, and once you understand those, you're much more open to thinking about how your behavior is affecting the men and women around you, perhaps in different ways. That's a big thing if we're going to get change now because we've changed policies and we've done anti-discrimination, but it's really managerial behavior that's shaped the culture of women.
Q. How do you practice good management?
A. Two or three times a day, I get up and walk around the building, which is old management advice, but you're visible; you're not hiding in your office on the third floor. It's amazing the spontaneous conversations you can have walking in the hallways or dropping by peoples' offices. And people want to know you can laugh with them and you're connected and you appreciate their work. You can't have a successful and happy organization if people don't feel valued and seen.
Q. Are there any particular challenges you've faced in your career?
A. Not so much a particular challenge, but if you look at my career, it's a zigzag — it's not a linear progression. I think I've had a lot of interesting opportunities and I've been in a position where I've been able to choose organizations aligned with my values. So that makes a really big difference that mitigates a lot of problems. At the same time, my first job was a postdoc at a research institute in Holland and I was the youngest and the only woman in that role there. I learned a lot in that process — how do you position yourself as a woman and how do you build alliances. In those days, there was a lot more blatant sexism in organizations. I wouldn't say it was a significant challenge, but it was a learning opportunity and I became more attentive and thoughtful about how gender affects women and men's careers.
Q. What advice do you have for young women just starting their careers?
A. The first is to recognize that competence and really high levels of performance are not enough for you to get ahead in an organization. You need to lift up your head, you need to have a voice and, in an appropriate way, share your accomplishments. You need to build a network of allies at the peer level and above you so you have sponsors who can promote you informally within the organization. I often find high-level women, but unless they work on the social side and the political side, they won't move ahead in their careers as quickly.
I work with students who are interested in this topic — building on Sheryl Sandberg's "Lean In" book, I help them understand how gender dynamics play out in organizations and how you can equip yourself to manage those versus have them just act on you. Obviously you don't want to discourage women by saying there are still challenges in the workplace, but at the same time want them to be savvy and strategic in managing themselves and their careers. You can't just keep your head down and assume people will recognize your talents. You need to position yourself and feel comfortable talking about your accomplishments.