Dartmouth's tech experience
At DALI Lab, students solve 'real world problems'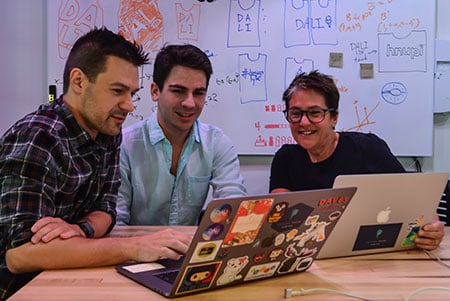 Dartmouth entrepreneurs typically are introduced to the DALI Lab through "The Pitch," a startup competition jointly sponsored by DALI and the Dartmouth Entrepreneurial Network that awards cash prizes and technical assistance to winners.
DALI — an acronym for Digital Arts, Leadership and Innovation — provides coding and design services to the winners, while DEN helps students develop their business venture.
Terren Klein and his startup, Pulse, didn't win The Pitch, but through the process he became familiar with the resources on Dartmouth's campus that have helped him pursue the full potential of his idea and connected him to the larger entrepreneurial ecosystem in the state.
After The Pitch, Klein followed up with the Office of the President at Dartmouth to explain his idea. Colleges currently pay for software to survey students about events and courses, but Klein wanted to build a platform that generated a reliable source of public opinion for colleges by rewarding students for their participation. The idea resonated and discussions led him to approach different stakeholders in the Hanover community, developing relationships with local businesses where students could redeem points earned by taking surveys. It also provided Klein with his first investment, a DEN Founders Grant — and there entered DALI.
Developing an idea
Powered by 50 students who are selected through a competitive application process, DALI provides an extracurricular experience for students to learn coding and design through applying it to approximately 10 projects each term. Projects can be introduced by faculty members, students or businesses that contract with the lab.
DALI has developed a wide range of technology solutions, from a tool to illustrate a professor's research on how proteins work together to an online game that matches students to jobs and internships for New Hampshire-based startup Vocate, to a 360-degree virtual reality system for NASA's National Space Biomedical Research Institute to provide a psychological escape for individuals in long-duration space flight or working in the Artic.
Lorie Loeb (left) and Tim Tregubov (right), the co-founders of the DALI Lab at Dartmouth College, interview Natalie Jung for a position. (Photo by D.F. Dascenzo)
DALI is currently working with the Deloitte Neuroscience Institute in Germany to build out a website with eye-tracking and mobile-augmented reality applications to understand consumer responses to pricing and purchasing preferences.
"We're looking for a sweet spot that combines the things that students do best, so it has to be a learning opportunity — first and foremost we're providing an educational opportunity — and as part of that educational opportunity, they're also getting a chance to work on real-world problems," said Lorie Loeb, executive director and co-founder of DALI and a research professor in computer science at Dartmouth. "It's not a paid-for-hire, it isn't 'build me this button' or 'get me this thing,' it has to have enough there that the students can get invested in it and put their time in and feel like they have some ownership over it."
While DALI may seem exclusive, with a 20 percent acceptance rate for student employees, "there are lots of ways we invite people who want to learn more," said Tim Tregubov, technical director and co-founder of DALI.
On Mondays, DALI, which is located on the basement floor of Sudikoff Lab, welcomes the public to see the space during open hours from 6 to 9 p.m. DALI students also host coding, mobile app development and design tool workshops at the beginner and advanced levels that are often well attended by the Dartmouth and surrounding community.
And at the end of each term, DALI holds a demo day, when the community can interact with some of the projects it has worked on.
"We owe a large part of our success to the DALI Lab," said Klein. "They provided us with the developers and designers we needed to build our first viable product. After working with them for a year, I'm convinced we have the best developers in the school working on Pulse."
Entry point
Klein met his co-founder and lead developer Robin Jayaswal while working with DALI. Jayaswal was one of five students assigned to the Pulse project, led by Klein.
Terren Klein with Pulse co-founder and lead developer Robin Jayaswal, who he met through the DALI Lab. (Courtesy photo)
The result is a platform that makes survey results accessible to student users through an interactive tool, breaking down data into a variety of demographics.
"Working on a computer science lab in the classroom with the stakes being what grade you get on the assignment is not comparable to working on a project that 90 percent of campus is actively using," said Klein. "I think it's a great environment to learn how to be a great developer, how to be an entrepreneur."
In addition to working with DALI, Klein received one-on-one mentorship through DEN, led by Jamie Coughlin, director of entrepreneurship at Dartmouth College and director of the DEN Innovation Center. The former CEO of the largest incubator in the state — the abi Innovation Hub, now rebranded as Alpha Loft — Coughlin has led renewed efforts to encourage entrepreneurship at Dartmouth and connect with resources throughout the state.
"As it relates to students, the DEN has evolved primarily in its support of the full spectrum of entrepreneurship, starting with its educational and experiential program offerings, to ideation, to the incubation, funding and growth of new ventures," said Coughlin.
Coughlin said DEN partnered with DALI on The Pitch because "we felt the program served as a great entry point for Dartmouth entrepreneurs who would benefit from a mechanism that helped translate an idea in one's head to something that was well thought out and presentable."
DEN also saw that many Dartmouth entrepreneurs were in need of software development support to realize the building of their idea, said Coughlin.
"A successful entrepreneurial ecosystem invests in the 'builder' side of the ecosystem and the partnership with the DALI Lab represented that," he said.
It was through DEN that Klein attended a student trip to meet with Dartmouth alumni on the West Coast, including Jeffrey Blackburn, senior vice president of business development at Amazon, and Jeff Crow, managing partner of Northwest Ventures, one of the largest venture capital firms in Seattle.
"Being able to hear entrepreneurs talk about the struggles they faced with the backdrop of where they're at now, was exactly what I needed to hear at the time," said Klein.
Pulse CEO Terren Klein (left) and DALI Lab team members Ahsan Azim (seated), Ben Packer (back),
Jessie Anderson and Kyle Dotterrer gather around a computer at the DALI Lab.
(Photo by Robert Gill)
DEN also informed Klein of Accelerate NH, a 14-week accelerator program that concluded with Pulse winning a $100,000 investment from the Millworks Fund, a $1.8 million public-private partnership fund consisting of 40 individual investors and the NH Business Finance Authority.
The Millworks Fund investment includes weekly meetings with entrepreneurs like Jeremy Hitchcock, who was CEO of Dyn, and Matt Rightmire, managing director of Borealis Ventures. In addition, said Klein, Mark Kaplan and Joshua Cyr of Alpha Tech "have been available 24/7 with round-the-clock advice and still provide that resource for me even after I completed the program."
Klein's goal is to run Pulse at each Ivy League campus this fall, using the results to close contracts with the universities.
Klein has used some of his investment to hire a developer in Japan — a "well-thought-out decision" he said. He plans to stay in Hanover and eventually hire a local developer.
"Being exposed to the New Hampshire ecosystem through Alpha Loft, through Millworks, I totally buy into the mission of trying to build up a startup ecosystem in New Hampshire," said Klein, who is not interested in moving to California or to a major city – such as New York, where he is from. "I want to show people that it is possible to grow a large-scale business in New Hampshire."