Cutting costs, improving efficiency focus of NHBR Health Care Forum
Panelists grapple with tackling the economics of health care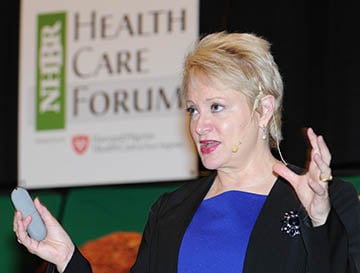 What's the answer to keeping health care costs in check for the individual, business owner and country as whole?
Preventive care, said health and health policy thought leader and journalist Susan Dentzer, a senior policy adviser at the Robert Wood Johnson Foundation and guest speaker at NHBR's Health Care Forum held on Thursday at the Grappone Center in Concord.
Surveying health risks among the population and encouraging social programs that promote healthy activities are two important steps the country is undertaking to decrease health care costs, said Dentzer, who explained better quality health care will not alone solve Americans' health issues.
Genetic predisposition, environmental exposure and social standing all influence one's health more than the health care he or she receives.
Yet medical malpractice remains another issue that must be resolved, becoming more apparent with the glaring statistics Dentzer shared.
About 50 times a week a doctor in the U.S. operates on the wrong side of a person's body or the wrong person altogether. And only 10 to 20 percent of critical decisions are based on evidence. The result of this carelessness is 160,000 deaths a year – in 2011 it caused $25 to $45 billion in wasteful spending.
Decreasing incidents like these requires more effort on the part of already busy doctors and their staff. Dentzer cited the example of Cincinnati Children's Hospital, where employees huddle each morning to go over problems in care delivery and how to improve it.
Among its many other features, the Affordable Care Act created a national standard of quality, with the first goal of "reducing harm caused by delivery of care."
Four new insurers will enter the New Hampshire marketplace in 2015 – Harvard Pilgrim, Minuteman Health, Maine Community Health and Time Insurance Company/Assurant Health – joining the previous sole insurer, Anthem.
And all New England states now have an online all-payer claims database where prices for procedures are listed.
"This enables people to be price-sensitive and shop around," said Dentzer. "We have it in a much greater degree than we did in the past."
Dentzer also pointed out the promise that technology holds in reducing the cost of delivering health care.
For instance, as telecommunication and digital devices mature, she said, eventually a pregnant woman could use a portable ultrasound device to beam images to her doctor, relying on just two to three visits during her whole pregnancy, if there are no complications. Telemedicine is predicted to help the population get by with 20 to 30 percent fewer physicians.
"Health care is really going to be transformed," Dentzer said.
'Individual responsibility'
The cost burden of health insurance for small businesses was another main topic discussed at the NHBR forum.
Karen Hicks, project manager for Covering New Hampshire, revealed survey results from over 350 businesses on how they determine their health care decisions. (See related story.)
A panel composed of Dr. Greg Baxter, chief medical officer of Elliot Health System, attorney Mark McCue of Hinckley Allen, Beth Roberts, senior vice president of regional markets and vice president of New Hampshire for Harvard Pilgrim, Rob Graybill, CEO of Compass Healthcare Advisers, and Scott Lawson president of The Scott Lawson Group, tackled issues ranging from consolidation of hospitals and how care is delivered to efforts to control costs.
Panelists discussed how businesses have considered passing on health care costs to employees, either giving them a stipend to find insurance on the marketplace or requiring larger contributions from unhealthy employees.
"My forecast for 2015 is individual market prices will be lower," said Roberts. "Small businesses are considering moving to the individual market because it's priced competitively."
But Roberts said she didn't think small businesses should move in that direction and thinks it could create a "whipsaw effect," setting up a situation where small group prices rise as more employees are moved to the individual marketplace.
"If small groups can hang on and stay in the small group space, that's the best solution," said Roberts.
Still, the costs bear down on small businesses.
"We ourselves saw a 50 percent increase in our health care costs and we have a wellness program," said Lawson, whose firm provides occupation health and safety and wellness services to companies.
Lawson said some of his business clients saw a 30 percent to 150 percent increase in health care costs. "It's unsustainable, it cannot work," he said.
Lawson suggested providing coaches and tools for employees to quit smoking or lower their body mass index. If the employees decline, then they will have to pay 5 to 10 percent more in contributions, according to Lawson's idea.
"You have to take individual responsibility for your health," Lawson argued.
But while employers can discuss it behind closed doors, it's difficult to discuss the matter directly with the unhealthy employees it would affect.
"The fairness question tends to be the question employers are grappling with," said Roberts.
And as health care costs rise, more businesses are likely to provide that ultimatum to employees.
"[Businesses have] tried for decades to control costs, it's the second line on their taxes," said Graybill. "There is a sense if someone has a better option let them do it."
See more photos from the event