Cub Scouts team up in Cardboard Sled Regatta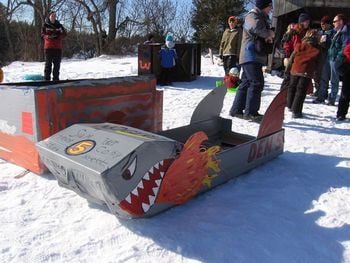 AMHERST – Cub Scouts made cardboard sled racing look easy Saturday as they took multiple trips down Bragdon Hill on homemade sleds made of cardboard, duct tape and paint.
Two packs of Cub Scouts – Pack 4 and Pack 421 – showed how creative they can get with just those three products, presenting sleds that resembled cars, toboggans, trucks, airplanes or just an old-fashioned cardboard box for the annual Cardboard Sled Regatta.
"It's fun, it's fast," said Tommy Simo, 10, of Pack 421, Den 9 – The Tomahawks.
The Tomahawks team was quickly noticed for the speed and distance their sled had, and during one of their trips down the hill they collided with the back left corner of Pack 4, Den 10, The Bakugan Explosion.
"We were yelling at them to move," Tommy said.
All sled riders were wearing helmets, so luckily, nobody was hurt in the collision – just nervous.
"We were scared. We didn't know it was coming, and then bang," said an excited Aeden Sidilau, 7, a member of The Bakugan Explosion.
"We were still alive," he continued.
Tommy, along with Tomahawks Connor Severance, Niko Santos, Max Urda, Brendan Harbison, David Spalding and Aiden Dumont, all 10, let Aeden and the rest of the boys in The Bakugan Explosion take a trip down the hill in their "Longest Ride" award-winning sled after the crash.
Most kids said the best part about going down the hill was the bumps or how scary it was, but for David, it was who he was with that made it the most enjoyable.
"Being with my friends," he said. "I loved it."
Parents even got involved in the fun, taking turns going down the hill on the sleds made by their kids and parents who volunteered.
"I want to go again. I felt safe in it," Lisa Severance said.
All the kids and parents would get the sleds ready at the top of the hill. After the kids were in place on their sleds, a couple parents would hold them steady until they were given the OK to be released.
Once they were on their way down the hill, their laughs were contagious, causing everyone watching to grin.
"It was awesome that we went so fast," said Colby Drewniak, 6, of Pack 4, Den 5. "We came in fifth place two times and fourth place two times."
Pack 4, Den 5 had six other riders: Sam Philbrick, Adrien Houston, Tyler Delier, Brett Daniels and Trevor Silverman, all 6, and his sister, Cara "The Daredevil" Silverman, 4. Sam Philbrick's great-grandfather, John E. Philbrick, established Pack 4 in 1939.
The sled they built was inspired by "War Hawk" airplanes, with a shark's face painted on the front and "No Girlz" on top. Ironically, a girl jumped in on the fun, riding down the hill a couple times. Their team won the "Shark Bite" award.
"They're having a ball," Bob Philbrick said.
"It's just fun to be in Cub Scouts," added his son Sam.
An animated Sam Erb, 8, of Pack 4, Den 3, rode down the hill with Colton Benjamin, 9, on a sled that looked like a pickup truck, designed during a den meeting, and said that overall, the day was thrilling.
"I liked going over the bumps and thinking you're going to die," Sam said, laughing.
"All that we do in Cub Scouts is really fun," Colton said.
Each team that participated was given an award created specifically for them, making the day clearly about making kids happy and not about a competition.
"The object is creativity and having fun," said Bob Parker, Cubmaster of Pack 4, who has been involved in Cub Scouts for seven years.
Parker said the cardboard sled race has been going on for more years than he knows about, and that there is always at least one collision each year, but, "No one in a sled has actually been hurt."
Jeff Curless, Cubmaster of Pack 421, brought his Cub Scouts to the sled race for the first time and says he was impressed with how everything turned out.
"It went really well," he said. "We'll be back."