Connie Roy-Czyzowski, 2013 Outstanding Woman in Business
Vice President of Human Resources, Northeast Delta Dental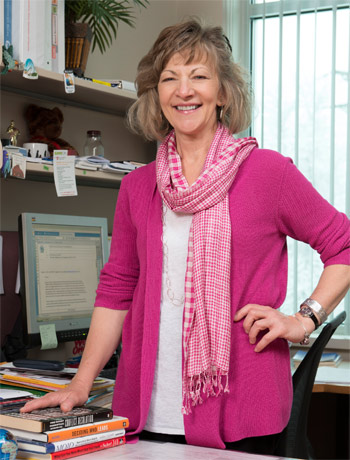 Shortly after Connie Roy-Czyzowski was interviewed in a front-page NHBR story about human resources, she bumped into a woman who'd seen the article and suggested she apply for an opening to lead the human resources department at Northeast Delta Dental.
Roy-Czyzowski had learned the ins and outs of everything from recruiting to employee relations to union negotiations while working for 16 years in human resources for the city of Manchester.
She took the woman's advice and applied for the Northeast Delta Dental position, and landed an interview with CEO Tom Raffio, who during the interview asked if she knew anything about the Baldrige Framework. After the interview, she took a few vacation days, researched the framework like crazy and put together what she thought Northeast Delta Dental's HR department should look like under the Baldrige framework. She mailed it in, and soon the job was hers.
That was in 1997, and ever since Roy-Czyzowski has been a key member of Northeast Delta Dental's senior management team. She has been responsible for hiring key leaders to help the dental insurance company grow from 75 employees when she started to more than 200 today, while revenues have climbed from $73 million to $300 million. She is also one of the people responsible for recruiting and developing corporate board members, not an easy task in an organization with 46 board positions to fill.
Thanks to Roy-Czyzowski's work in applying HR best practices, Northeast Delta Dental has very low employee turnover and is often acknowledged as one of the best places to work in the state, with a robust employee wellness program and flexible workplace. The company has won numerous awards for its culture, most recently the Alfred P. Sloan Award for Business Excellence in Workplace Flexibility in 2010 and 2012 – which, says Raffio, is a testament to Roy-Czyzowski's hard work and decision-making ability.
The mother of three grown sons regularly mentors women in the workplace with leadership potential, and has volunteered at New Hampshire's women's prison teaching inmates job-finding skills as they prepared to re-enter society.
But her volunteerism doesn't stop there. Roy-Czyzowski serves currently as corporator of the Canterbury Shaker Village and member of the board at YWCA of New Hampshire, sits on the advisory board of the Palace Theatre and the Moore Center, and has sat on many others.
She is also a trustee of the Community College System of New Hampshire. Paul Holloway, chairman of that board, said that Connie "is the kind of person for whom the phrase 'above and beyond' was created." Her "vision, energy and sense of service exemplify the best of New Hampshire."
Q. How did you end up where you are today in your career?
A. I was working on a Senatorial campaign and when we weren't re-elected, I took a two-year federally funded position with the city of Manchester as their Affirmative Action Officer. The city was at risk of losing federal funding and needed to meet goals when it came to hiring minorities and women in protective service, technical and managerial positions. I helped us meet those goals over the two years, but early on a colleague reminded me that if I wanted to continue in HR, I should learn everything I could and become too valuable for them to lose me. So I did — I read, I talked with people, got involved with the local HR association, took courses and studied. It was a perfect place to really develop my skills, but after 16 years I needed to expand and do something else. I then came to work for Northeast Delta Dental as VP of HR in 1997.

Q. What have been some of the biggest challenges to getting where you are today?
A. The workforce was different for women 40 years ago when I started my career. Women weren't treated like they're treated now, so that was a challenge early on. It's less of a challenge now, but in talking to some of my women colleagues, we hope that no one ever forgets that somebody paved a way and it wasn't always easy. Now the biggest challenge is just staying current professionally. My current reading pile is three feet high — it would be easier if I didn't need sleep.

Q. Did you have a professional mentor, formal or informal?
A. My parents both worked when I was growing up. It was really unusual then. They both worked at St. Mary's Bank for 45 years, and they met there. My mother was the controller, so I would be home and learned independence and about a good work ethic from that. There were times she didn't get home till midnight — she wouldn't leave until she balanced those books, and my father would stay with her, and my brother and I took care of ourselves. Then I've learned from Tom Raffio what it takes to be a good leader, and how continuous improvement is the key to continued success.

Q. How do you balance your personal and professional lives?
A. I can't say I always achieved balance but I tried. I always worked full time — I think I took only eight or 10 weeks after each child was born. My thing was to always stay involved in their activities — Scouts, I was a room mother, I would chaperone events, I worked on committees, and started the afterschool program in Bedford.

Q. What advice would you give to young women just starting their careers?
A. We all continue to evolve. It never stops, so listen to your inner self. I think that when you feel you've made it, you've stopped learning. Just keep growing every day. We never quite really make it. It's always a journey.