Connecticut company aims to make energy choice easier for NH consumers
Technology platform acts as automated energy savings tool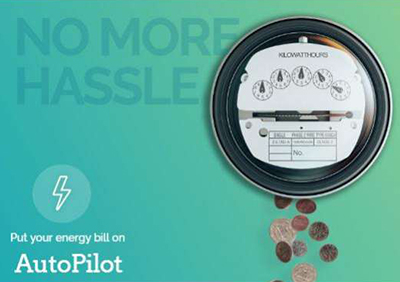 A technology firm in Norwalk, Conn., has launched an energy management platform to assist consumers in states like New Hampshire to take advantage of the deregulated energy market.
In New Hampshire, just 15 percent of consumers have made the switch to an independent energy provider, says Cami Boehme, CEO of Viv. "We believe one of the major reasons for that is because it's not very easy. A lot of consumers don't have the time to think over their energy choice and what plan they're on."
Viv's flagship product, AutoPilot acts like a "financial manager" for energy — tracking personal renewal dates, monitoring energy markets daily, continuously identifying savings opportunities and automatically switching participants at the end of renewal terms to plans with the best deals.
To get started, customers send a copy of their latest energy bill. From there, AutoPilot manages the selection of energy suppliers and determines cost savings automatically, removing consumers' need to constantly monitor energy markets. The service costs $4 to $8 a month for residences and businesses, though Viv assures customers they'll earn back more than they pay in their subscription fee.
"We will never let a customer auto renew into an unfavorable rate," says Boehme, who noted the company will even switch customers back to their public utility, if it offers a better rate for that time period. (Energy contracts typically operate in three- to six-month increments.) Customers regularly receive email updates with simple charts and graphs.
"What our system does is automated, but I like to put air quotes around that. It constantly monitors the market, it shows what plans are in the market — pulling in all of the available rates, evaluating what early termination fees there are — but when it comes to making a financial choice for our customers, there is a very human component," explains Boehme. "Our support team comes in and can say 'here are what the customers are up for renewal,' and we'll make that choice and go ahead and enrolls. It's a perfect blend. For any customer who has tried to switch their meter, every company is different and sometimes they don't switch your plan on time or make billing errors, so our system is tracking that to make sure the bill information comes over correctly. We're taking an approach that's simple and customer centric. Why can't you engage with your energy the same way as you engage Uber?"
While New England's infamously high energy prices are largely in part to the infrastructure of the region, Boehme argues enabling consumers to shop around for choice could help lower prices. (At no extra cost, AutoPilot ensures 50 percent of the energy it purchases is from renewable sources.)
"[We're] helping customers understand you do have options, that's one reason why it's deregulated. Regulators were looking for innovation," she says.
Small- and medium-sized businesses are "the most disadvantaged by the current options," says Boehme, "because they don't have the luxury of getting custom quotes" like large businesses that have a dedicated position to track energy costs. That means smaller businesses fall into the same traps that residential customers do, says Boehme. Eversource's small customer group default service rate, which includes residential, will increase 20 percent starting Aug. 1.
"That's a real growing area for us," says Boehme, of smaller businesses. "Companies love that they can turn that over and focus on their core business."​