Concord Auto Spa: car-care industry experts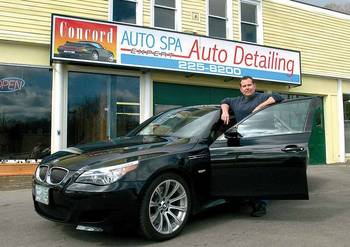 Joey Seluk, owner of Concord Auto Spa, knows that your car is a valuable investment, no matter what you drive. He and his staff will go to great lengths to ensure that you and your vehicle are treated with special care.
With more than 25 years of experience, the detail technicians at Concord Auto Spa only use the finest products and latest techniques available in the car-care industry to bring your car to a level of clean that even the fussiest car enthusiast will appreciate.
It's a proven fact that, when done properly, auto detailing cannot only extend the original beauty and condition of your vehicle, but even enhance its resale value.
Seluk's auto detailing experience began in 1978 when he worked at Foreign Motors Boston, which was a Mercedes Benz, BMW, Porsche-Audi dealership. His resume also includes management of two large hand car wash chains in California, and he has owned three auto detailing locations, one focused on servicing heavy duty trucks.
He looks forward to the challenge of building another successful detailing business in Concord and intends to earn Concord Auto Spa a strong, well-deserved reputation for quality and customer service.
For more information, visit Concord Auto Spa at 16 Water St. in Concord or call 603-225-8200 or visit concordautospa.com.