Collaboration drives progress in ed-tech space says Boston startup
Unruly Studios founder tells TechWomen to utilize connections, resources to succeed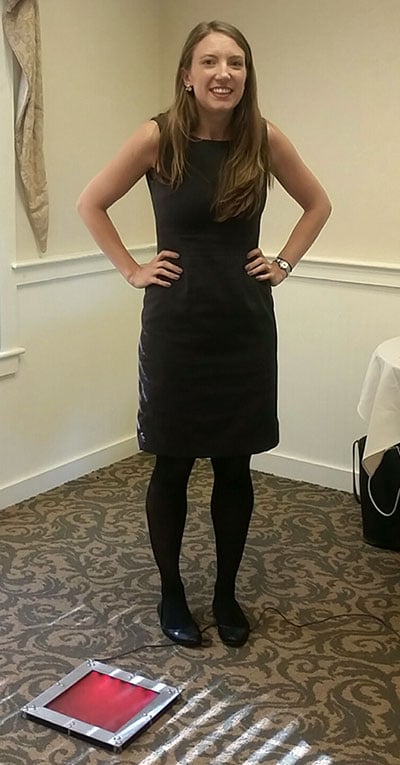 Bryanne Leeming, founder and CEO of education technology company Unruly Studios, explained to the crowd at the June 14th TechWomen Power Breakfast how she transformed her idea into a product through utilizing available resources and asking for assistance.
Leeming, a Hanover native, learned the importance of building connections while earning her MBA at Babson College.
While at Babson, Leeming delivered a three-minute pitch for interactive tiles that would introduce kids to STEM through coding on a wireless, connected device. At the pitch, she met a classmate who helped her build the first prototype, after some early concept testing with several kids at a school where a friend of Leeming's worked.
Familiar with software project management, but not the hardware side, Leeming went to Artisan's Asylum in Somerville, Mass., where she learned soldering and open-source electronic prototyping platform Arduino, as well as meeting more individuals interested in her concept. Leeming further developed her product by raising some capital and working with a professor at Franklin W. Olin College of Engineering in Boston.
"I was really clear about what I needed at the time," said Leeming. Typically expressing her need to one person led to a connection with another individual. "I got looking for people passionate about this [educating kids through great experiences] and things started to happen."
The result is Unruly Tiles, a set of two tiles with built-in LED lights and sensors that respond to movement and can be programmed to make different sounds, colors and play music, all based on the coding input on a smartphone or tablet. Using Scratch, a popular, simplified version of coding, kids learn how computers operate and interact with the inputs they've designed. The tiles can be used to play hopscotch, musical chairs, test reaction times and play other games.
"They apply these STEM skills they're learning to the real world," explained Leeming, who said Boston Children's Museum has expressed interested in using the tiles in an exhibit.
"In my elementary school in New Hampshire, we learned coding at 8 years old and that helped me later in life when I took a computer science class at McGill, just understanding the logic and how computers work," said Leeming, who received a bachelor's in cognitive science from McGill University.
Unruly Studios is now one of 10 education technology companies currently in the LearnLaunch Accelerator program in Boston. The accelerator, housed in the McGraw Hill building, has launched 40 startups through its program. The 10 startups will participate in two demo days in July and September, when the program ends.
Along the way, Leeming has connected with key individuals in the ed-tech space that have provided a role in advising or working on her project. Jay Silver, the founder of invention kit Makey Makey who now serves on Unruly's advisory board, was one connection that Leeming noted, as well as former iRobot engineer Daniel Ozick and individuals who have worked in the toy industry and Sesame Street.
Unruly Studios plans to raise more capital this summer before launching a Kickstarter campaign in the fall — not necessarily to raise funds but to receive advanced orders and demonstrate market demand for its first product.
Unruly Studios has already worked with the Boston Children's Museum and YMCA to expose kids to STEM. It also has worked with Girl Scouts legions in Massachusetts to host "Geek is Glam" workshops on game design.
Providing advice to the crowd, Leeming stressed that testing her concept early — even when using rough tools like poster board she flipped over herself to simulate the tile's interactivity – were essential to the success of her product.
"[The kids] were very willing to tell you what they like, what they don't like, the craziest ideas," said Leeming. "That's what started migrating me toward building the first prototype."
And Leeming, who has filed a provisional patent, told attendees not to be fearful of sharing their ideas with others out of concern that their idea will be stolen. "It's really not like that. The amount of work that's gone into this so far, it would take people a long time to get to where we're at," said Leeming.
In fact, she found the ed-tech community to be collaborative because they're united in solving the same problem: getting kids interested in STEM.