Cloud services bound to boost AI processing power
Greater cognitive intelligence will improve work efficiency says IBM's general manager of cloud services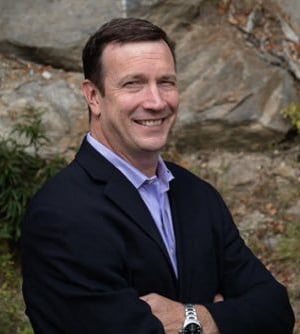 Several companies may only utilize cloud computing to store valuable data and enable multiple applications to be run at one time, the growth of cloud services will enable greater efficiencies and innovations in the cognitive space, IBM's General Manager of Cloud Infrastructure Services, John Considine, told NH Business Review at Alpha Loft's Startup Shindig event.
"The cloud has been evolving in many dimensions," ranging from a low cost alternative to get your work done to modernizing applications and helping businesses get more of their work done in the cloud, said Considine. "While they're not quite prepared to go full cloud, there's an idea of how do you combine your existing work with some of these new things so you can innovate where you want. That's the second phase of cloud," he said.
"What I call the third phase of cloud is really the enrichment or the enhancement, and this is where IBM has a lot of focus around, and you see it coming, the artificial intelligence," or as IBM calls it, cognitive, said Considine. "[IBM is looking at] how do you extract from your business all of the data you have, all of the history of the work, whatever your specialty is, and how can you augment that with artificial intelligence, with these capabilities to now gain new insight or provide new capabilities. That's changing some of the fundamentals of the cloud, focusing on much higher performance technology."
That means greater graphics processing units being installed, though Considine said he's focused more so on lowering latency and increasing bandwidth.
"When you start this machine learning, deep learning, the cognitive side, you need a lot more performance, you need a lot more interaction, you need a lot more horsepower," stressed Considine.
In the earlier days, companies were building out their own data centers and storage arrays, but have recognized in the last 10 years that it's a costly investment for the scale required.
"Think about now when you have all of these devices, the cell phones, the sensors, the smart cars, they're generating huge amounts of data. It's not just storage, you actually have to process it, you have to receive it, authenticate. Then you have to extract some kind of data about it. Is it about weather?Are there temperature changes? Is it about events happening on the roadway? There's all of this computing that goes behind it, and so the cloud provides the materials to be able to transform data into information. It provides the basis to deliver services," running everything from your coffee app to your banking app, said Considine.
IBM has 55 data centers around the world so far that connect through a private network similar to the internet in addition to the internet, said Considine, who talked about how Google and Facebook teaming up to build a 120 Terabits per second submarine cable that will connect Los Angeles and Hong Kong.
This greater connectivity and storage will boost the the cognitive space, said Considine, which is where IBM is focused.
"IBM invented all of the technology there. If you remember back to playing chess with Watson and winning jeopardy and all that, that was a lot of the fundamentals of Watson, our cognitive service. So that's a big game changer, helping companies bring what we call conversation and the cognitive function to their business," said Considine. The cloud and cognitive intelligence will not only move data but also provide advanced analytics, augmented with computer services to create insight.
One example Considine gave was IBM's move into the medical space. In recent years, IBM has bought two medical companies with hundreds of millions of patient records, including radiological datasets. IBM has trained cognitive intelligence to analyze the data, looking for patterns of healthy or unhealthy lifestyles.
It's not to replace a radiologist, assures Considine, but enables them to process mammograms faster. "That augmentation is an example of how AI can work with people to increase [efficiency]."