Clearview Software leaves an international imprint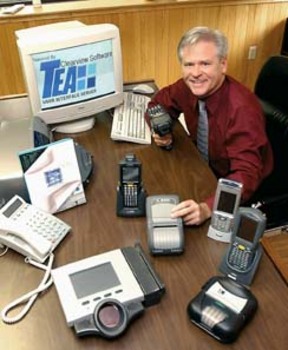 What do American Express, AT&T, Wal-Mart, NStar, General Motors and Stop & Shop have in common? They are among the hundreds of companies from all over the world that use products designed by Clearview Software International of Amherst, this month's recipient of the Citizens Bank Not Your Typical Business Award.
The eclectic list of businesses using products from Clearview shows the challenge of defining exactly what the 25-year-old company does.
"To us, what we do here is very focused by definition, but when visitors come in they see us as being all over the board," said Rich Lowney, CEO of the business he owns with his wife Lynda.
According to Lowney, he and his staff are bridge-builders of sorts, connecting yesterday's technology with today's needs. They also are technological fortune tellers and artists who anticipate the path new technology will take – and they create ways businesses will be able to adapt their current technology rather than replace or rewrite it.
"Every company out there, every organization, is managed with computerized business applications. The problem is technology is moving at a blitzkrieg speed and software can't keep up," said Lowney, who started the business as Computer Management Dynamics in 1980. "We help businesses keep pace with where the world is going."
For example, Clearview software can allow you to retrieve names, phone numbers or appointment dates from a stationary computer by using a hand-held PDA while visiting with a customer miles away. Or, as is the case with Hancock Lumber in Casco, Maine, picking up a truckload of lumber without leaving your truck. You can drive up, place your order, a worker creates the job order and the invoice, does the credit check and inventory adjustment, all in real time using a hand-held device. Your truck is then loaded and you can be on your way.
Lowney considers Clearview to be an "intellectual property company," developing software concepts and designs. He works closely with Blue Ivy Solutions, owned by son Shawn and daughter-in-law Bonnie, which integrates the technology designed by Clearview into the hardware and software that companies like Hancock Lumber uses.
Growing success
Lowney has built a successful business developing this type of "bridgeware" or "middleware" in part because of his company's dedication to meeting the needs of customers.
"Customers let us know what would make their jobs easier and more efficient," said Lowney.
A graduate of Southern New Hampshire University and Rensselaer Polytechnic Institute, Lowney and his staff travel throughout the world addressing these needs, bringing their technology to businesses as far away as New Zealand and North Africa.
Scott Sharp, owner of Sharp BancSystems, a company that writes banking software in Bedford, Texas, knows first-hand the difference Clearview Software International can make for a business.
"People didn't like the look of our screens. They found them hard to use. Clearview cleaned up the look and made it much more user-friendly, and hence our sales have really gone up," Sharp said.
A growing success since its inception, Clearview's business has exploded over the past year, with this year's sales already surpassing last year's totals.
Recently named a Premier Business Partner by Symbol Technology, Clearview and Blue Ivy are now partnering with the bar-code giant to create a new generation of hand-held technology like the one used by Hancock Lumber.
Clearview also has been instrumental in creating "MINDsprinting," a new online comprehensive tutorial system for children from kindergarten through 12th grade.
Lowney extends the same sense of commitment to the nearly two-dozen employees who work at Clearview. He considers his engineers to be artists, the computers their palettes.
"These guys are inventors. They're a creative type, and you have to give them cowboy time," Lowney said.
According to senior software engineer Adam Knowlton, who started as an intern with Clearview five years ago, "There is a sense of freedom that comes with an unstructured business environment here. We all have a lot of roles and everyone speaks with the same voice. Everyone is kind of an equal," Knowlton said. "This has allowed me to learn and do so much more here than I ever would be able to do as a software engineer for another company. I think that is where a lot of the company's success comes from."
Lowney's sense of commitment outside the walls of the company is nearly as far-reaching and eclectic as the business itself.
A member of the board of the Nashua Boys and Girls Club since 1983, Lowney actually transferred to the Souhegan Valley Club after working to establish it seven years ago. He is now president of the New Hampshire Alliance of Boys and Girls Clubs and has been instrumental in raising the funds needed to complete a 35,000-square-foot facility in the heart of Milford that will become the club's new home.
Lowney also has introduced MINDsprinting to a number of Boys and Girls Clubs throughout the state, helping to integrate it into the curriculum as a pilot program.
He also is a former state chair of the USO of New England and has been recognized as the 2002 State Exporter of the Year. He also is a member of the board of directors for the NH International Trade Association.
This commitment to his community is one Lowney takes just as seriously as running his business, according to Len Morrissey, vice president of commercial lending for Citizens Bank.
"Rich is one of those rare individuals who is involved in many aspects of the community, his business and the business community," said Morrissey. "He is one of those people who says a lot, but he always backs it up with action."