CD Business Group utilizes gaming technology for business applications
Firm builds 3-D virtual renderings to drive operational efficiency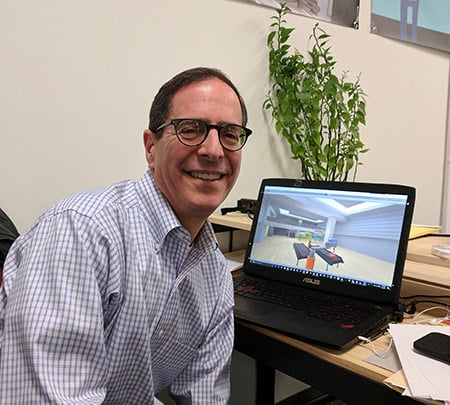 Productivity optimization and operational efficiency in the production line – the principles behind lean manufacturing – will advance another level through the use of 3-D virtual rendering software, says Stephen Doroff, principal of CD Business Group. Doroff and his team are leveraging emerging virtual reality and augmented reality products, such as Google's Tango and 3-D advanced gaming, to provide unique visual perspectives in business applications.
Picture an automated production line recreated in a 3-D virtual world. To examine potential issues, the process can be slowed down, enabling the viewer to fully see robotic movements that are too fast for the naked eye. When considering changing the line, a virtual robot can be added or removed to determine the real-life impact. Or the software could be used to estimate a completion date for a large contractual order.
"I think these technologies are ripe for visualization and show things you just can't do in 2-D," says Doroff.
Doroff can import varying levels of data, depending on the size of the manufacturer and scope of its operations. Small- to medium-sized manufacturers can use 3-D renderings to optimize their systems or plant layout, but larger manufacturers may have sensors on the production line, allowing them to delve deeper into their data analytics.
"In addition, I see it closely integrating with machine learning and artificial intelligence to better understand how things work to improve productivity and efficiency," says Doroff. "So why did this machine go down or why is it running inefficiently? Being able to pull the data, replay and reconfigure the operation in a 3-D virtual environment. If something goes wrong, looking at sensor data on a list or in 2-D is limiting, whereas if you saw the operation happening, you can see in 3-D, you get a much different flavor of what is going on and how to fix it."
And with specs from engineers, the movement of the robots can easily be mimicked in the 3-D world, says Doroff. By using 3-D virtual renderings and accessing data analytics collected from motion and temperature sensors, Doroff suggests engineers could troubleshoot from afar – a helpful solution in an ever-increasingly globalized world.
Visualizing spaces
Doroff also is working with a construction firm and franchise. He thinks 3-D virtual renderings can also be used to address buildout issues early on as well as ensure all parties are on the same page.
"The architectural diagrams when they first come out are not completely finalized or there may be some things the construction company doesn't quite think can work and so they go back and forth a little bit, so the goal is to accelerate the process helping both the architecture and construction companies get started sooner and solve some of the build-out issues. Rendering in 3D is a win-win for everybody," says Doroff.
As things crop up, again the 3-D virtual rendering can be used as a mechanism to show the franchisee different options.
"It's more visual so everybody's on the same page before the work is done," says Doroff, who uses Google's Tango Tablet – an augmented reality solution, which has three cameras on the back including infrared emitter that detects depth perception – displaying an interactive virtual world on the tablet that responds to movement in the real-world space.
Gamifying and virtual reality
Doroff and his team operate part-time out of Game Assembly, the video game incubator located on Elm Street in downtown Manchester. While Doroff focuses on business applications, he and the game developers in the space are using the same platform.
"We're using the Unity game development platform. It's also the platform Google first chose for their Tango [augmented reality tablet] and Daydream [virtual reality solution with a headset and controller]," he says.
The opportunity to expand his business, primarily working with manufacturers, would likely result in expanding his team and Doroff is eyeing graduates with gaming experience in the greater Manchester area.
"Some of these young, graduating students, they're focused on gaming, however my own personal view is the likelihood of them really getting a job there is probably unlikely with the consolidation of the industry. That's just my view, but [if] the opportunities in manufacturing and other industries break open, there will be a lot of opportunities and that's just going to expand as these technologies improve," argues Doroff. "So I think this is actually where they're going to end up, when you look down the road in two to five years. It's not going to be just gaming, as they have the right skills to build the 3-D solutions of the future. So my view is, they're well positioned for the future, they just don't know what their future is yet."
The future of virtual reality and augmented reality is also unclear at the moment, but hold huge potential, argues Doroff.
He refers to Gartner's "hype cycle" – a theory that explains how to interpret the hype surrounding new technologies. The process begins at the innovation trigger, up to the peak of inflated expectations, down to the trough of disillusionment and then along the slope of enlightenment to the plateau of productivity.
Right now, virtual and augmented reality technologies are emerging from the trough, says Doroff, who expects the technologies to mature in five to 10 years.
"We're at the fringe where these gaming technologies are mature, and we're at the beginning of where they can start to help businesses optimize and drive efficiency, and that's what we're focused on."