Catholic Medical Center debuts TeleStroke Ambulance Program
Telemedicine platform allows neurologists to see potential stroke patients en route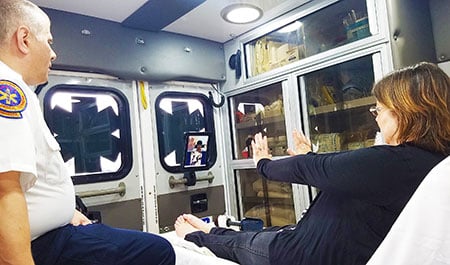 Catholic Medical Center is debuting a cutting-edge telemedicine platform, in its ambulances. In partnership with Florida-based TeleSpecialists, the hospital is launching its TeleStroke Ambulance Program, which enables ambulance crews to access expert neurologists to see potential stroke patients en route to the hospital. The program is the first of its kind in the Northeast, says the hospital.
Timing is critical when a patient is exhibiting signs of a stroke.
The first 60 minutes after someone exhibiting stroke symptoms arrives at the hospital are referred to as the "golden hour," when appropriate treatment like tPA therapy can limit the side effects and potential damage of a stroke. Enabling a neurologist to begin a neurological assessment earlier, alerting Catholic Medical Center of the data before the patient arrives, shortens the time it takes to get that patient brain-saving treatment, says the hospital. Once the patient is admitted, the same neurologist can also have continued access to the patient, ensuring appropriate, uninterrupted care.
"Assessing patients as quickly as possible is vital in the treatment of those experiencing stroke-like symptoms," said TeleSpecialists CEO Nima Mowzoon, MD, MBA. "Once we receive the call, we can have a neurologist on screen, or this case a tablet, evaluating a patient within minutes. Now that we have access to patients in ambulances, this critical evaluation period can take place even faster."
"CMC is already recognized for excellence in stroke care, large in part because of the way we apply the latest technologies to delivering the best medicine," said CMC President & CEO Dr. Joseph Pepe. "Our partnership with TeleSpecialists not only brings real-time expertise to the hospital with a state-of-the-art stroke program, but now to potential patients in ambulances, before reaching our emergency department."
Local ambulance company AMR, Goffstown Fire and Peterborough Fire are currently participating in the TeleStroke Ambulance Program. The program builds off of CMC's existing relationship with TeleSpecialists for TeleStroke and TeleNeurology services, which harness telemedicine technology to give patients expert care close to home.
"This program has the potential to further move cutting edge emergency care into our ambulances," said Chief for New Hampshire Fire & EMS Strategy and Planning Nick Mercuri, MHA, NRP, RN. "This technology can make a big difference for our patients and communities, especially those that are a considerable distance from a facility that offers advanced stroke care. I applaud CMC, the ambulance companies and TeleSpecialists for stepping up and crafting this program."