Cathleen Schmidt, 2017 Outstanding Woman in Business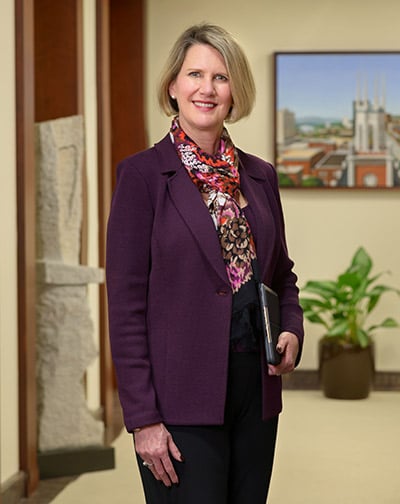 Starting at Old Stone Bank in Rhode Island in the early 1980s, Cathleen Schmidt spent the next 30 years diligently rising up the ranks in the banking industry.
By 2006, she moved to New Hampshire to serve as the president and CEO of Citizens Bank in New Hampshire and Vermont, overseeing 108 branches and 1,200 employees. Schmidt immediately visited each of the branches she oversaw, and held regular "Conversations with Cathy" to ensure communication with colleagues.
After a brief retirement, the relationships she cultivated in the community led to a job offer from McLane Middleton to serve as the law firm's CEO and executive director. With 200 professionals spanning offices in Manchester, Concord and Portsmouth, NH, and Woburn and Boston, Mass., Schmidt is responsible for overseeing the operational, financial, marketing and human resource functions of the firm.
Q. What helped you rise up the ranks in your banking career?
A. I think I have just been very lucky in my life, and I think sometimes the harder you work, the luckier you get. I have been affiliated with terrific organizations with great leaders. I've just had so many people I've learned from who have supported me at every turn. Just about every job I've had, I loved. I was given opportunities to work with customers and clients and have the opportunity to work with colleagues, and I realized that was my niche. I loved helping people succeed and when I helped people succeed, I felt joy from that.
Q. What was it like working in a male-dominated field?
A. I recognize the fact that, really with almost any job I had, my predecessors had all been men. Oftentimes people would remark, "We've got a female in this job," and they would look at me questioningly, and I had to work harder without a doubt. When you're the only female in a room full of men, you're noticed.
I've been blessed with the people who have recognized my voice. I recognize I was a pioneer in a way, but I wanted to do a good job so the next women coming up will have an easier time.
Q. How did you transition to a law position? Are there similarities?
A. I started at the bank in Rhode Island, and I thought 'I'll do this for a year and then I'll go back to law school.' One day, I got a call from the managing partner of McLane Middleton, and I knew a number of the attorneys and had respect for them. My predecessor was planning to retire and he wondered if I wanted to take this job. I love the people I knew here so I took the job to see how this could go and what value I could add. I quickly saw there were a lot more similarities with the job at the bank and the job at the McLane, and that's because we're both offering professional services.
We're helping people's dreams come true, whether it's saving for retirement or college education or a big trip, or on the legal side, establishing an estate plan or handling litigation. The attorneys at McLane Middleton work extremely hard and they're really good human begins, so the same values at the bank really resonated to me through this law firm.
Q. You've also been involved with some initiatives regarding women at McLane Middleton.
A. I recognize people who really want to progress and are willing to work hard, male or female. We're focused on that in the law firm. Being a lawyer is a tough job, it's demanding, and as a result there are few female attorneys, but we're working hard to make an environment that's more flexible and accommodating to working parents, and I think this applies to men and women.
We've given electronic devices, laptops so employees can work from wherever. We also extended paternity leave, giving new fathers extra time off to be home. So I think we're working hard to create an environment that's adaptive to the changing generation coming up.
Q. What advice do you have for young women starting their career?
A. First, don't take a job just based on the highest salary. It's better to get into an opportunity where you'll learn and grow. You're setting the foundation for your career.
Number two is save money, because the more money you save it gives you more options and security for the future. No matter how small it is, just start saving.
And my third is develop a spirit of gratitude. We are so blessed at the opportunities we have and the resources that were provided, if you have that sense of gratitude it will serve you well into the future.
Here's what others have to say about this very deserving Outstanding Woman in Business recipient