Catherine Blake, 2016 Outstanding Woman in Business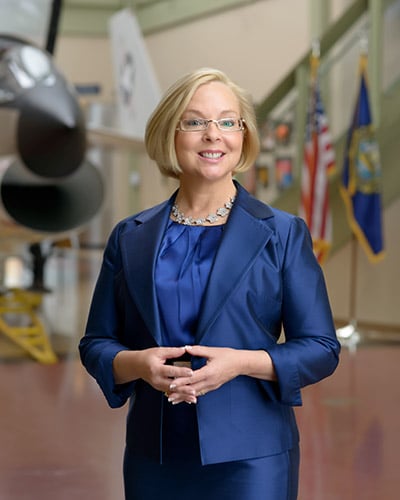 'Think of your early career as the investment years and get involved in volunteer opportunities where you can develop your edge in leadership'
When Catherine Blake started her career in the 1980s, the unemployment rate was 9 percent and the job market was very competitive. To get her foot in the door at IBM, Blake accepted a job in the accounting department and attended five years of night school at Harvard Extension School, earning her certificate in business administration and management. Upon completion, she received management's support to move into technical software sales and spent nine years at IBM.
Working in sales for a number of Fortune 500 companies, startups and private ventures led her to open her own consulting firm in 2002, Sales Protocol International in Durham. But she credits volunteering on nonprofit boards for initially building her leadership skills and sparking a passion to serve.
Most recently, Blake became chair of the NH High Tech Council's new initiative, TechWomen|TechGirls, which aims to connect women working in the STEM (science, technology, engineering and mathematics) field, as well as prepare the next generation of women for STEM careers. Blake has also been asked to speak on a number of occasions for The New England Women's Leadership Institute and Leadership Summit.
Q. What sort of response are you seeing to TechWomen|TechGirls?
A. What started as a whisper, "Where are the women?" became an answer to this call. When we invited local leaders to participate in a brainstorming session to figure out how to execute a statewide program with no guaranteed funding and powered by volunteers, 70 people showed up ready to work for two solid hours. We walked out with a plan to launch six programs, which are attracting approximately 60 women per month.
Our TechWomen Ambassador's program, which earned a proclamation by Governor Hassan, had 89 volunteers in 10 schools mentoring several hundred 9th grade girls. TechWomen|TechGirls is an idea whose time has come.
Q. What are some of the biggest challenges you have faced?
A. Years ago, the tech startup I was working for went belly-up. It was time to move on during a horrible economic downturn. One morning, I remember putting my feet over the side of the bed and thinking "I no longer have an identity." Somehow, "The Purpose Driven Life" by Rick Warren landed into my hands. Reading that book taught me that my purpose was to serve others because "It's not about us!"
In that moment, I realized that my identity has been wrapped up in things that are temporal. When I wrote my business plan for Sales Protocol International, I also launched a faith-based leadership group called MarketPlace Connection, through my church.
Fast-forward to TechWomen|TechGirls, another opportunity hatched by a call to action. When I think back, unless the startup I was working for not imploded, I would not have read a book that led to my lifelong pursuit of a purpose drive life.
Q. What advice would you give to young women just starting their careers?
A. The statistical data worries me. According to Deloitte's Millennial Survey, close to 70 percent of young women are likely to leave their jobs, as they feel passed over for leadership opportunities. My advice to young women starting their careers is to be very intentional about mapping their own core values to the values of the organization and to consider their early career an investment in their future success.
My early career at IBM was exciting. Our Boston office looked like the United Nations. We had women in leadership, with many nationalities and cultures represented. The company's core values included respect for the individual, something we held each other accountable to. To the young women out there, do the research on the company, individuals and culture. If red flags appear, then think twice about jumping aboard. Join the best of the best where you can learn and grow. Think of your early career as the investment years and get involved in volunteer opportunities where you can develop your edge in leadership.
Q. How do you balance your personal and professional lives?
A. Life's journey presents itself in chapters. Working full-time and going to school at night became a unique chapter. Launching a new business while launching a volunteer initiative defined itself as a different chapter. Running a business and serving on multiple boards [was] a chapter that was built upon previous chapters.
For me, I have developed lasting friendships through my career, church involvement, volunteer work and lifelong learning. Suddenly our personal and our professional lives start melting together as we share in each other's bliss and sorrows, common to the human existence. With my husband by my side for almost 25 years, I can think of no greater joy.