Canadian minister touts NAFTA in visit to New Hampshire
NH, Canadian officials see retaining trade deal as key to 'intertwined' economies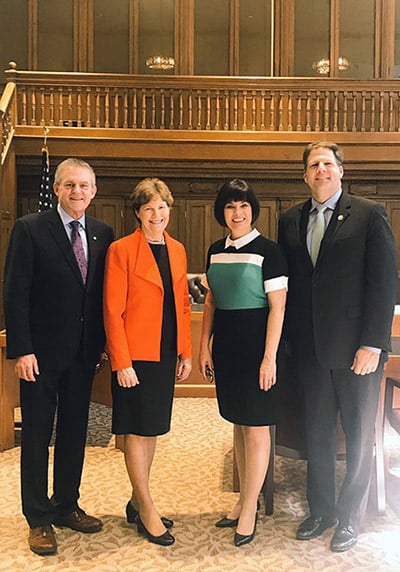 Days before cabinet-level negotiators from the three NAFTA nations were to meet again in talks to attempt a breakthrough on the trade deal, Canada's Minister of Health Ginette Petitpas Taylor visited New Hampshire to drum up support for the pact.
As part of her visit, on May 2, Petitpas Taylor met with Canadian Consul General to New England David Alward, Gov. Chris Sununu and U.S. Sen. Jeanne Shaheen to discuss NAFTA at length. She also spoke to state legislators on during a reception at the Holiday Inn in downtown Concord.
"We are certainly making sure that we use all of the levers that we have, and we certainly want to make sure people are aware how much our economies are intertwined and it's a fair trading relationship," said Petitpas Taylor. "We see that we've got a lot of support in New Hampshire, and we are certainly on the same page when it comes to negotiations and with respect to the implications that could have in both countries."
Sununu did not respond to NH Business Review's request for comment by deadline, but state Business and Economic Affairs Commissioner Taylor Caswell said NAFTA is very much a priority, and it's a topic that is brought up by many Granite State manufacturers.
That's because New Hampshire's manufacturing industry is very component-based, said Caswell, and companies in New Hampshire that are working on a contract for Boeing, for example, often turn to Canadian companies "for different parts of the manufacturing process."
"We're highly dependent on our trade with Canada, and NAFTA is in the interest of our employer community," he said.
In late March, President Donald Trump said, if he's not satisfied with NAFTA negotiations, he would remove temporary exemptions previously granted to Canada and Mexico in regard to proposed steel and aluminum tariffs. The tariffs have been set at 25 percent for steel and 10 percent for aluminum. Last week, the White House announced it had postponed the tariffs on Canada, Mexico and the European Union until June 1.
Minister Petitpas Taylor voiced hope that the Trump administration would not raise tariffs on Canadian steel.
"There is trade going on, on both sides. Canada is not seen as the area where there is dumping occurring in respect to steel, so we are very hopeful that we'll be able to evolve with the relationship we have with the steel and aluminum side of things," said the minister.
A higher priority
Negotiators have been working on an updated NAFTA for approximately eight months now.
"Everyone has had a tremendous team of negotiators that have been around the table," said Petitpas Taylor. "There's a lot of work that continues to be done behind the scenes, and we're looking forward to what the results are going to be."
While businesses are seeking some minor updates to NAFTA, mainly regarding border-crossing, "everybody would be happy with the continuance of NAFTA as it is now," said Caswell.
Sununu has passed on these business sentiments to the Trump administration, he said.
"We've made our opinion known to the administration that we were not in favor of increased tariffs, but the issue we're most concerned with is what are the long-term implications for trade in general if all of a sudden we're in a trade war with China or anywhere else?" he said. "A lot of New Hampshire companies are subcontractors to a big contract with Boeing to build passenger jets in China. If that was subject to trade wars with China and the United States, that would have an impact on employers here in New Hampshire."
He added that "we hope all of these things can be worked out. We hope we come to some favor and conclusion to NAFTA."
Caswell said working with international partners such as Canada has taken on a greater priority for his department. After all, the economic impact of New Hampshire-Canadian trade is $5 billion, he said.
David Alward, Canada's consul general to New England, also pointed to New Hampshire's support for NAFTA.
"We get that you get it, and we thank you very much, but it doesn't mean we don't continue to work every day to build prosperity," said Alward during a reception at the Holiday Inn in Concord. "The fact that Prime Minister Trudeau has seen to send a minister to New Hampshire sends a message as well of the importance of that relationship."
A biotech ecosystem
Caswell also arranged for the health minister to visit the Advanced Regenerative Manufacturing Institute, or ARMI, which launched in the Manchester Millyard last August.
"We hoped there would be interest for Canadian biotech companies to join the regenerative manufacturing industry in New Hampshire," said Caswell.
Canadian Minister of Health Ginette Petitpas Taylor also toured the Advanced Regenerative Manufacturing Institute and learned about Dean Kamen's inventions, including the iBot wheelchair.
"I was very, very impressed to see the work and the innovation that's going on there," said Petitpas Taylor. "It's just amazing what you see — how they're bridging academia and industry to get products out the door. I'm really hoping I can make some connections in Canada as well, to make sure more collaboration can take place there."
In early June, Canadian biotech firms will be traveling to Boston, where the 2018 BIO International Convention is taking place this year.
Caswell is helping to organize the New Hampshire table at the conference with a goal of also providing more visibility for ARMI. ARMI will also hold an event that week in the area, said Gray Chynoweth, chief membership officer and deputy chief operating officer at ARMI.
"Our partnership with state government is excellent so far, and we really enjoy working with Taylor Caswell, who has put his office at ARMI's disposal, to make sure, when companies are interested in finding out what it would take to relocate to New Hampshire, that he's available and his team is available to give them information."
There's great potential for New Hampshire to become part of a greater, international biotech ecosystem, said Caswell, pointing to the "growing biotech sector" in the Toronto area.
"Montreal, Quebec City, Toronto, Vancouver are all areas we're looking at to expand our partners, and those partnerships can be business partnerships and research and academic partnerships," said Caswell. "But these are part of the new approach for this department. We're trying to take a more holistic view and make all of the pieces fit together."
Liisa Rajala can be reached at lrajala@nhbr.com.