Canada-NH trade relationship stressed amid NAFTA concerns
At Manchester seminar, close economic ties are underlined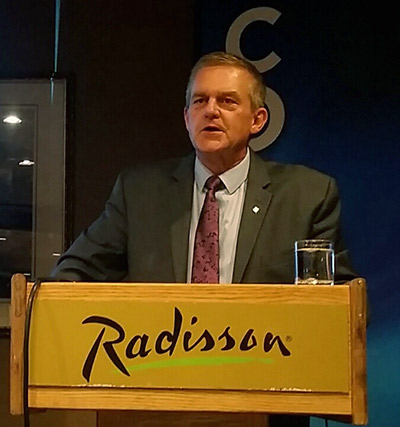 Just as it was being announced that NAFTA negotiations had hit a potentially difficult impasse but have been extended into 2018, Canada's consul general to New England was telling attendees at a Manchester seminar that it's a time of immense economic change.
Speaking at the CONECT (Coalition of New England Companies for Trade) Oct. 17 seminar at the Radisson Hotel in Manchester, David Alward addressed the forces that elected President Trump and led to the renegotiation of NAFTA. He stressed that solutions to economic challenges must not leave communities behind and must help workers and their families succeed.
"Shared prosperity can only be created in an environment where workers are fully engaged in trade and economic opportunities and feel they're a viable or a valuable part of that economic opportunity," said Alward, who noted education and training institutions must adapt.
Likewise, another speaker at the conference, Arthur Bodek, a partner at Grunfeld, Desiderio, Lebowitz, Silverman & Klestadt in New York, warned that "most of the manufacturing jobs that are lost go from human to machine not U.S. national to Chinese national or Mexican national." Bodek called machinery "the new face of outsourcing."
"It should color our understanding of the whole trade debate; where are the jobs really being lost?" said Bodek. "Are we having the right conversation if the goal is to take care of those who are losing manufacturing jobs that are disappearing? The impact of artificial intelligence could turn the whole trade debate on its head."
Common supply chains
When asked by NH Business Review about opportunities presented by innovation that would provide greater economic collaboration between both New England and Canada, Alward pointed to advanced manufacturing with a particular focus on artificial intelligence, as well as life sciences, medical devices and the aerospace industry.
"If you think about advanced manufacturing, artificial intelligence, our researchers in Canada and the U.S. work very closely and there are huge advancements that are being taken every day," said Alward, who also sees opportunities to collaborate on updating policies to adapt to dramatic disruptions coming down the pipeline, such as autonomous vehicles.
Alward said Canada's trade commissioners make business connections for a lot of Canadian and American aerospace manufacturers along the aerospace corridor that stretches from Montreal to Connecticut and feeds into Bombardier, General Dynamics and other major players.
"What's really important is we make things together. NAFTA has allowed us to take advantage of common supply chains, which have allowed us to be more competitive long term," Alward said earlier in his speech.
Over 39,000 New Hampshire jobs, or 5 percent of the state's employment, depend on trade with Canada due to supply chains, said Alward – more than the number of jobs created by trade with the European Union (2 percent) and China (4 percent).
One example is Quebec-based manufacturer Rotobec, which has had a facility in Littleton since 1986 and has doubled in building size and number of employees. Just a few weeks ago, Quebec-owned Inter-USA Industrial Group announced it will expand into Littleton, employing up to 50 people.
Future unclear
Canada is the largest investor in U.S. real estate – with 25 percent of U.S. real estate, or $50 billion worth, owned by Canadian investors. Likewise, the U.S. is Canada's largest foreign direct investor, at $300 billion.
In terms of looking closely at the four rounds of NAFTA negotiations, Bodek explained the U.S. was looking to tighten the "rules of origin," requiring a larger percentage of the imported product to be manufactured in the U.S.
The most controversial aspect of the negotiations is the U.S. suggestion of a five-year sunset provision, which serves as a trigger for the reexamination of NAFTA, but also allows it to expire if an agreement is not signed.
"It might be politically popular but is also somewhat risky to go through what we're going through now, every five years, makes it a little difficult for long-term planning," said Bodek.
Alward stressed that to give businesses the confidence to invest, they must "know and understand the rules of the game" and there must be a sense of certainty in the trade landscape.
"The future of NAFTA is unclear," said Bodek. "The U.S. is looking to break down barriers to U.S. exports, it's looking to level the playing field where the administration perceives it not to be and to make it more equitable from the U.S. standpoint to reduce the trade deficit, and if these objectives are not met, the threat is out there that the U.S. would withdraw, which requires six months advanced notice."
Oscar DeVlaminck, president of sales and marketing for Demanko HLC Logistics, who attended the seminar, told NH Business Review he was concerned about a decrease in volume of business should NAFTA expire, but did not think it was a strong possibility.
However, Alward sent out a warning to attendees to not be complacent.
"I want to encourage you as individual companies or organizations to understand the importance of trade to your own organization, your state, to reach out to your elected officials," said Alward. "It's important that they hear how much it means to you and your business and your organization, and what it means to jobs in communities and prosperity."