Call for universal care takes center stage at NHBR forum
Keynote speaker T.R. Reid sees disparities in money spent by the U.S. and health outcomes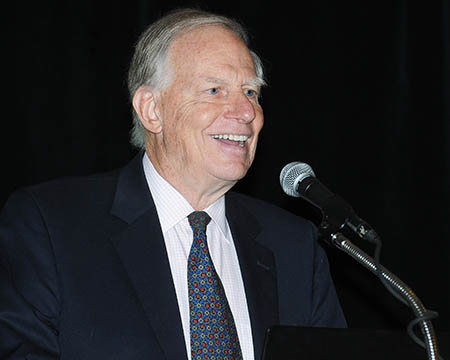 At NH Business Review's "Healthcare: Confronting Disparities" event on Wednesday, keynote speaker T.R. Reid's overview of what is at least $3.4 trillion spent on U.S. healthcare quickly shifted to an argument for why the United States should consider moving toward some form of government-provided insurance.
"If you take it as a percentage of overall wealth, we spend double what the Western European countries spend for healthcare," said the nationally known journalist and author. Yet, according to the Commonwealth Fund, an organization in New York City that does international comparative studies of healthcare, "we have the poorest outcomes."
"Wouldn't you think the United States, the world leader in medical research, the world's richest country – shouldn't we be able to keep babies alive until their first birthday?" Reid asked rhetorically before responding that, in a study of 23 wealthy countries, the United States ranked last for preventing neonatal mortality.
At the event, held at the Grappone Conference Center in Concord, Reid pointed out that while the number of uninsured Americans fell from 48 million before implementation of the Affordable Care Act to 29 million when the ACA went into effect, that figure has begun to rise again, to 30.5 million Americans without health insurance.
Preventive care
Then there are the 60 million Americans who have high-deductible insurance plans that deter them from utilizing their healthcare. And that's a problem that compounds, as healthcare ailments left untreated lead to larger healthcare expenses down the road.
Another speaker, Dartmouth-Hitchcock CEO Joanne Conroy, who followed Reid, noted that a result of high-deductible plans is that "we are going to see people coming to our emergency rooms with acute care conditions that could have been cared for early on" because of the very high out-of-pocket costs facing the policyholder.
Reid noted that 30,000 U.S. women per year receive no prenatal care, resulting in babies that end up in the neonatal intensive care unit, which also drives up health costs.
"For the price of one baby in the NICU, we could have provided prenatal care to 1,000 mothers for nine months," said Reid.
Meanwhile, in the United Kingdom, the National Health Service stresses preventive care, taking the initiative to give out flu shots on the streets, for example, and sending nurses knocking on doors annually, monthly or weekly, depending on the health conditions of the family in residence.
But to keep healthcare costs down, the NHS' National Institute for Health and Care Excellence establishes rules for who gets expensive care. Those over 88, for instance, don't receive dialysis treatments, Reid said, and he told the story of one woman was denied a drug that would have extended her life by approximately nine months
It's a tough decision to make, noted Reid. Meanwhile, in the U.S., one-third of patients undergo operations in the last month of life.
State by state
Reid said the U.S. has two pathways toward healthcare reform.
One is to follow Germany, where every citizen must sign up with a private, nonprofit insurer that covers all hospitals, labs, doctors and patients, and cannot deny a claim.
"And get this – they have to pay both you and the doctor within three days." said Reid. "So they have made private insurance work. It's tough, it requires more regulation than we've ever had, but I think that's the kind of system that could work here."
Or the U.S. could adopt a system similar to France, where there is a basic plan that provides care, with insurers providing supplemental insurance.
"I think the insurers like this, the insurers do well on supplemental Medicare plans," said Reid, who healthcare reform to be a big issues in the 2020 presidential campaign.
But in the end, he said, "the more likely way we're going to get universal healthcare coverage is state by state. That is, one or two or three states will set up a private, government-run system," said Reid, with hospitals privately run, but the government paying private providers.
"This is a tried-and-true method of policy change in America," he said, noting adoption of women's suffrage, child labor laws and minimum wage laws and the legalization of interracial and same-sex marriage and medical and recreational marijuana use all swept the country in the same manner. States to watch are Oregon, Washington, California and Michigan, he said.
But, in order to be successful, the states would need a risk pool of approximately 5 to 6 million people in order to make prices affordable, said Reid.
New Hampshire itself is seeing the effects of its small population, and therefore small risk pool.
Conroy noted New Hampshire ranks first in the nation for high-deductible plans. And the final speaker, Beth Roberts, senior vice president of commercial business at Harvard Pilgrim Health Care, said provider consolidation is putting upward pressure on prices in New England, and that's not helped by New Hampshire's small risk pool.
However, there was some good news. Both Conroy and Roberts noted that the initial rise in costs from uninsured Americans entering the market due to the ACA was starting to flatten – a sign that promoting preventative care can have a positive impact on the bottom line.