C3 Metrics named to Deloitte's 2018 Technology Fast 500
Portsmouth company experiences 171 percent annual growth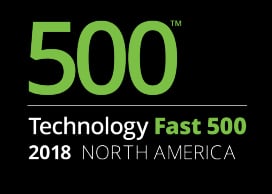 C3 Metrics, a Portsmouth-based cross-channel advertising measurement and accountability firm, has been named to Deloitte's 2018 Technology Fast 500 list, an annual ranking of the fastest growing North American companies in the technology, media, telecommunications, life sciences and energy tech sectors. The company ranked No. 442, with 171 percent growth. It was one of two New Hampshire companies to make the list; the other being Peterborough-based SoClean, which makes a CPAP sanitizer machine.
"At the end of the day, you can have the best technology and the best solutions, but it really comes down to the team that's implementing it," COO and Co-founder Jeff Greenfield told NH Business Review. "As we were growing, we made a conscious decision [to incorporate] diversity in the workplace. When you start looking at companies that have diverse boards and workers, they're able to solve problems much faster and they're able to grow faster because when you have diverse people working on a problem, they come from different angles, and that gets you to the answer the fastest."
Founded in 2009, C3 Metrics' platform anonymously collects consumer data via digital devices to find common patterns among consumer groups, enabling advertisers to adjust their campaigns and determine the effectiveness of various types of advertising. Clients include Fortune 500 companies including Jackson Hewitt, TaxSlayer and Bissell as well as the U.S. Army.
"About a decade ago, we created software that is able to capture all of these consumer digital touch points in a completely anonymous manner," said Greenfield. "We're not interested in the individual, we're interested in the aggregate anonymous information. When we see a million people are following through with a certain pattern, that reflects how effective an ad is and it lets us know if an ad that was working before is no longer working well. It allows marketers to bob and weave through this media ecosystem and it allows finance to keep a tighter constraint on the effectiveness of ads and make sure money is spent effectively."
C3's team includes media and advertising execs from ebay, Pepsico, DoubleClick and a former Nielsen CEO. The company says it has developed the world's first complete attribution platform powered by the only attribution data cloud, which attributes the effectiveness of each part of a media campaign.
"Making decisions about advertising, it's a lot of guessing, because you're trying to understand how human beings react to things," said Greenfield. "But our platform allows advertisers to get up to a 44 percent improvement in their return on investment, so they're dollars will be stretched 44 percent further when they use our software and the marketers behind it see their budgets go up between 30 and 39 percent."