Businesses sought for NH workplace breastfeeding pilot project
Initiative to award grants to 10 companies to expand support for mothers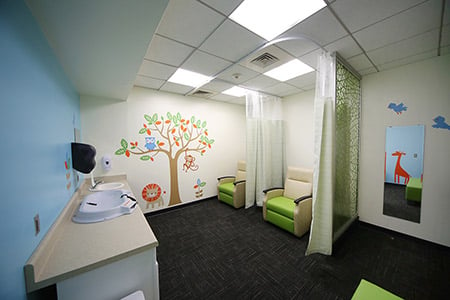 Ten New Hampshire businesses could each receive a grant of up to $5,000 to create a supportive space for working mothers of infants.
The lactation pilot project – an effort to improve workplace breastfeeding policies – is being led by Keene State College's Public Health Faculty in cooperation with the NH Department of Health and Human Services, with funding from the Centers for Disease Control and Prevention.
Grants can be used to purchase hospital-grade breast pumps (which range from $1,500 to $2,000), install sinks for equipment sanitation and provide technical support to mothers of infants.
The CDC grant is the result of the Surgeon General's call in 2011 to support breastfeeding.
"One of the steps is to maintain and expand workplace support of breastfeeding," said Keene State Associate Professor Meg Henning, who is conducting the pilot project with her colleague, Amanda Hickey.
Henning said people may not realize the Affordable Care Act requires employers to allow a reasonable break time for mothers to nurse or pump breast milk. The grants are intended to help organizations and businesses honor the law.
"Workplaces are a big part of people's lives. Lactation support increases breastfeeding duration," said Henning.
Family-friendly policies
The U.S. Department of Health and Human Services has called for 81 percent of New Hampshire infants to be breastfed at hospital discharge by 2020, with 60 percent of infants to continue breastfeeding until six months of age and 34 percent of infants to continue until hitting the one-year mark.
"We know we lose a lot of mothers in the first few months of going back to work," said Henning. "To have sample pilot sites would be helpful for other workplaces to model after."
Henning and Hickey have developed their proposal for the pilot program based on work conducted by the Monadnock Region's Community Coalition for the Promotion of Breastfeeding, as part of the Healthy Monadnock 2020 initiative.
Within the region, businesses have rallied around providing family-friendly policies to attract a younger workforce.
Ana Gonzalez, a human resources associate at Bensonwood in Walpole, helped lead the effort to open a room for mothers at the homebuilding company when two employees were expecting.
"I think it's the right thing to do, to make things easier for those on our staff who are maybe thinking about having children but still worry about what the options are when they get back," said Gonzalez. "They're trying to set up their families for success, and one of the things everyone knows is the benefits of nursing."
National statistics show babies who drink their mother's milk get sick less often, which means parents will muss less work and employees and employers will save on insurance costs. Fewer sick days also means less stress, said Henning.
And "parents generally feel good when their workplace is supporting them," said Henning.
Employers will also be provided with consultation from the NH Breastfeeding Taskforce – a coalition of medical professionals and lactation specialists. The organization has a toolkit for employers and sample workplace policy on its website.
"That adds another level of expertise that worksites will appreciate," said Henning.
Applications are encouraged from businesses with 100 employees or fewer. Final approval of award will be made by the DHHS, with funds distributed by June 30.
Deadline for proposals is 5 p.m. Friday, May 25. For more information, contact Amanda Hickey at amanda.hickey@keene.edu or 603-358-2868.