Business tax cuts set as NH budget compromise is OKd
BPT, BET reductions to take effect in 2016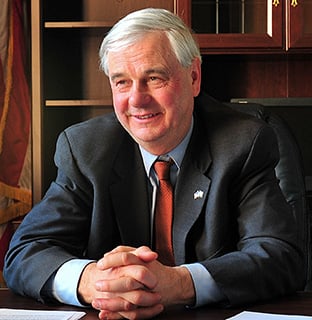 Most of the NH House favored the budget compromise that would lead to tax cuts for businesses and fund raises for state employees, but supporters of Senate Bill 9 needed more than that to get a budget. And they did.
It took a two-thirds vote of the House to even be able to debate the bill, and another two-thirds to override Gov. Maggie Hassan's budget veto.
The rule change passed by a comfortable 285-93, and by the time the House got to override the actual budget, only 25 members dissented
SB9 is not an alternative budget. It just replaces some of the language on taxes contained in the budget that the governor vetoed earlier this year.
It includes the same tax rate cuts that the vetoed budget had – eventually trimming the business profits tax from 8.5 to 7.9 percent, and shaving the business enterprise tax from 0.75 to 0.675 percent, and even accelerating it by a year.
But the first reduction – bringing the BPT down to 8.2 percent and the BET down to 0.72 percent – would go into effect in calendar year 2016, the rest would only go into effect if the general and education trust fund revenue for the 2016-17 biennium reaches $4.64 billion, a figure the Republican leadership said was attainable.
It also funds negotiated pay raises for state employees, utilizing about $12 million in savings reaped from the delay in implementing the budget, which was supposed to take effect on July 1.
The first vote, on whether to change the rules to allow SB9 came after protests by lawmakers led by former Rep. Bill O'Brien, R-Mont Vernon. He argued that SB9 was a spending bill and all spending bills are supposed to originate in the House. Other lawmakers insisted that they go through all the proper procedures required for a new bill, including public hearings.
But House Speaker Shawn Jasper, R-Hudson, left his podium and got onto the floor, going head-to-head with O'Brien, the former House speaker whom Jasper defeated in a bid for a new term. He argued that although the measure in effect was an amendment to the budget.
"What people deserve is the budget we passed on June 24. They deserve services. Our businesses deserve tax relief so the economy of the state can grow," he said. "We didn't have a budget before because it was vetoed by the governor. If we don't have a budget now, it is because of us. I was elected to govern, not play political games."
In the Senate, there was no dispute. SB9 passed unanimously.
Sen. Jeb Bradley, R-Wolfeboro, the Senate majority leader, was optimistic that all the tax cuts would go into effect.
"In a few short years, we will be below Massachusetts in corporate taxes," he said, and then – paraphrasing Mick Jagger, he added, "You can't always get what you want, but today, New Hampshire is going to get what it needs."
Planet Fitness bill
Things moved slower on the House side. First, lawmakers had to slog through a number of vetoes, all of which were sustained, including that of HB 550, which would give a tax break for companies "stepping up their basis," either by going public or from selling part of their business to some outside investors.
The bill emerged after Planet Fitness, backed by former Gov. Craig Benson (who owns a number of its franchises in New Jersey), threatened to move out of the state if it didn't get the tax break after issuing its initial public offering. Thus far, the company remains in its Newington headquarters.
Hassan, and many Democrats in the House, argued that while the law might cause problem for businesses, it was so complex that lawmakers needed more time to consider it.
But now that the issue has been raised so publicly, "the cat's out of the bag," argued Rep. Laurie Sanborn, R-Bedford. "This law penalizes you on your company's success. Every other state is more friendly to business than we are in this respect. The time to act is now. "
The veto of HB 550 was sustained, 230-147, though it got new life when members attempted to tack it on to SB 9 as an amendment, but it was later rejected because of fears it would mess up the budget deal.