Building a workforce pipeline
Industry-education initiative aims to develop next generation of manufacturing employees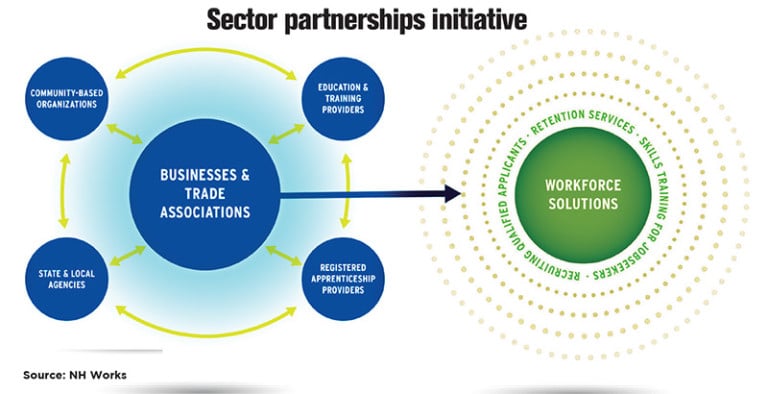 Titeflex Aerospace in Laconia has produced parts used all over the International Space Station.
"You know when you see launches and you see those Atlas V rockets bringing a satellite up, and then the first part moves away? We make the second stage engine," says Titeflex engineer Tom Wescott. "We do all the plumbing for that, called the RL 10 rocket."
Titeflex specializes in flexible Teflon-braided hoses and rigid tubes used in the plumbing of Boeing 747s and other jets, including hydraulic lines for landing gear, flaps, tail runners, oxygen lines and fuel lines.
The company recently completed a 47,000-square-foot addition, and it will be moving employees into it sometime in August. But it needs more workers to expand.
In the past, Titeflex would increase its workforce by publishing an ad, says Wescott. It would spend a month training new workers, only watching unmotivated new hires leave in a few months, with $10,000 of training wasted.
"The conversation came about, our general manager was seated at a table with somebody. They said, 'Why don't you get in touch with the community college?' And that flowed down to me," says Wescott.
After that, he got in touch with some people at GE Aviation in Hooksett, Scotia Technology in Laconia and Axenics in Nashua.
"We all had the same problem getting qualified help," says Wescott. "We can teach you, but you need to able to work with your hands and have some basic math."
'Number one priority'
"The number one priority for any business looking to move into the state is the available workforce and how they fit their needs," says Cynthia Harrington, state business recruiter/development at the NH Division of Economic Development.
Harrington works with businesses and the NH Employment Security office to identify the labor pool and potential feeders, such as the community college and university system and career and technical education at the high school level.
"If they're looking to move to the state or expanding in the state, they have their projections," says Harrington. "You need to make sure you have the workforce to take on the production needs."
Harrington offered the recent example of a conversation with Doug Folsom, GE Aviation's general manager, who expressed a need for workers with tube-bending experience.
After exploring the issue, she says, she found that several New Hampshire manufacturers had similar needs for people to perform tube-bending functions.
After several meetings, a tube fabrication and forming certificate program was launched last September at Manchester Community College.
One of Titeflex's employees teaches a welding class in the program, and most of the instructors work full-time in the industry.
"Tube-bending was the first initiative, but we have our eyes and ears open, and as we hear companies identify a specific need, we can create a training program customized to meet the training need of many companies, and they work with us to create the curriculum at the community college," says Harrington.
As a result of the program, "we're getting better qualified people," says Wescott. "They've taken the effort and the time to go to the community college and they've expressed an interest in this class. We might be in the third or fourth class, and every class is full, and they've [already] got enough people for the next class."
"Particularly in a time of low unemployment, we want to help the major sectors of the state's economy basically create pipelines of employment," says Michael Power, community outreach administrator at the NH Office of Workforce Opportunity. "And that includes creating career pathways so job-seekers know what kind of job training and education they need … so people can advance."
'Industry-driven'
The state is currently developing what it calls Sector Partnership Initiatives, based on the process and principles of laid out in the way the tube fabrication and forming certificate program was founded. The focus right now is on four major sectors: manufacturing; information technology; health care; and hospitality.
"The key is it's going to be industry-driven. It's not a state program," says Phil Przybyszewski, workforce solutions project director at Manchester Community College. "Once we get buy-in from the industry, we can deal with the educational part. We need to have people talking across those segments of the industry."
According to Przybyszewski, the formula involves setting up a team of people, called "industry champions" and "intermediaries."
"An industry champion is someone recognized in the industry who can garner the attention of his or her peers, and those people have been named already in the manufacturing space. That person will be trained on how to run a meeting," says Przybyszewski.
The idea is to come up with 50 subsector initiatives within an industry, by examining each company's job requirements.
"We'll deploy a course or customize to address a need in that subsector," says Przybyszewski.
Internships and apprenticeships
An aging workforce makes sector partnerships even more necessary in providing skilled applicants to replace retiring baby boomers.
Titeflex has 400 employees, but Wescott's wing of the company provides a sampling of what the company and others in the industry are facing.
"There's a technical director that sits in this area, a training director and a whole lot of applications and CAD (computer-aided design) people. And we have six people that are all going to disappear in the next six years," says Wescott.
Titeflex has a few MCC students who held paid apprenticeships with the company over last summer and winter break, with the idea that they'll be hired on when they graduate.
"As part of this program, and you'll see in other initiatives, is a big emphasis on internships and apprenticeships," says Przybyszewski. We're trying to get a student some real-life experience working at a company, even when they're in high school."
One goal is to have career technical schools become a feeder system for apprenticeship programs, but "the other thing we have to figure out is how do we get to middle schoolers," says Przybyszewski. "That's when they start thinking about what they want to be when they grow up. So we need to figure out how to access parents, teachers and guidance counselors."
A request for proposal has been sent to Jobs for the Future, a Boston-based nonprofit consultancy that specializes in models used to strengthen the connection between the education and workforce sectors.
The goal is that by 2025, 65 percent of working-age people will have a post-secondary certificate or degree, says Power. Right now about 49 percent are at that education level.
"In a changing world, where tech is a huge factor in every part of the economy, specialized training is really needed," he said.