Budget looks good for business
Tax cuts, other measures likely to be settled by fall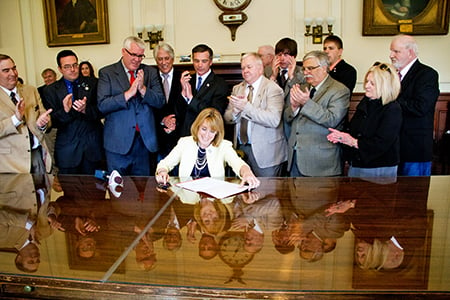 With the budget in limbo, the New Hampshire legislature did nothing last session except:
• Clear the way for the state's largest utility to divest its generating assets
• Pass a sweeping rewrite of the state's securities law
• Lay the groundwork for the biggest North Country development project in history
And pass a total of 150 bills related to business, most of which you haven't heard about.
These include a few laws with little impact to most businesses, and many that will affect a few businesses a whole lot.
For instance, a bill that would make it easier to get a business name could help many startups in the state. Then, there is a bill that allows certain ballrooms to pay their tipped workers less than the minimum wage.
Granted, roughly a third of those bills were either studies or technical corrections, though the topic of study, such as the role of Uber and Airbnb in the new economy, might attract attention down the road. Another third of the bills are so obscure they aren't worth mentioning. That leaves about 60 that are.
For instance, Realtors were very happy to make it clear that commercial leases won't be subject to the real estate transfer tax. Homebuilders were glad to get a law passed that prevented municipalities from using phased development to slow down projects. And it was a big deal for physicians to clear up what kind of prescriptions can be prescribed via telemedicine, and that Medicaid would pay for such consultations.
On a whole, it has been a good year for business. How could it not be when the argument is not how much to raise taxes but how and how fast to cut them? It was Republicans in the Senate that got the tax cuts on the agenda, by incorporating a modest decrease in the BPT and BET rate, over three years. Governor Maggie Hassan, who vetoed the budget because of such tax cuts, ended up proposing an accelerated BPT tax cut as a compromise, with the caveat that cuts would be paid by raising revenue in other ways, mainly by revisiting the thorny issue of reasonable compensation, and by raising the cigarette tax, a sore point among grocers who fear that lowering the differential will hurt border sales.
But that impasse, hopefully, will be settled by the fall, when lawmakers vote on the budget veto.
In the meantime, the state must implement the bills that do pass. Here is what's coming up, highlighting a few. For a complete list, see the adjoining chart.
SB 221 hands the tab to the ratepayers for the losses Eversource is expected to incur by selling off all of its generating assets, mostly the $500 million cost (including interest) on a mercury scrubber for its Bow plant. All the ratepayers in Eversource's service area – not just those purchasing Eversource's energy – would pay that tab though "stranded costs." (Supporters point out that the cost would be higher if Eversource didn't sell its assets.)
The details of all this is will be worked out by the Public Utilities Commission, which started accepting testimonies on the matter on July 6. Thus far, only those who support the deal testified. Objections won't start until September.
HB205 would allow lenders to attach liens to commercial property to secure affordable long-term private energy loans, in a new program put together by the Jordan Institute. But first, municipalities need to sign off, since they would be the ones to enforce such liens. So far, it looks like the City of Concord will be the first, said, Laura Richardson, the Institute's director, who said five businesses have expressed a serious interest in the program. Ironically, several might be looking at switching from renewable energy, generated by the troubled Concord Steam Corp., to install their own efficient natural gas furnace and heating system. The program is "agnostic" as to the type of fuel, Richardson said, just that energy savings would pay for improvements over the period of the loan. Two businesses are interested in solar energy, but are counting other programs not reach their limits: the Renewable Energy Fund (which is much smaller than expected, and could be raided to some extent) and net metering, which is rapidly approaching state mandated cap for all the utilities.
SB133, which goes into effect right before Labor Day weekend, would require that the fees charged by workers' compensation be reasonable. That falls far short of the fee schedules that a group of business were demanding, but it may still be beneficial, since currently insurance pays the sticker price, and that is reflected in a high percentage of workers' compensation premiums going to medical costs.
Hopefully, this will cause providers to negotiate, said Janet Monahan, deputy executive vice president of the New Hampshire Medical Society. But, if both parties can't reach an agreement, it would be up to the state Labor Department to decide what is reasonable, which will be done on a case by case basis. "We'll be tracking the results," said Deputy Labor Commissioner Katheryn Barger. The problem is no one else can, said Peter McNamara, president of the NH Automobile Dealers Association, which led the coalition for fee schedules. That's because privacy restrictions prevent the department from releasing information about each case.
And then there is SB30, which creates a district in an unincorporated town that would be able to assess the massive all season resort to pay for the infrastructure that ski magnate Les Otten wants to transform the The Basalms into. That project, which got a key environmental permit in July, will start working with the Coos County Commission in late August, according to project spokesman Scott Tranchemontagne. Although this bill technically only affects one business, if that business succeeds, it could transform the entire region.
Bob Sanders can be reached at bsanders@nhbr.com.