Bruss: high-quality innovative construction services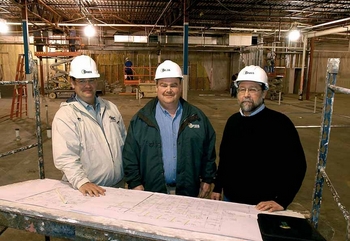 When Michael Bruss founded Bruss Construction in the early '80s, his goal was to create a different kind of construction company, one that embraced a more constructive and productive "team" atmosphere. That team now includes his brothers, Jim and John. Together, the three have worked to make their company one of the most respected construction firms in the state, delivering construction management, design/build and general contracting services to customers throughout New Hampshire.
Third-generation construction people, each brother brings years of experience and a unique area of expertise to the firm:
• Michael, president/director of pre-construction services, has more than 25 years of construction experience, including retail, commercial and historical renovations.
• Jim, the company's CEO who joined the firm in 1994, has more than 16 years' construction experience and has helped expand Bruss' services to include light commercial construction
• John, vice president of operations who joined the company three years ago, has more than 20 years' experience in large commercial, institutional and industrial project management.
The Bruss brothers believe choosing a builder really comes down to choosing a project delivery method and then selecting a contractor whose personality and talents match the project. And the sooner the owner involves the builder in the process, the more value the builder can add to the project on the owner's behalf.
To that end, Bruss stresses the importance of bringing together the project owner, design professionals and subcontractors in the project's early stages to collectively address the project's budget, schedule and design details, providing an integrated design process.
Because Bruss is building its business for the long term, it has invested heavily in the education and training of its staff. Goals are not defined in terms of annual sales volume, but rather by the successful completion of unique custom projects that spark their creativity and challenge their skills.
Most notably, projects include The Lake Opechee Inn & Spa, Family Tree Health Care, Canterbury Shaker Village, Harris Center for Conservation Education and the town of Newbury's public library, town offices and Highway Department Building as well as multiple projects for customers that include Lake Sunapee Bank, Proctor Academy, St. Paul's School and the White Mountain School.
The company also is frequently sought for its expertise in many "green" and "sustainable" construction projects and was a recipient of a Northeast Sustainable Energy Association Award for its work on the Society for the Protection of New Hampshire Forests building in Concord.
Repeat winners of Associated Builders and Contractors NH/VT Excellence in Construction awards, Bruss also constructed the first Leadership in Energy and Environmental Design-certified building in New Hampshire.
For more information, visit brusscon.com or call 603-938-2069.