Branding New Hampshire
State tourism agency's beefed-up marketing efforts begin to pay off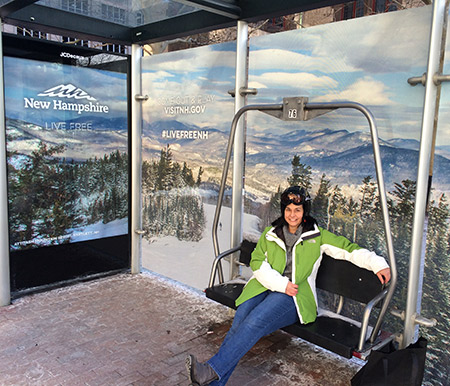 People in the state's tourism industry are still talking about how New Hampshire's exhibit wowed visitors at the Boston.com Ski & Snowboard Expo last November.
"Victoria [Cimino, director of the state's Division of Travel and Tourism Development,] and her team set up a lodge-like feel, and, from what I heard from lots of people, it was the star of the show," said Rusty McLear, co-owner and president of Mill Falls at the Lake in Meredith. "I've heard about it all year."
"We were thrilled to see the big exposure at the Boston ski show," said Ben Wilcox, general manager at Cranmore Mountain Resort and chair of Ski NH. "Vermont and Maine were in the corners saying 'How do we step it up?'"
And the division didn't stop there. In downtown Boston, food trucks wrapped in advertisements touting New Hampshire skiing distributed free cookies with information about the conditions. A bus stop in Boston was transformed into a ski lift. Massachusetts residents using Snapchat were able to see two filters with New Hampshire scenery. Television ads aired in Montreal and Toronto. And Visit NH digital ads were targeted to all three cities, as well as New York.
In the two years that Cimino has led the tourism division, a plethora of creative marketing efforts have breathed new life into New Hampshire's brand as a vacation destination, and that presence has paid off.
With some help from timely winter storms, Ski NH's 34 ski area members reported visits for the 2016-17 season were up 31 percent from the prior year.
"The late season snowstorms even allowed some resorts that typically close early to extend their season by a week or two," says Karolyn Castaldo, communications and marketing manager for Ski NH.
Marketing boost
The effectiveness of these marketing efforts can be tracked by using a travel intelligence platform called ADARA. With it, the division can see whether a person clicking on a digital display ad went on to book a hotel room. As of April 7, metrics showed $304,017 in hotel revenue since December was directly related to Visit NH ads.
The data is collected only from ADARA's major hotel partners, admittedly not a majority of New Hampshire's lodging properties, but that only means the impact could be greater, says Cimino.
"We are judged and the effectiveness of our campaigns are judged by whether rooms and meals tax revenue increase," says Cimino. "If you look through the past several years, rooms and meals taxes have increased somewhere between 5 and 7 percent in the past 11 years. The [state] Department of Revenue Administration reported fiscal year '16 revenue was above plan by 3 percent and above fiscal year '15 by 7 percent."
Marketing efforts to tout New Hampshire as a vacation destination have increased under Cimino, who was director of international marketing for Massachusetts' Office of Travel and Tourism and was a PR consultant before being named director of New Hampshire's tourism agency. (From 2005 to 2007, she was DTTD's communication manager.)
A food truck wrapped with a Ski NH advertisement hands out free cookies and information about skiing conditions in Boston.
The division has numerous partnerships to help carry out its marketing strategies. One of them is SMARInsights, a custom market research firm based in Indianapolis that works with a variety of tourism destinations, including Florida, California, Texas, Las Vegas and Chicago.
"We're now utilizing the same research methodologies these major tourism brands have used for many years," says Cimino. "We have a very clear return on investment model now. We're able to track our media spend and how that influenced visitors."
Approximately 2,500 people who fit the target audience in Boston, New York City, Montreal and Toronto were interviewed to determine whether they were aware of New Hampshire, had seen its advertising and if they would actually travel to the Granite State.
"We're taking credit for that percentage that wasn't aware of New Hampshire as a tourism destination, saw our work and booked travel. What that shows is, for every dollar the division invested in its media spend, there was a tax return on investment of $10," says Cimino.
Branding focus
The division has also enlisted the help of Manchester-based marketing firm GYK Antler.
GYK, says Wilcox, gathered several ski area marketing directors for what he described as a "conversation to position New Hampshire as a leading ski destination for New England. In the past, we'd learn about campaigns and say that's good, but maybe it'd be stronger with more collaboration – and they've totally been getting in front of us to collaborate."
Amy Landers, executive director of the Lakes Region Tourism Association, also has been impressed with the state's beefed-up marketing efforts.
"I'm excited they're trying new technology and thinking outside the box with the trucks in Boston and really doing some new things to drive our brand for New Hampshire," she says.
The Lakes Region Tourism Association — which funds its marketing efforts with membership dollars, advertising and fundraising — shares the division's key markets, but also tests markets in Philadelphia, New Jersey and Baltimore.
"Now that the economy is stronger, the further markets will book longer and they won't cancel last minute if they see a particular weather report," says Landers.
The association also uses good weather forecasts to its advantage, scheduling direct mailings to drop during April school vacation and in May, waiting for a streak of nice warm days.
"It's amazing what weather does. People are more apt to book on a sunny day," says Landers.
The marketing efforts also include a focus on international customers, with DTTD coordinating with other New England states to advertise internationally through the group Discover New England, which promotes the region in the United Kingdom, Germany, Italy, France, Japan and Australia.
"We have increased our international marketing efforts because of the massive opportunity that exists in attracting overseas visitors, who are weatherproof," says Cimino. "With overseas travel, you get visitors who will stay longer and spend more money, so it lends an opportunity for New Hampshire and New England to grow that share of the market."
But, Wilcox says, it's DTTD's focus on branding that is really driving results.
"I've known Vicki a long time. When she came back, it sort of recharged things. In the past they'd say, 'We have to show snowshoeing' — all of the smorgasbord of winter offerings and skiing needs to be on the list. The difference with Vicki's approach is 'Look, we've identified huge visitation for skiing and snowboarding.' Latching on to those for best return on investment is smart, and we love that," said Wilcox.