Bradley seeks to cut BPT rate to 7.5%
NH Senate GOP leader to sponsor added business tax cuts through 2021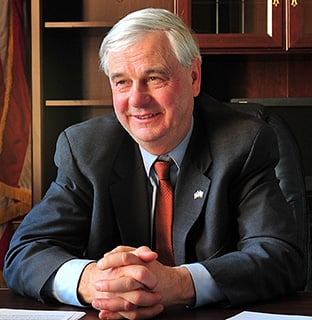 NH Senate Majority Leader Jeb Bradley, R-Wolfeboro, wants to cut the business profits tax rate to 7.5 percent.
The current rate is 8.2 percent, down from 8.5 percent last year. And it is scheduled to go down to 7.9 percent at the start of 2018, making it a tenth of a percent lower than the corporate tax rate in Massachusetts.
Bradley is now sponsoring a bill that would reduce the rate to 7.7 percent on July 1, 2019, and then eventually down to 7.5 percent on July 1, 2021. Bradley said he signed off on the bill Monday.
The tax cuts already in place were passed by the NH Legislature in 2015, a major reason Gov. Maggie Hassan vetoed the budget that year, but she worked out a compromise with the Republican leadership not to oppose an override, if the cuts were put off for six months and the second round of cuts would be contingent on the general and education trust funds reaching a total of at least $4.64 billion.
"The revenues support the existing decrease," said Bradley. "That being said, I think it is important to really get it down so we are in the middle of the pack. We will be doing it gradually over the next couple of budgets to give the state ample time to adjust. It's just something we need to do to be competitive."
Maine's corporate tax rate ranges from 3.5 to 8.93 percent. Vermont's is at 6 to 8.5 percent.
There are also plans to further slash the business enterprise tax, a tax on payroll, interest and dividends, that no other state has. That is being proposed by another senator, said Bradley.
The BET rate stands at 0.72 percent this year, down from 0.75 percent in 2015. It's scheduled to go down to 0.675 percent at the beginning of 2018, with the same contingencies as the BPT.
Despite the rate cuts, revenue from both business taxes has increased by 9 percent year to date. Fiscal conservatives say that that the increase shows that such cuts stimulate the state's economy and thus helps the state's overall revenue picture. But others say the economy was already improving.
There are numerous other tax bills in the works. Bradley said that lawmakers will look at each proposal individually and then decide on a rate depending on the state's fiscal situation.