Book smart
Hanover-based Picaboo looks to disrupt the school yearbook market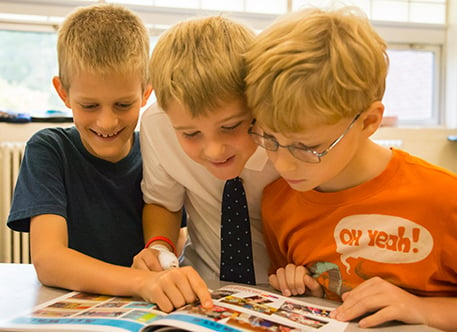 In 2002, two Babson College students, Kevin McCurdy and Howard Field, formed the idea for a cloud-based software platform to create personal photo books. That platform became Picaboo, which, in 2012 The Wall Street Journal rated the best photo book provider, in a comparison with Blurb, MyPublisher and Shutterfly.
With millions of users worldwide, the business was doing well, but McCurdy said he started to hear stories from friends and family about the hassle of putting together school yearbooks.
Originally based in Silicon Valley, in recent years Picaboo has relocated in Hanover, NH. McCurdy worked with a group of students at Dartmouth's Tuck School of Business to conduct a full market research analysis on the yearbook industry.
"When we dived into it, and started understanding the nuances of the traditional yearbook, we were flabbergasted," said McCurdy. "You have to submit photos for spring sports in November."
"We realized if we could figure out a way to leverage our expertise in software development and bring that into the yearbook business, we'd have the potential to make things easier for yearbook advisers and yearbook staff," while also digging into the $800 million North American industry, said McCurdy.
Nora Foster, a marketing consultant with a background in design and digital printing who is also an elementary school parent and yearbook adviser for New Hampton Community School, knows the work that is involved.
When she started her volunteer duties three years ago, her predecessor had simply used a Microsoft Word document and local printer to produce the black-and-white soft cover for kindergarten through 5th grade.
"I felt, given my background, I knew the yearbook could be so much more for the same price," says Foster.
Book's advantages
Foster started performing research regarding what yearbook companies offered. She was disappointed by Jostens' high prices and that Shutterfly didn't consider an order of 70-75 60-page books large enough to qualify for free shipping.
Shutterfly has since changed its stance on free shipping, but Foster already is committed to Picaboo, which she knew from making family vacation books, and with whom she's locked in the price so it won't increase.
She cites as advantages the online tool, the ability for parents and teachers to upload photos, the online storefront that allows parents to order a book past the payment due date, and the fact that she can utilize the same features she built into past yearbooks.
"As parents, we maybe take a lot of photos with our cell phone, and they're not very good quality, and they never make it to a computer. And if they do, they never make it into a book."
"I have so few photos or things or memories of my own elementary school. The few pictures I have are so cherished, the classroom photo I have … Some of those kids I went all the way through high school with," says Foster. "So I do it as a labor of love for my kids and their friends."
Foster says it's a way to recap things like Halloween costumes, the kids' winter concert, the school's annual ski program and classroom parties.
"I try to get in there and take pictures of what it is in the day of the life," says Foster. "The halls are already filled with amazing artwork that are swapped out every other week."
Ironically, with the advent of technology, capturing these memories in book form is necessary, says Foster, who recalls recently showing her son his baby photos on the computer versus the more comfortable setting of looking at a book on the couch.
"As parents, we maybe take a lot of photos with our cell phone, and they're not very good quality, and they never make it to a computer. And if they do, they never make it into a book," she says.
Cost of memories
Picaboo breaks the yearbook into sections, allowing parents who upload photos to mark which section the photos belong to, along with a caption.
"We have our NHCS store and a parent can backtrack and get past yearbooks" or order the current year's, says Foster. "It's $14, offset by $2.50 they take off because of local advertisers." Many parents are business owners and will chip in $5 for "smile" ads.
Nora Foster describes her yearbook duties as "a labor of love" for her kids and their friends.
"I'm going to be perfectly honest. I am disappointed that so many traditional yearbook companies – which are an extension of the photography companies – that they haven't revamped their pricing structures to be more in line with the digital photo books," says Foster. "I talk with parents who have children in our elementary school and their older children are in the middle and high school, and every year I get emails and phone calls and people who come up and say 'I can't believe how nice the elementary school's yearbook is and it's so affordable."
Part of the problem with the traditional yearbook companies is that school advisers are required to make inventory commitments upfront, not knowing how many students will buy the yearbook, while also needing to account for graduating seniors who miss the deadline or change their mind and do want a yearbook.
"What we are seeing quite a bit, schools are making more money than they ever made since there's no inventory, so they're guaranteed to make a profit if they want to," said McCurdy.
On average, yearbooks cost $50 to $60, according to yearbook company Herff Jones. Picaboo's cost about $35 for hardcovers and $25 for softcovers.
There's also a level of customization involved that students never were offered through traditional yearbook companies – meaning if you didn't get enough photos in because you weren't in a school club, you can add four personalized pages for free with pictures of you and your friends. Each additional page has a small fee.
Picaboo yearbooks can be turned around in three weeks, said McCurdy, allowing for end-of-the-year activities like prom to make it into the current yearbook.
"We give a lot flexibility to the yearbook advisers and yearbook staff so they can set the rules on how they want things to work," said McCurdy. Advisers can have the books sent directly to homes or set a date for them to be mailed to the high school in bulk.
The company has worked already with several thousand elementary schools, middle schools, smaller high schools and some colleges in the U.S. and Canada.
"It can be very high pressure, and it can be very complicated," said McCurdy. "It's a big project that people undertake, and we're trying to alleviate some of that pain."
Liisa Rajala can be reached at lrajala@nhbr.com.