BlockSyte develops blockchain solution for specialty food makers
Technology allows smaller companies to track shipment environmental conditions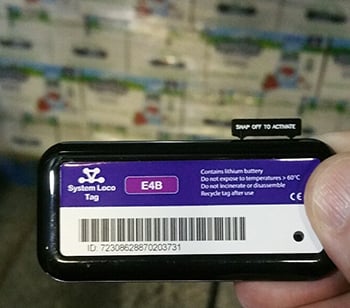 A Nashua startup is seeking specialty food businesses to further test its cloud-hosted private blockchain solution, which the company says will bring efficiency and accountability to the supply chain.
In partnership with an Internet of Things vendor, BlockSyte places a 3-inch by 1-inch tag on pallets to record in real-time humidity, air pressure, light, orientation and temperature of products enroute to major shipping hubs. In addition to monitoring a shipment in real-time, customers can also streamline key documents and smart contracts, enabling them to cancel a contract if the shipment was not delivered properly.
"For high end artisanal products, that's just not been possible before," says Alan Pelz-Sharpe, CEO and co-founder of BlockSyte. "If you [the manufacturer] have contracted to move cheese to Manhattan and it hasn't been transport properly, you can void the contract in real-time. It's a radical transformation of supply chain practices. I don't think our customers realize how accessible this technology is – that they can move from a high cost, inefficient, paper heavy loss damage dispute heavy system to a very streamlined and basically argument free system very quickly."
Pelz-Sharpe says the supply chain industry has been moving toward this level of oversight, and BlockSyte is an early player. The company has already become an official IBM Partner and communicates with the companies Food Trust division, which applies blockchain solultions to the supply chain.
While IBM is focused on the large retailers, BlockSyte is focused on the network of small and medium distributors and retailers, which are important pieces of the network, says Pelz-Sharpe.
"Hopefully we're one of the conduits if not the conduit to connect those smaller links," he says, noting retailers like Wal-Mart rely on tens of thousands of small suppliers and third-party trucking companies.
"Wal-Mart has decreed that by September 2019, all green food stops, so kale, cabbage and lettuce, have to be tracked by blockchain. That's for food safety. That's a big hurdle for a lot of people to get over," he says. "These are small companies with small revenues, they don't have a large IT team."
Northeast supply chain hub
When the company was formed last year, one of its founders suggested New York for the location.
"It was me who said, 'Why? Let's go for New Hampshire," says Pelz-Sharpe. "There's tax advantages, real estate here is lower, so we know that but we really wanted to tap into the community that's a little bit closer to the food supply chain."
Bordering Quebec and Montreal, New Hampshire is a key hub for the supply chain of the Northeast.
"This is a region that's famed for its cheeses," says Pelz-Sharpe. "It's really important that you have a really good eye on how it's transported and stored. If it's transported in a truck in 90 degree heat, it's not going to taste too good."
And sometimes small manufacturers "can't distribute out of limited area because they don't have visibility or control over how those products are transported and stored."