Bitcoin ATMs coming soon to New Hampshire
Nashua, Manchester, Dartmouth and UNH are likely first sites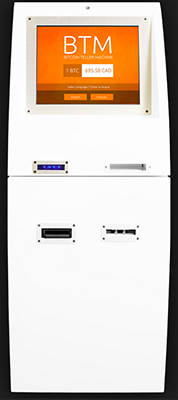 In about a month, New Hampshirites will be able to convert cash to bitcoins via new bitcoin ATMs popping up in the state. But what can you buy with a bitcoin?
"There are businesses in New Hampshire that accept it," says Peter Klamka, CEO of Bitcoin Brands, a publicly traded company that develops technology and payment products like the bitcoin ATM.
Klamka says bitcoin use is growing, as websites like Expedia and Overstock now allow consumers to purchase a plane ticket or product with bitcoins.
"If you're anywhere near a college campus, you have an unbelievable interest in bitcoin."
With bitcoin clubs forming at colleges, Klamka says he's received many calls from college students requesting bitcoin ATMs.
Bitcoins also present a new opportunity for local New Hampshire businesses who would want to accept bitcoin because it's a marketing tool, says Klamka.
"There is an installed base of rabid bitcoin fans who are incredibly loyal. You will be able to attract and advertise to it," he says, pointing out that even the review site Yelp includes whether a business accepts bitcoin. Plus, he adds, there are little to no merchant fees.
The Bitcoin Teller Machines – or BTMs – as permitted in New Hampshire, will require users to feed bills into the machine and then opt to receive a piece of paper reflecting the bitcoin amount or send the amount to their cell phone or other mobile device.
Unlike traditional ATMs, the BTM will not use a debit or credit card, though there will still likely be a small transactional fee, which is still being worked out, says Klamka.
Klamka says he's sticking to cash because it's the easiest and safest method, security-wise, minimizing hacking opportunities as there are fewer players involved.
Each BTM will hold a few thousand dollars worth of bitcoin to start. Klamka thinks that amount may be used within a week and eventually a day. For some perspective, Klamka says traditional ATMs hold about $10,000.
Since the value of bitcoin fluctuates based on the market, the BTM will be set on a daily basis, flashing the price of bitcoin and asking the user if he or she wants to proceed. Eventually Klamka thinks the market will be automated, but it is still "early days."
Bitcoin Brands already has BTMs in Ann Arbor, Mich., home of the University of Michigan, and Montreal. Another one will be going to Michigan State later this month.
"With transactions more and more over the Internet, this is an Internet currency and the ATM facilitates these transactions until bitcoin spreads to a significant audience," says Klamka.
The exact locations of the New Hampshire BTMs are currently unknown, since Klamka is still in talks, but he expects to place BTMs in Nashua and Manchester and near Dartmouth College and the University of New Hampshire.
"New Hampshire is one of the few states that has taken a favorable bitcoin position," says Klamka, who says other states were not sure how to regulate it, whether as a currency, commodity or something else.
"New Hampshire just took a great position that walks the balance between consumer protection, free market and emerging technologies," he adds.