Bill seeks mandated employer space for breast-feeding
Former state employee brings battle to House hearing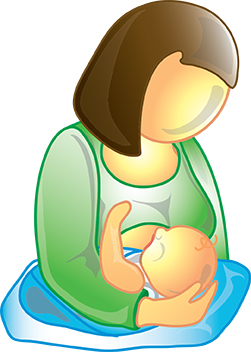 Should employers have to provide a private, safe space for their workers to breast-feed or express milk for their child? And if they don't should they pay a penalty of $100 a day?
Kate Frederick certainly thinks so. She's behind House Bill 1571, known as Devon's Law, named after her son, now 21 months old, whom she thrust into the arm of bill sponsor Rep. Ed Butler, D-Hart's Location, so she could testify in front of the House Labor Committee on Tuesday.
Frederick claims she lost her job because her employer, the state Department of Health and Human Services, didn't allow her an extra 15 minutes on her break so she could rush over to a day care center down the street to feed Devon, who was then 2.5 months old.
She was given the option of feeding him in the waiting room while clients were there – clients who often include child abusers and sexual predators, some of whom she had helped put in prison.
"It just wasn't a safe place to expose my breasts," she said.
Frederick said she could actually make a safe place, displaying a pop-up tent, with a window to plug in the breast pump, which she also brought in.
The tent only cost her $10, but the law is bit more involved. As amended, the law would require employers to make a "reasonable" effort to provide a sanitary room other than the bathroom for nursing employees, though a nearby facility might serve. It also would require that restrictions pertaining to children in the workplace be relaxed when it comes to breast-feeding.
A federal law already requires such accommodations for larger companies (those with over 50 employees) but it only provides those protections to hourly workers. (Federal law also only requires such protection for one year, while HB 1571 would require three.) And there is a state law that prevents discrimination in public accommodations. But Devon's Law would affect all businesses, even – as Rep. Gary Daniels, R-Milford, pointed out – that North Country auto body shop with an "office less than sanitary" and garage bay and outhouse out back.
Using that office could be suitable, said Butler, but that was before Frederick testified about one New Hampshire woman working in a Concord restaurant who used the boss's office, only to have him "keep on coming in on her. She had no legal protection. That's really creepy," said Frederick.
Some kind of partition would be needed, so what about a partition in the bathroom, some committee members asked. Butler would have none of that.
"A woman should not be forced into the bathroom to feed her child," she said.
Frederick also would like protections for fathers and guardians who would be bottle-feeding a baby from expressed milk or a milk bank, if the mother either died or was seriously ill.
But that, said David Juvet, vice president of the Business and Industry Association of New Hampshire, would be going a bit too far.
Why would you need special protection to bottle-feed the baby breast milk or formula, he asked. And wouldn't mothers who choose to feed their babies formula object to not having the same protections?
Still, there was nothing wrong with the general intent of the bill, said Juvet. Most employers make reasonable accommodations anyway. The only problem is that the perception of what is reasonable might differ.
"Our hope is that they can work that out, but it is a little vague," Juvet said.
Note: This article has been updated to correct Devon's age when Frederick was trying to work out accommodations with her employer. He was then 2.5 months old, not 21 months, as the article initially stated.