Big data startup talks opportunity and challenges in New Hampshire
Location is important to investors says Forcivity CEO Steve Baines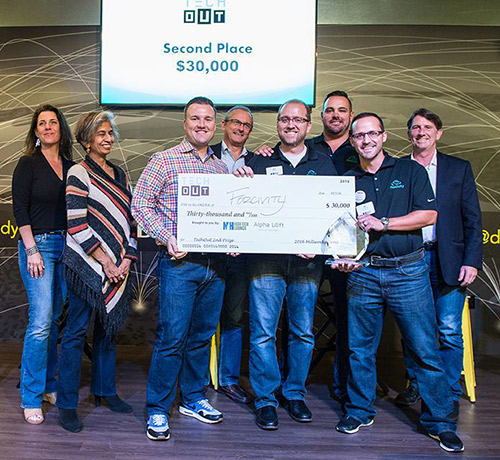 Forcivity is a New Hampshire startup that formed just as the Department of Resources and Economic Development would hope companies originate in the state — as a spinoff developed by former employees of in-state tech giants EqualLogic, SilverTech and Dyn.
CEO Steve Baines, a former EqualLogic employee and tech consultant, formed Forcivity in response to a problem he encountered with many of his clients who used data collection management systems, mainly Salesforce.com: it wasn't user-friendly when compiling data for a report.
With the help of a team in Vietnam to write the initial code, Baines moved forward with building a small local team to produce the cloud-based platform that provides user-friendly options for collecting data from multiple management systems. Baines says the platform organizes data more easily into presentations and reports, removing the awkward workarounds within the Salesforce platform.
"We make Salesforce.com better," said Baines. "Our goal is to make people's lives easier who use Salesforce everyday."
Big data
While data collection practices have increased drastically in recent years, the available tools and professionals' familiarity with how to best utilize that data is lagging substantially, said Baines.
"I was at a Salesforce conference this fall and the keynote speaker was president Keith Block, and he said 90 percent of the world's data was produced in the last 12 months, which is absolutely mindboggling," said Baines. "Think about an individual company, how much data they're producing on a daily basis in multiple systems – how do you make sure everything goes where it's suppose to be so you turn data into information? People are getting an information overload."
That being said, there are over 800 job listings on the New Hampshire-Massachusetts border for people with Salesforce skills, said Baines.
"It's one of the fastest growing software companies in the world," said Baines, who also foresees quick growth for his own company.
Location, location, location
Next week, Forcivity will be moving into the Nashua Technology Park, having won a year of free rent as the runner up in the 5th Annual Flatley Challenge. (The company also received second place in the TechOut competition last year, winning $30,000.)
Baines is eager to move from Goffstown to a location close off the highway in Nashua, especially off of Exit 1.
Forcivity has remained in New Hampshire for the low-tax environment, but Baines has wanted to get closer to talent available in Massachusetts. That being said, drawing in professionals is a challenge — something Baines learned while working at EqualLogic, located off of Exit 8.
"Nashua is a big city so going from Exit 1 to Exit 8 can add 12 minutes to a commute," said Baines. He receives a more positive response when he discusses the new location off of Exit 1.
"It kind of opens up the candidate pool substantially, and I think that's Manchester's biggest struggle is it's considered far north for people in Northern Massachusetts and there doesn't seem to be the same mix of opportunities to make that drive," said Baines.
"I'm talking to people at Dyn, friends of mine going through the acquisition, and there's uncertainty and there's concern that 'there's not many places I can go in Manchester to do the same thing or have the same growth path, make the same money,'" said Baines. "Those are legitimate concerns, so I think that factor alone stifles the market."
Investors also scoff at locations further along I-93.
"As companies mature — and Dyn is probably the exception — it's like Nashua is the stepping stone for them, or Portsmouth," in order to attract talent and get investor backing, said Baines. "I've had investors say to me, 'You're in Goffstown, New Hampshire? Good luck getting funding.' It's almost like there's this stigma that we have no control over in the Manchester scene."