Bidding for a bargain
Weekly Manchester car auction draws diehards looking for a deal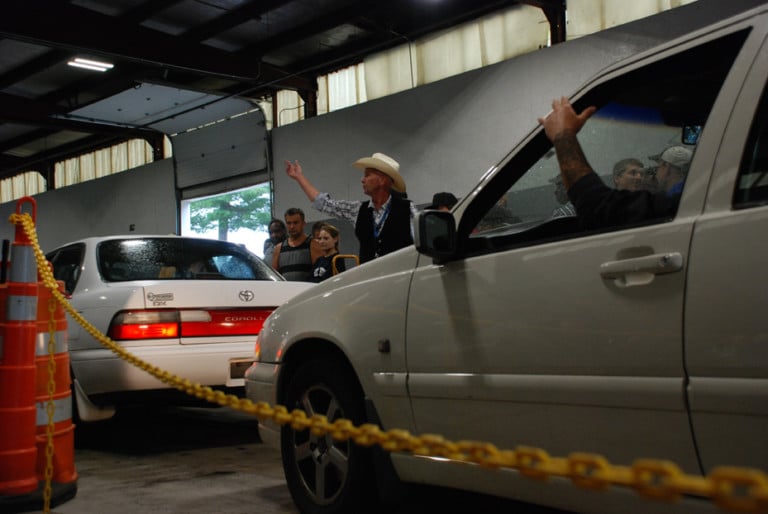 Potential bidders gather inside Capital Auto Auction's warehouse.
Customers are allowed to examine the cars up to one hour before the auction starts.
The main event doesn't start until 11:30 a.m., but people start trickling an hour beforehand.
You can find them in the back lot, peering in windows, checking undercarriages or picking at rust. Others are inside the garage, setting up their folding chairs.
The live auctions on Saturdays at Capital Auto Auction in Manchester go quick, and they just want to make sure they're bidding on a good product.
The auction started back in 1999, says general manager Lynnette Shinsato. And for more than a decade, it's been where hundreds have come every Saturday to try their luck
. "We have the diehard customers that have been coming for years," she says.
There aren't many public auctions in the state anymore; most of them are reserved for private dealers to come in and bid on the inventory. However, New Hampshire houses at least a couple of public car auctions. Interstate Auto Auction also has a Saturday morning live auction at its 20 Hampshire Road location in Salem. Since it started in the early 2000s, the business has held over 1,000 auctions both online and at their warehouse.
The other is the Manchester auction. The yard of the 190 Londonderry Turnpike facility is filled with hundreds of cars – some in pristine condition, college decal stickers from previous owners still holding on tight to the back windshield, others have seen better days and are sprinkled with dust or missing a headlight, front grill or hubcaps.
The cars are either donated or sold by an individual, and go for as little or as much as bidding will allow. Winners also have to a pay a buyer's fee, which helps fund the auction.
That fee is usually a small percentage of the closing bid. For example, someone who wins a car at a $1,000 bid might pay $145 and any state required fees, Shinsato says.
Online auctions
photo by melissa cooperman
The vehicles come rolling in to a roped off lane in the open space. Eric Howard, ringman for the auction, opens up the hood and talks up the car to onlookers.
As the engine shutters and shakes in anold Saturn, Howard yells over the auctioneer's fast numbers.
"It's its first time at the auction – it's nervous," Howard shouts. "That's why it's shaking."
The price continues to rise – $300 quickly becomes $500."Hey, that's cheaper than lobster!" Howard shouts.
Meanwhile, the auctioneer rattles off bids, keeping an eye out for hands that dart up in the crowd. The numbers begin to repeat themselves, and then the gavel bangs – "Sold!"
There's a brief moment of silence as the car rumbles out and the next one is brought in.
This isn't the only time the public is able to bid on the vehicle – online auctions are held Saturday afternoons through Capital Auto's website, which further benefits those trying to sell off a car.
"We can open up to an even larger audience," says Shinsato.
Looking for a deal
Howard says he's been working at the auto auction for 15 years. The number of people coming each Saturday has declined but remained healthy over the years. "In the beginning, it was mobbed," he said.
Howard says he's bought many cars from the auction himself. He even bought a relatively new Cadillac for his mother one time – a one-owner car with 53,000 miles on it that cost him $1,200 out the door.
Many of the people come to the auction as wholesale dealers – people looking to get a good deal on a car to resell it at their own shop.
Michael Cloutier is one of them. Hailing from Winslow, Maine, Cloutier says he's been making the 2 1/2-hour drive down to the auction for more than a decade. His spending averages about $800 to $1,000 apiece on his cars and he keeps coming back for more.
"I keep buying cars," he says, adding that he has about 15 on his property right now. "I'm a pack rat," he says.
It's not often that he loses – usually, he says, he gets a great car at a low price. But there have been some times when he hasn't fared as well as he thought.
"I got burnt a few times," he says, adding that rust is usually what does the vehicles in. "You don't see it because they're all rotted underneath."
Other times, people will attend the auction to get a first car for their newly licensed children or to buy a car they can beat up a little bit. "Some of them buy them for the demolition derbies, too," Shinsato says.
Though most of the vehicles are gone within a month, some tend to stick around for a while. Shinsato says they don't ever get rid of vehicles – they just keep auctioning them off until someone bites, like an older Honda CRV that has failed to catch anyone's attention.
With a slam of the hood as Howard closes it up, the car heads out the side garage door. "It could be a week, it could be a couple of weeks," Shinsato says. "It all depends."