Ben and Jerry's co-founder seeks business leaders for Priorities effort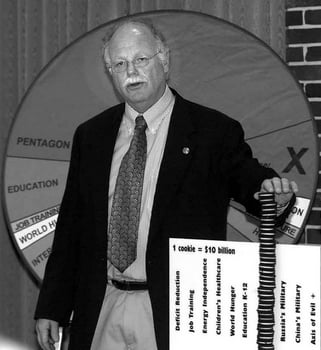 Here's the real scoop on ice cream guru Ben Cohen's visit earlier this month to New Hampshire, during which he launched the Priorities NH project with a group of like-minded businesspeople. It's American Pie, the newest Ben and Jerry's ice cream flavor, which will be introduced in July.
It tastes like apple pie, but it comes with the very pie chart that Cohen's group uses as its logo, designed to emphasize the amount of the federal budget that military expenditures eat each year.
"I don't know if I should be telling you this," Cohen said in an interview sandwiched between a State House press conference and a luncheon at the Common Man restaurant in Concord. "It hasn't been released. I could get into trouble."
Yeah, right.
Cohen no longer heads the gourmet ice cream company with a cause that he and Jerry Greenfield started in 1978 out of an abandoned Burlington, Vt., gas station with $8,000 of their savings. With Cohen heading the marketing and Greenfield directing production, the company grew so chubby that it sold for $328 million in 2000.
As the company co-founder, Cohen gets certain privileges. And that not only includes a lifetime supply of ice cream stacked in a freezer inside his Burlington office, but the office itself, where he runs his new organization. (He also, he said, remains on the Ben & Jerry's payroll.) And although he opposed the sale at the time, he is now very happy with the ice cream company's current "chief euphoria officer," Walter Freese – former president of the Celestial Seasonings tea company — who took over in 2004. Freese, said Cohen, shares the same values and actually consults him on the business.
Cohen, meanwhile, has transferred his marketing skills (and $2 million of start-up money) to Business Leaders for Sensible Priorities, which advocates spending less on war and more on human needs. Cohen founded the group in 1998, a few years before Ben and Jerry's was sold, and it has since created an Internet-driven "grassroots" affiliate, True Majority.org.
Targeting businesspeople
Priorities NH will focus on New Hampshire not because the Granite State is next door to Vermont and displays "good old Yankee common sense values of cutting waste," as Cohen says, but because by focusing on New Hampshire the group could "be a big fish in a little pond that every four years becomes a giant fishbowl." Iowa, of course, is the other fishbowl Priorities will swim in.
The organization has hired former Concord Monitor reporter Steve Varnum (who formerly worked for the Children's Alliance of New Hampshire, and who promises a fun campaign, "with a few surprises.")
Cohen conducts his traveling road show with his usual flair, whether it be the "Pig Mobile," his Oreo video, or his Wheel of Fortune, all of which graphically illustrate how military expenditures take up about half of the discretionary budget.
His latest gizmo is a pen with a little pullout window shade that contains a chart showing how U.S. military spending (some $442 billion) compares with the $9 billion spent by the so-called "axis of evil." Cohen said he hopes to have that pen in the hands of half of the population of the state. The owner of the Smuttynose Brewery has already given them out to all of his workers, Cohen said.
Business leaders, not necessarily known for their liberalism, are prime targets for this campaign he said, because they understand the "big numbers" better than most. They also, he said, know what it is like to shift to changing circumstances, and since the former Soviet Union is gone, it doesn't make good business sense to spend billions to defend against them.
This "institutional lag" is the bane of large corporations, but "in the private sector, if you don't make the change you are out of business. If you are in government, you just keep going."
To make his point, he invited Lawrence Korb, who served as assistant secretary of defense in the Reagan administration, and was vice president of corporate operations at Raytheon. Korb maintains that federal government could cut $60 billion by eliminating outdated weapons systems without weakening national defense. That money could be used it to strengthen homeland security, cut the debt and spend more on social programs, all without – Cohen emphasized repeatedly – raising taxes.
Cohen does takes his potshots at the "defense contractors who rule the roost," but, he said, most businesses would rather see money invested in health care, education and energy self-sufficiency, which he noted are three of the major planks of the Business & Industry Association of New Hampshire. (The BIA, he quickly added, does not endorse his organization.)
Progressive showman
In any case, business leaders in his coalition – some 650 nationwide and 16 in New Hampshire – join as individuals, not as companies or groups, though he would like to start appearing before local business groups more.
"We rely on businesspeople to get the message out," Cohen said. "Businesspeople are more able to talk to policymakers and the elites, and when they talk, it is more newsworthy. Maybe it shouldn't be that way, but that's reality."
So far most of the businesspeople who showed up to support Cohen were already politically active before he came on the scene: John Rauh, a liberal activist who ran for U.S. senator in New Hampshire; and Harold Janeway, president of White Mountain Investments and a staunch environmentalist.
Another, Beth Caldwell — owner of RGBC Associates, a Keene real estate firm — is a member of Mothers United and has already organized a day of "waging peace."
Not all of the attendees were liberal diehards. Attending the luncheon was Nick Vailas, chief executive officer of Patriot Healthcare and a former Health and Human Services commissioner appointed by former Gov. Craig Benson. Vailas said he was there to "hear what Cohen had to say."
While Cohen is trying to attract business leaders into politics, he has no interest in getting back into business. He did start up and invest in Barred Rock Fund, a social change investment company, now headed by former Ben and Jerry's President Chuck Lacy. And he is toying with – so to speak – making little Ben and Jerry figurines.
"I do own the rights to myself," he said when he asked whether he needed his former company's permission.
But Cohen prefers his current occupation as a progressive showman.
"It may not taste as good as ice cream, but it sure would make for a sweeter world," he said.