Belmont manufacturer anticipates growth in government contracts
Milpower Source sells power supplies for military and aerospace applications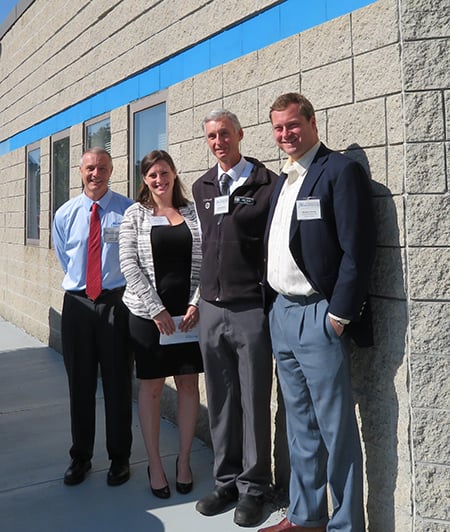 Milpower Source, a Belmont manufacturer of custom and standard design power supplies for military and aerospace applications, is yet another New Hampshire employer seeking high-skilled workers to achieve its growth expectations.
Over the next three years, Milpower plans to double its workforce, mainly electrical technicians and electrical engineers.
"We see a lot of opportunity in the military environment, the Department Defense environment, where we already have a great deal of business," said Marketing Manager Sam Young. "The company historically has been pretty happy with the level of business it has, but it's seeking to grow now, and there's opportunity for growth within our existing client base simply by getting on new programs, by developing deeper relationships with the companies we already work with."
During a tour of the facility, attendees saw DC-DC converters which support 737 engine startup and Generator Control Units produced for the V-22 Osprey, both products are manufactured to detailed avionic specifications to ensure high reliability. Milpower also produces products that support the missile defense program.
Milpower does not have an automation line, but relies on its employees to custom design and engineer products.
"There's a lot of pride in the work because of the end user," said Young of Milpower's staff.
David Pease, program manager of the New Hampshire Government Contracting Assistance Center – who has visited hundreds of companies across the state – said he was impressed by the employees' "level of mastery to articulate and discuss their work."
Operating for 30 years, the Milpower has gotten innovative to attract and retain employees. When a young man working in the shipping department expressed interest in becoming an electrical technician, after working for the company for five years, Milpower placed him in George Brown College's electrical engineering program.
"He's taking [online] modules and does his practical on-site, and then Milpower tests that knowledge," said HR Director Holly Lewis. Milpower is covering the tuition for the online program, which enables students to build virtual electrical boards before doing the real thing.
"There are 23 modules and at the end of that he'll have an associate degree," said Lewis. "It's the first online program I've seen that also has teacher support. The gentlemen I work with, his name is Richard, he founded the program with George Brown College, and he's fantastic. He calls in every week to check in with Jake. They've formed a great relationship and it works."
Milpower also works closely with the Huot Career and Technical Center in Laconia and Lewis has met with Lakes Region Community College and NHTI. She's excited for new opportunities for collaboration with the schools, but also appreciates having another option.
"Not everyone's comfortable going into a classroom. And Jake is one of those folks, he doesn't want to go to school anymore, but this is a way he's comfortable and this will help him grow. So we were creative and I think you have to be that way," says Lewis.
Government contracting
Within New Hampshire, government contracting is a $2 billion a year industry, Pease told NH Business Review.
"Roughly half of that is the large prime contractors, BAE Systems and such, but over $600 million a year is small businesses in New Hampshire," said Pease. "We are the leader on per capita business in the Northeastern U.S. So it's important. Not only is it a significant number of jobs but it's good jobs."
Government spending has grown steadily, encouraging new entrants to the market, said Pease.
"We have a very broad mission to assist any New Hampshire entity with any aspect of government contracting, so we have things we can do that are helpful for any size or any stage of development, from making sound, strategic business decisions as to whether it's a market to pursue on one end of the spectrum, to meeting some of technical obligations and requirements," said Pease.
The Government Contracting Assistance Center also helps large businesses find small businesses that can serve as their supply source to meet a federally-mandated requirement.
Pease said there a tremendous spectrum in the types of New Hampshire companies that directly sell to the federal government or serve as subcontractors.
"We are particularly strong, as a state, in electronic, electro mechanical, electro optic kinds of things, machine components, things that fit under the rubric of high tech manufacturing. But that said, DCI in Lisbon, they're a major supplier of dormitory furniture and the military buys a lot of wooden dormitory furniture. So it's a very different level of technology but still a great business," said Pease.
Pease said the conditions for government contracting are always changing as Congress tinkers to make the process more fair, achieve social goals or be consistent with foreign policy goals, as well as be as cost-efficient as possible.
Senator Jeanne Shaheen had toured Milpower last week and sat down with management privately to discuss concerns.