Banking and finance in N.H: a roundtable
Assessing the state of New Hampshire's banking industry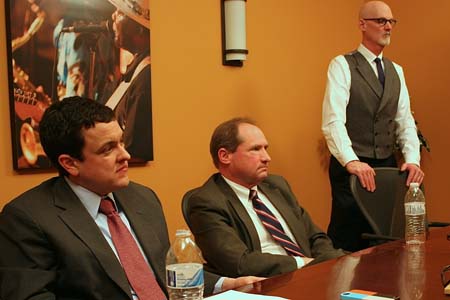 NHBR's editors recently met with representatives of the New Hampshire banking and finance industry at our offices in Manchester to get an overview of the sector and find out what they believe the future holds.
Participants were:
• Ed Caron, executive vice president and senior credit officer, Merrimack County Savings Bank
• Jay Dinkel, vice president and regional commercial banking manager, NBT Bank
• Stephen Heavener, executive director, Capital Regional Development Council
• Andrew McGeorge, chief financial officer, Service Credit Union
• Joe Reilly, president and CEO, Centrix Bank
Availability of credit was a hot topic when NHBR held a similar roundtable in 2011. What does the situation look like now?
Joe Reilly: I think it's really not much different than it's been from the beginning of the financial crisis. I think the banks of New Hampshire, given the condition that they've been in, and continue to be in, have had plenty of capital and funding to lend to the small business sector and have been as aggressive as they can in doing so.
Unfortunately, I think there was a little bit of a misnomer in the market that got played up politically with regard to a "credit crunch." I don't really think it existed here, but it was played to exist, given people who didn't have the qualifications to support a traditional bank loan.
Stephen Heavener: I think that's exactly right. There has never been a liquidity problem in New Hampshire as far as capital goes. The problem has been the quality of the credit and borrower, and that's traditionally been the problem within the past five or six years.
There has been plenty of capital for banks to lend out, but I think there was a perception, especially with free money out there and all the stimulus programs. Most of the stimulus programs were not focused towards small businesses. There was no free money and there really wasn't much change other than a little bit of tweaking and regulatory programs.
Ed Caron: If you go back long enough, you had a couple of the big banks back in the '90s and 2000s fighting for SBA Champion of the Year, and after the crash in 2007, they pulled back. There's a rotation that has really been to the local community banks, who have stepped up and filled the breach. There's never been a lack of credit available in the small business group. In fact, right now, I would argue there are a lot of banks chasing too few credit opportunities, so you really can go into any bank and the banker will try his best to make the loan because businesses scramble out there for good quality assets. It's a great time to be a borrower.
Jay Dinkel: There's a disconnect somewhere between the businessperson, the borrower and the financial institutions that want to loan money. We're working — harder than ever, I think — to get loans out, and the competition is as great as it's ever been. Interest rates are low, everything seems to be in place, and yet I'd say many businesses are hesitant to look and, even with the improved balance sheets that we're seeing, the volume and demand still seems to be light.
SH: I think there's a lot of uncertainty at all different levels. There's political uncertainty, ACA Obamacare uncertainty — this is not against or for it, this is just that the small businessperson doesn't yet really know what that may cost down the road. Then you have what's going on in the Ukraine. There's just a lot of caution out there, and the only borrowing that is occurring is borrowing in which the borrower just can't wait any longer and they're probably the only companies that are making capital investments.
Andrew McGeorge: We're one of the new players that's adding to the competition in the field, and at the same time we're ramping up the business. We have a lot of money to lend, but we don't have a ton of businesses beating down our door, probably for the same reasons these folks have talked about. We focus on slightly different types of borrowers than the banks do. A lot of our members already have relationships with us — plumbers who want to buy a new van or somebody who wants to buy a rental property. We consider those business loans. I mean, it's kind of saying the same thing — New Hampshire remains very healthy, but there is some uncertainty out there that's probably preventing us from achieving our full potential.
Is uncertainty the main driver of the depressed demand?
JR: It is clearly uncertainty, and we've found, over the last two years, there to be a pretty schizophrenic marketplace. We've gotten off to good starts in the beginning of the year and then, even by March, the phones are quiet again and our outreach efforts have to be reactivated or intensified to begin to draw opportunities, but it's been a long, long road, and I don't know exactly what is going to be a key catalyst to change the environment.
Joe Reilly, CEO of Centrix Bank, said New Hampshire "is still a great place to be."
EC: Historically, New Hampshire's led the New England region with growth. Now we're kind of lagging – in the middle of the pack.
We have some issues in the state that we have to deal with. Energy costs are a real problem. I'm also chairman of the New Hampshire Business Finance Authority, so we deal with some manufacturers across the state, and the spike of natural gas prices has really put a crimp on some big employers. I know the governor's trying to work on that by putting a pipeline in, but our energy costs are extraordinarily high, and that's a real detriment to the state.
We've also become a no-growth state in many respects. The state tries to drive business, but I'm old enough to remember back to the golden years in the '70s and '80s when Sam Tamposi brought a lot of new business – he actually went out and recruited companies to New Hampshire, like Digital Equipment, Anheuser-Busch, Kollsman, Fidelity.
He brought a bunch of companies into New Hampshire, and you know, those people could relocate fairly easily. And you get housing for them and we had this tremendous boom in the late '70s and early 80s, and today I think there's a backlash for companies to get established here, to get the permits necessary. It's a very lengthy process and when you look at housing development, it's become very difficult to put up a significant housing project in the southern part of the state. Again, the state, I think, tries to promote business, but I think at some of the local levels you've really got some people sitting on some of these planning boards and zoning boards that might not be there to interpret the law so much about what's allowable, but what can they prevent. To me, it's becoming a real problem.
JD: I'm not sure that alone prohibits our growth because that's true through in all our neighboring states. So, again, it gets back to that slight disconnect where we seem to have the pieces in place as well as any of our neighbors, but we haven't seen many results from it yet.
JR: I think, too, that it's a matter of allocating resources. I'm a native. I've been here my whole life – a 35-year career in the banking industry in New Hampshire — and I always marvel every year that there are 1,100 to 1,200 things wrong that need some sort of legislative solution.
I think if the state was really serious about trying to improve its business climate and attractiveness to bring families here, they'd identify a prioritization of half a dozen or 10 really substantive, meaningful issues that can further the environment to provide that incremental development. But right now, the Legislature spends 100 percent of its time on any number of other things than trying to provide a better business environment. At least that's my perception from the outside.
EC: I will say the banks have done a lot of good things in the last few years too. We've taken advantage of some of the New Market Tax Credit opportunities with Steve Duprey in Concord developing two very large buildings that have really transformed South Main Street. And CATCH, a local nonprofit, put up a low-income housing project together, but they've also just refurbished the Endicott Hotel into marketplace housing, which is remarkable. The Concord Food Co-Op has gone through a major renovation program.
I know Centrix has been very active in the greater Manchester community. We just financed a hotel down in Nashua. We're in the process of being a participant in the Hooksett rest area project, which is a major boon for the state. So there are a number of projects that we're in, and I think we have to tell someone the good news about it.
SH: I think one of the keys of the business activity that has happened in the last four or five years is that a lot of it has had nontraditional funds in the deals. The public might not necessarily know what the New Market Tax Credit is, what an SBA 504 loan is, what a Community Development Block Grant loan is. As an enhancement lender, that's what we do every day. We package funds for five different federal agencies, New Hampshire CDFA tax credits – every single person around this table that's a banker has used us in deploying those nontraditional financial products. So, if you were to just peel out traditional conventional lending in New Hampshire, and then add to it all the deals that all the regional development corporations and the certified development companies in New Hampshire have done, it's a substantial addition to the investment that takes place in the state.
We are very fortunate for the small state that we have, that we have as much creative and nontraditional money. I don't know if the bankers would concur with that, but a lot of what goes on out there is designed to help them put out more money. We take on more of the risk so the banks can continue to deploy their money, and we come in behind them and maybe help them do deals that otherwise might not get done without our participation.
EC: The other thing is that the state is really a tale of two cities. The southern part of the state from Concord, south and east, the economy has recovered pretty well. The northern part, with the exception of the Upper Valley, which has got Dartmouth and the hospital up there, is in very difficult shape, and I think the western part of the state is also struggling a bit. The closer you get to the Massachusetts line, the better the economy is, in terms of the housing market, in particular. You see the jobs, the high-tech jobs, the Massachusetts people coming back up the highway. You've got to look at certain pockets.
In terms of the overall economy, where is the demand coming from for loans — are there specific sectors that you see more activity?
JD: Last year, I think most people would agree, manufacturing was real strong. Overall, many manufacturers were booming and expanding and having a hard time finding labor — up until about the fourth quarter, then it seemed to stall. That carried into the first quarter, and now things seem to be picking up again. We hope that continues, but it's this roller coaster of growth and stalling that seems to be pervasive.
EC: The manufacturing base in New Hampshire has shrunk over the last 20 years, which is really unfortunate. It's a real dilemma for us, but on the other hand we do have some victories. The Safran plant has opened in Rochester. It's a 275,000-square-foot facility, an amazing facility. The BFA has invested $5 million in that project for some infrastructure. The state competed against a number of southern states and was able to attract them here primarily because they wanted to be close to Albany International.
I think they've got like 110 employees now, but they're talking about going to 500 employees within the next five years. It's created a demand for the community college out there to expand to try and train high school graduates for a couple more years in basic math and how to learn some of these sophisticated pieces of equipment. That's a deal-changer for Rochester. There are a lot of high-paying jobs that will attract some other industries — it's already doing that. And again, I see the state is being active in that role to benefit the local people. Those are the type of industries we need to somehow attract into the state to drive our economy.
Does anyone want to take a shot as to how we can do that?
JR: I haven't given it enough thought, except for to say we're a state that is unwilling, whether for right or for wrong, to consider an alternative overall tax structure and scheme, and until we can make a commitment to provide the resources – whether they be through tax credit incentives or relocation costs or deferral of certain business tax burdens – to attract businesses, I don't know what the solution is. But clearly, with the biennial struggle to balance our budget, I don't see us being able to make the commitment to invest meaningful money into that venue.
But I think if we did look at it a little differently and really generated a lot of enthusiasm and a lot of focus in that area – it's not going to be a one- or two-year return, but over a five- or 10-year cycle – we might be able to see some results.
SH: I worked in economic development in seven states in the last 35 years, and New Hampshire really does not have an economic development strategy. The Legislature really doesn't invest in economic development.
Investing in economic development means giving the Department of Resources and Economic Development a substantial budget to do their business recruitment. It means investing in infrastructure. This is no reflection on DRED Commissioner Jeffrey Rose and his staff. It's a reflection of the Legislature not investing – meaning return coming down the road – not in one-year, but in five or 10 or 15 years.
So most of what happens in the state happens because of the bankers in this room and because of private developers.
AM: I also think we have sort of a chicken-and-egg problem in terms of demographics and things like that. There was an article recently in Portsmouth that said that the number of people living in town between 25 and 44 was the lowest in a generation. Part of that is housing affordability, maybe people moving into less expensive places along the Seacoast, but if I'm a business in another state contemplating where I might want to relocate my firm, looking at a state that's aging and is maybe not as good at retaining its young people would give me reason for concern. But the flip side is you have to have those businesses to keep people around in the first place.
I don't really know what the perfect solution is, but I do think our demographics may work against us in some degree compared to some southern states that are growing so quickly.
JD: We sitting around this room love living in New Hampshire and know why people move here, but the traditional influx in an economic recovery and as all the costs of doing business in Massachusetts increase — that influx has not yet occurred. Personally, I think it's still going to, it's just everything is on a delay in this recovery. Time will tell.
JR: I chair the board of a local institute of art, and we are in the process of searching for a new CEO. We had a meeting with someone who happens to be out of Nantucket, and as they were talking to the search committee and the additional members of the board, she said that this is going to be a very attractive search because people want to be in New Hampshire. I think you're right, Jay – it is still a great place to be. The proximity to Boston, to the lakes, the beautiful North Country and the Seacoast – I know I don't want to be anywhere else.
JD: So why is it that the 20-to-40-year-olds aren't moving here, or moving back here, like we did 20 or 40 years ago?
SH: It's because the jobs aren't here. It's clearly the chicken-and-egg problem. Where we're sitting right now is an excellent place for jobs – in the middle of the Manchester Millyard, where the Dyns of the world are. That's who draws the 25-to-40-year-old range. We don't have enough critical mass of that yet, and if we do, it's here and it's in Dartmouth, and maybe a little bit in the Seacoast. There is a disconnect because there are more people who want to come here than there are jobs here, and I'm not sure how to address that, but I think that's the answer.
EC: I think we run a risk of being a little bit too negative. We can argue about the quality of jobs going in the right direction, but we do a lot of construction lending, and we just approved a development down in Nashua. Somebody asked me the question, "Well, what kind of competition is there in the greater Nashua area as far as other projects?" because back in the '80s, there was a condo project going up on every corner, and the banks weren't talking to each other. But fortunately us old bankers learned from that lesson.
"This real estate crash is really the worst that we've ever seen in our banking careers," said Ed Caron of Merrimack County Savings Bank.
It prompted me to do look at the Census reports and went back to 1960. In 1960, the state issued 1,777 single-family building permits. If you look back in the '70s, we averaged about 4,000 single-family building permits. Then we went to the '80s – the boom-boom years – 12,000 was the peak in 1986, but we averaged at least 5,000.
The bank failures in '91 scattered people out, but interestingly enough, from 1990 up until 2007, the average was 5,000 single-family building permits. But when the crash came in late '07, we dropped down over a four-year period, from '08 to 2012, to 1960 levels of 1,775 single-family permits. It's remarkable. Now, we've had a 27 percent increase since 2013 to 2,300 units, but that's 1962 levels.
My point is, this real estate crash is really the worst that we've ever seen in our banking careers. Kids now see their parents' houses falling in value. It's not such an attractive investment with kids – even today, you see the demand from the 55 age-designated projects and it's tough to get a single-family home project built at an affordable level. The affordability issue is a drag on keeping kids in the state. It's very hard to build an affordable house when you're paying $100,000 for a buildable lot in the southern part of the state.
AM: What we're hearing anecdotally on the Seacoast is the sluggishness in real estate is as much due to supply right now as it is demand. There are not that many houses that are listed, and partly that's seasonal, we haven't really gotten to the spring yet, but year over year, we've seen a big decline in mortgage origination. It's not because the economy is getting worse, it's just because there is nothing out there to transact on.
JD: I've always felt that housing is more of an indicator than a driver. I'm not sure if that's correct or not, but once the manufacturer and employment needs grow, people will find housing and drive the market rather than the other way around. I think building houses in hopes that people will then be attracted to move is not as likely.
EC: When Joe and I graduated from school, you didn't have the student loan debt that you have today. My wife retired from the Hudson School District this year, and she was telling about the young teachers. The young teachers come out of school and they're making entry-level pay, $30,000 to $35,000. They're burdened with student loan debt and they're having a hard time making ends meet. So maybe you get married and you've got two incomes and maybe you can save a couple of bucks for a down payment. But now you've got a couple of incomes and you're paying back your college debt. It's a real issue in New Hampshire and across the nation.
One of the reasons the construction sector is still sluggish is the lack of spending by governments on things like schools and infrastructure. Is there any hope that it will turn around at some point?
JR: I think it just comes down to the public willingness to look into the future and try to make necessary investments. I look at it personally, and maybe jadedly so, but I say how could you not consider a gas tax given the severity of the improvements that need to get done in our roadways? Part of our biggest platform for revenue in this state is the rooms and meals tax, and that's hospitality, and hospitality relies on a good infrastructure, roadways, bridges, etc. to be able to attract and interest people to come to our state and spend money. So you're going to kind of kill the goose that lays the egg if those investments aren't made. I look at the gas tax discussion in Concord and say, "Why are we spending so much time with it? Let's do it, and move on." It's critical. I don't think it's even enough.
SH: In '91, when the gas tax was 15 cents, gas was $1.15. That's 15 percent. We're talking 4 cents now on gas at $3.50. It doesn't even show up. It should be, as Joe said, a substantially higher number. I think it should be substantially higher because of the level of deferred infrastructure improvements we need to make in New Hampshire.
EC: I agree – I think 4 cents is minimal. With that being said, you've got to look again at our energy costs. People are paying $3.79 for heating oil. It's a huge burden for a major part of our population living on fixed income. How are they going to pay that $600 or $700 fuel bill? I really think it's incumbent on our congressional people to get out there with a national energy policy to encourage things like the Keystone pipeline, to encourage pipelines into the Northeast, to reduce our energy costs to make us a bit more competitive.
In terms of the regulatory environment, is there anything in particular that you think is holding back the industry?
JR: I guess it sometimes sounds that as an industry all we do is complain. I hate that about it, but it is real, and it is very significant in terms of its adverse impact and our ability to deal with our customers.
In the residential mortgage business, with the ATR – ability to repay – and the new qualified mortgage rules that went into effect in January, the New Hampshire banking industry study did a retrospective look at the loans, provided on a residential mortgage basis to customers, over the last three years. It then applied the new standards and estimated that about 22 or 23 percent of the loans that have been written historically aren't going to be able to be written under these new requirements under the new Consumer Financial Protection Bureau. That's money to good people with an historically proven ability to repay the loan, but based upon the recoil from the fallout, from the Wall Street disaster, it's going to have a material impact here in New Hampshire.
That's only one small example of a tsunami of regulations and legislation around the provisioning of financial services that are going to have an impact right here in New Hampshire.
That's what's forcing the need for scale and the need for scale is what's forcing, for example, my board's decision to make the decision it did — to partner and get additional bandwidth so that we can stay out ahead and be able to be competitive.
EC: Joe's nailed it with his description of the regulatory environment. The real risk in my mind is not for the midsize banks that provide credit to the communities, the real risk is for the smaller community banks in the state. You get north of Concord and some of these small banks service some communities that are going to be the victims of this over-regulation because they're going to have a hard time surviving the Dodd-Frank rules and regulations, and that's really a shame. God knows, the North Country needs all the help it can get, and they shouldn't have to deal with some of these regulations. For those of us down in the southern part of the state, the bigger banks, we've learned how to deal with it and we're adapting to the higher scales like we have done with the Meredith Savings, and now Eastern Bank and Centrix. And Jay, you've been there.
JD: We have. Driven by the same factors that Joe already described, it's a drag on all of us. But most businesses are finding more headway. Ours happen to be mostly regulatory, but I think some people would say created unnecessarily in some cases. Interesting statistic: 50 percent of all the foreclosures during this last crisis occurred in four states, and New Hampshire is obviously not one of them, but we're all going to pay for it.
And you could make an argument, a strong argument, that with the enforcement of the regulations that were already in place in 2007 and before would have been sufficient.
JR: I think the other piece that has never been really public is that much of the difficulty arose in what they call the shadow banking industry — the unregulated, unlicensed mortgage brokers and originators and like outfits. You add that to greed, from rating agencies and Fannie and Freddie and social public policy that encourages everyone to own a home, independent of whether they can afford to or not, and you have a recipe for disaster, and that's what happened. Again, I think the banks are easily recognized and understood and were the first identified target for criticism.
How do you think the next year or so looks from an economic standpoint?
EC: Our backlog is stronger than it was a year ago — don't get me wrong, you still got to go out there and knock on doors and try and develop the relationships with your customers, but clearly it's better than it was two years ago. It's better than it was a year ago, and I'm optimistic that it will continue to improve.
I can only tell you based off our numbers that we're seeing some growth in our portfolios and we're seeing some wide range of activities from some small businesses and very significant projects, and I'm sure that Joe has seen the same thing in his portfolio.
It's easy to get caught up in the negatives and how difficult it's been, but there are still some opportunities out there.
The automobile industry is really coming back. We've participated in doing some construction with some big clients. It's amazing how well some of them are doing. There are some pockets of some real positive information out there, and it's easy to get dragged down by only focusing on the negatives.
New Hampshire will continue its revival from the deep abyss and will continue to move forward. I am confident that will happen.
AM: Automobile lending is a huge part of our business, compared to the other folks around the table. In 2013, we shattered our record for auto lending, and so far, 2014 is 20 percent over where we were in 2013. The beginning of last year, we had huge snowstorms weekend after weekend after weekend, but the evidence on autos suggests that there is this pent-up demand from consumers from years and years of them just not buying cars. That trend is not going to abate in 2014 and beyond.
The other thing is just, selfishly for all of us at the table, it seems like rates are finally going to start rising, maybe not within the next week, but by the time we get to the end of 2014, and especially by the time we get into 2015. We'll see a move off of these record low interest rates, and that helps financial institutions.
JD: There is something to be said for the steady recovery that we're seeing. Some of us feel that it's been too slow, but we may look back at these days and say they were fairly steady and gradual in the improvement that the economy went, rather than so robust we couldn't keep up and maybe were sloppy and made mistakes in the process.
JR: I am in the camp that is much more hopeful about continued progress and more prosperity. I am proud to be a banker in this state, I love New Hampshire and I think we've got some really great people here. We certainly have a whole plethora of other assets that are going to make it a place that will thrive over the long term.
SH: Like Jay said, I'm looking for incremental growth. I'd prefer, frankly, predictable, incremental growth. The curve's going upward as opposed to peaks and valleys, which makes it really hard to plan and predict and allocate resources. I would love to see a nice steady growth curve for the next five years.