BAE Systems awarded Navy contract worth up to $600 million
Nashua-facility will ramp up production of Advanced Precision Kill Weapon System laser-guided rockets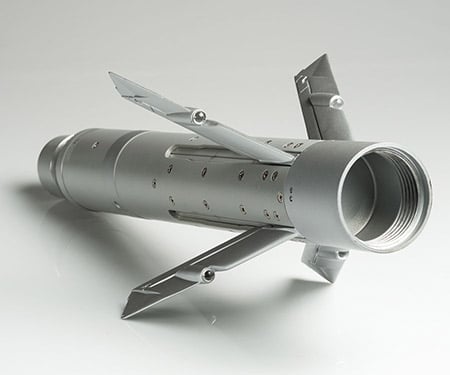 BAE Systems has been awarded a contract with the U.S. Navy to fulfill growing demand for Advanced Precision Kill Weapon System laser-guided rockets.
BAE's Nashua facility will ramp up production to meet the needs of the contract, which has the potential to be worth $600 million. BAE received an initial award of more than $130 million for three years of indefinite delivery/indefinite quantity of precision guidance rockets to meet the needs of the U.S. Navy, U.S. Marine Corps, U.S. Army and U.S. Air Force, as well as a growing number of allied nations, according to a press release.
BAE says the New Hampshire facility is "optimized for precision guidance solutions and designed to a significant increase in production."
The company expects it will be able to ramp up production to 20,000 precision guidance rocket units per year, with potential for additional growth.
"The Navy has been a tremendous partner, and this latest contract includes valuable provisions that allow other services and allies to leverage this small guided munition program of record," said David Harrold, director of precision guidance solutions at BAE Systems. "The large demand for this cost-effective technology is a testament to its highly innovative design, and this contract will allow us to greatly increase production."
Built around BAE Systems' proprietary Distributed Aperture Semi-Active Laser Seeker technology, the Advanced Precision Kill Weapon System solution easily transforms a standard unguided 2.75-inch (70 mm) munition into a highly accurate precision laser-guided rocket, says BAE. The design requires no modifications to the rocket, launch platform, or launcher system, and allows militaries to leverage existing infrastructure and munitions investment with minimal effort and training.
According to BAE's press release, the system has been used by the Marine Corps since 2012, and "is becoming ubiquitous in theater as a result of its exceptional accuracy and advanced modular design, which makes it exceptionally versatile to address various mission sets and allows for streamlined deployment on a variety of platforms."
Last year, keynote speaker Paul Kling, deputy vice president of operations and supplier partnerships at BAE Systems, made it clear that he was seeking more relationships with more manufacturing firms in the Granite State, as defense spending increased globally.
BAE, which has 4,500 employees in New Hampshire, spends $60 million in the state, said Kling. "I'm here to tell you it's not enough; it was once more," he said.