Backers of single-payer strive for traction in NH
But costs, other concerns make it a hard sell in the state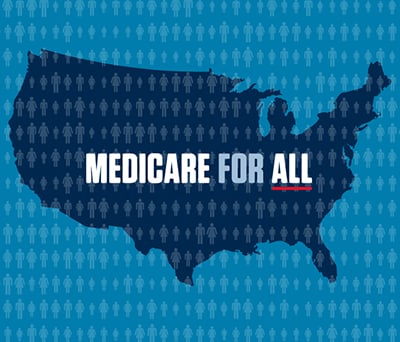 For policy leaders in Washington, Nancy Clark, the owner of an 11-person marketing firm in North Conway, is a spokesperson for small businesses weathering rising healthcare costs.
In 2013, Clark testified before the Senate Committee on Small Business and Entrepreneurship regarding implementation of the Affordable Care Act. On Sept. 24, she traveled to the nation's capital with 15 other business leaders as part of the organization the Small Business Majority.
Speaking to NH Business Review ahead of her trip, she declared her intention to ask House Minority Leader Nancy Pelosi's chief health and budget policy adviser, Wendell Primus, about healthcare costs.
Primus is the highest official the group had scheduled to meet with.
"Back when Obama was in office, we actually met with his senior team. We met with Valerie Jarrett and [Jonathan Grubber]. We met with lawmakers on both sides of the aisle, and we felt we were moving things and they were listening to the challenges of small business owners. And I'm not feeling that now," said Clark. "I think they want to listen, but nobody is willing to step out right now. It's kind of toxic."
Her firm, Drive Brand Studio, purchases health insurance plans via the Small Business Health Options Program (SHOP) on the ACA exchange. Prior to the ACA, Clark said Drive Brand's only option was Anthem Blue Cross Blue Shield, and her health insurance costs were up more than 20 percent. Over time, after enactment of the ACA, healthcare costs leveled out and Drive Brand gained four more options. But after the dismantling of ACA subsidies and a change to SHOP enrollment procedures, Clark saw her health insurance costs rise by 20 percent in 2018, in comparison to just 3 percent in 2017.
"It's so frustrating because our business is going really well, but healthcare is such a huge expense for me," said Clark.
Firms with fewer than 50 employees are not required to provide healthcare, but Clark considers it a responsibility.
On average, employers cover 70 percent of the tab when it comes to healthcare costs, according to figures from the National Business Group on Health's 2018 survey, whose data was released publicly by Kiplinger. Companies said they expect the cost of medical and drug benefits to rise by 5 percent in 2019, with premiums and out-of-pocket costs for employees and their dependents averaging $14,800 next year.
And the number of employers offering health benefits is declining. In 2017, 53 percent of employers offered health benefits, down from 59 percent in 2007 and 61 percent in 2012, according to the Kaiser Family Foundation.
In New Hampshire, 56 percent of residents (or 738,000) received health insurance through an employer in 2016, according to U.S. Census Bureau. That's lower than the approximately 64 percent of residents who received employer-provided coverage in 2012.
Kaiser concluded there has been a long-term decline in the share of private-sector workers who are covered by their employer, particularly for workers in small firms. "The decline is a concern because employer-based coverage is by far the largest source of coverage in the U.S., and its diminishing reliability puts more workers at risk of being left without a source of coverage."
A burden on employees
Much of the effort to lower healthcare costs has been placed on employees themselves, said Don Trementozzi, president of Communications Workers of America Local 1400.
"Healthcare is the number one issue in contracts today," he said.
Over the last decade, the union has educated its workers on approaching urgent care as the first point of entry when there is a medical issue, versus the emergency department. Or if they use regular prescription pills like those that treat cholesterol, workers are advised to utilize mail order instead of traditional pharmacies.
Click on infographic to enlarge.
"Because of that education, every time we go back into bargaining, we noticed the members have followed the right track," said Trementozzi. But that hasn't been enough.
"Healthcare still rises [each] year despite these things, so it's shifting the premium cost and they're constantly trying to increase the deductibles and co-pays," he said.
According to the National Business Group on Health, in 2017, the average deductible in a high-deductible plan was $1,600 for employee-only coverage and $3,200 for family coverage. Meanwhile, wages increased just 2.3 percent — and inflation increased 2.2 percent.
"The continual spiraling cost of insurance and the bigger bite it is taking out of members' pay is a significant topic," said Doug Ley, a professor at Franklin Pierce University and president of the American Federation of Teachers-NH, which primarily consists of teachers at public elementary and secondary schools.
A fractured system
"America doesn't just have one healthcare system, it has multiple healthcare systems," Washington Post reporter T.R. Reid, who will be keynote speaker at NH Business Review's Oct. 10 Health Care Forum, "Confronting Disparities," remarked in his 2012 PBS documentary, "U.S. Health Care: The Good News."
That has lessened bargaining power, argued a New England HR consultant with 30 years of experience who asked for her identity not to be revealed so as not to affect her clients.
Multiple deals, through the many ways health insurers slice and dice plans, have fractured the system, she said.
"'Medicare for All' would actually have greater potential for holding down healthcare and prescription drug costs because of the greater bargaining power of a national plan," she said, pointing to the standardization that Medicare achieved through schedules that helped arrive at agreed-upon costs for provider services.
"There will always be insurance products to supplement, and we might see more diversification in the insurance industry," such as offering more financial protection through life insurance and disability insurance, she said.
Dr. Thomas Clairmont, a Portsmouth internist who owned a practice from 1980 to 2011 before joining a hospital system, also said a government-led healthcare system would lower costs.
"For a little secretarial and accounting service, insurance companies are taking an exorbitant amount of money out of the system," argued Clairmont, a leader of the Granite State chapter of Physicians for a National Healthcare Program. "Their role here is to collect money, but the government isn't trying to make a profit; they're trying to break even. Even with the ACA, it left [approximately] 28 million uninsured. That doesn't exempt them from getting sick."
"[Under Medicare,] if I want to send your mother to the Mayo Clinic, I can get [her in] tomorrow. Medicare, you're a free agent, you have a free choice of doctors and hospitals. There are no networks, there are no restrictions," said Clairmont.
In fact, Clairmont said, he's surprised businesses don't rally around single-payer or 'Medicare for All'.
"Most businesses I talk to don't want to be in the business of health insurance at all," he said. "They don't want to look at manuals [for] this deductible and this co-pay. It's administratively complex and it's not accomplishing anything — it's not really saving much money in the long run."
A government-led program would provide predictable business expenses, argued the HR consultant.
"For business, the cost to provide health benefits is highly volatile — up 2 percent one year, up 10 percent or more the next — and that volatility and unpredictability are difficult to manage," she said. "Healthcare costs — what you pay for coverage, plus your out-of-pocket costs if you get sick — are like a hidden tax. It's like a hidden tax for business too," she said.
She added by being funded through a tax the way Social Security and Medicare already are, a government-run single-payer program "levels the playing field for small businesses who currently can't compete with the benefits big companies can offer."
A New Hampshire attempt
Ten years ago, Doug Dean, then president of Elliot Hospital, brought a proposal to then-Gov. John Lynch to try to establish a single-payer system in New Hampshire, according to Steve Norton, senior vice president of strategic planning and government relations for Elliot and former executive director of the NH Center for Public Policy Studies.
The intent was "to reduce the duplicative administrative costs across all of the hospitals, normalize some of the revenue generation efforts and potentially manage the investments organizations were making in various lines of services, to ensure there were sufficient demand and the like," said Norton.
However, "a government-run, single-payer system would be crippling for most hospitals, which already operate on razor-thin margins," said Catholic Medical Center CEO Joseph Pepe.
"As it is, Medicaid and Medicare only reimburse a fraction of the actual cost to provide services," said Pepe. "Last fiscal year, CMC, for example, had a Medicaid and Medicare shortfall of nearly $63 million. Expanding that model would lead to an even greater shortage of providers and access, especially in a place like New Hampshire where half of the state's hospitals are rural."
In a report on a potential single-payer system released earlier this year by the Mercatus Center at George Mason University, a free-market think tank, agreed that providers would lose out, with Medicare reimbursement continuing to decline, as planned, to 60 percent of private insurance reimbursement for hospital services.
And, it argued, implementation of 'Medicare for All' would cost $32.6 trillion in the first 10 years, noting that even doubling all currently projected federal individual and corporate income tax collections would be insufficient to finance the added federal costs of the plan.
Political appetite
The Democratic primary for the 1st Congressional District has called attention to healthcare as an election-year issue, said Janice Kelble, legislative director of the NH Postal Workers Union.
"We had 11 [Democratic] candidates, and almost every candidate was falling all over themselves talking about the healthcare issue, and most of them were pushing single-payer," said Kelble.
Nevertheless, it's an issue that has not yet been adopted largely by Democrats holding or seeking other offices.
NH Rep. Steve Rand, D-Plymouth, acknowledged that political willpower is what held back the U.S. from passing universal healthcare in 2010.
"Obamacare — that's what was possible, politically," said Rand. "Had they attempted to go to universal healthcare, it's highly influenced by money, and guess who would have come out of the woodwork to protect their office buildings in Milwaukee, Boston and New York? So we have some political problems certainly that make it very difficult for us to do the right thing. It all has to do with the power of money in our politics."
In fact, Rand said he told U.S. Rep. Annie Kuster, D-2nd District, that she should support universal healthcare. Kuster replied she wouldn't get re-elected if she came out in favor of it.
"It's so distressing," said Rand, who owns a hardware store in Plymouth that he said struggles to compete with big box retailers, who have employees enrolled in Medicaid, he argued.
"Annie Kuster doesn't endorse 'Medicare for All'; she wants to work with insurance companies to help reduce prices, but it offers nothing for anybody," said Clairmont. "We're going to put pressure on the Democrats … We need a champion."
He added that, while U.S. Sen. Bernie Sanders of Vermont has "done a great job [promoting 'Medicare for All'], he's controversial. I wish somebody else would pick up the baton."
What happened to Doug Dean's single-payer policy proposal to the Lynch administration?
It didn't go anywhere, said Norton, because it wasn't politically feasible. Similarly, a single-payer bill introduced earlier this year by state Rep. Peter Schmidt, D-Dover, was killed.
But federal financial incentives could change that. Norton pointed to the fact that, despite being a state that values small government, New Hampshire also expanded Medicaid.
"If the state will move in that direction [toward universal healthcare], it will move in that direction only with the help of the federal government," argued Norton.
A major sticking point is that most people believe "single-payer means that somebody is going to be paying more," said Norton. "And I think that is the concern that many have about expanding healthcare through a government program. I think it's pretty clear that the decision is largely one about what you think the role of the state or the [federal] government is."
"Industrialized countries that go to universal healthcare do so because they believe it's a right, and New Hampshire in general believes healthcare is a community responsibility, but it is not right," said Norton. "So they look to a diverse set of programs that exist and expect hospitals and other organizations with charitable missions to step up in and provide services, and unfortunately, while there are underinsured, we provide services to them [but] they may not be coordinated or in the right place."