Ayotte, Hassan spar at economic forum
Senate candidates debate health care, taxes, regulations at NH Business Review-NHPR-BIA forum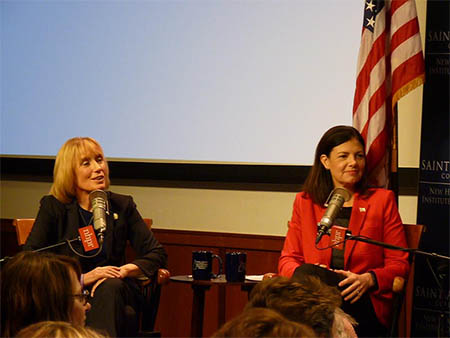 For the first question in Tuesday's U.S. Senate Candidate Forum on Business & the Economy, Gov. Maggie Hassan was asked about the national 22 percent average increase in Obamacare health care premiums, and she was ready.
New Hampshire's average increase was among the lowest in the country, she said, because we did it right.
Indeed, the federal government put the Granite State's average increase at 2 percent, tied for third with Arizona, behind Massachusetts and Indiana, where rates are falling by 3 percent. The Granite State also tied Massachusetts for the lowest average silver plan premium in the nation: $219 a month.
Then Hassan rattled off how to improve it nationally. Repeal the medical device tax, and the tax on benefit-rich "Cadillac" plans, get drugs to the market more quickly and emphasize quality over quantity in the health care system. The funding of those tax repeals would come from closing other tax loopholes, she said.
But her Republican opponent, U.S. Sen. Kelly Ayotte blamed the Affordable Care Act for "higher premiums, higher deductibles, higher co-pays and less choice." She said would keep some of the more popular aspects of the law, such as covering people with pre-existing conditions, and she would keep Medicaid expansion in place for two years, "so we don't pull out the rug" from those with coverage.
In the meantime, she would institute a variety of reforms, including competition across state lines, expanded health savings and flexible spending accounts.
Not exactly the fireworks we saw in the presidential debates. Instead, the candidates mainly used the opportunity to shed light on their differences on economic policies. Indeed, when asked later to name one thing they didn't like about the other, neither could think of anything. They even discovered they had a common background. Both said the worst job they ever had was in a factory making cardboard boxes, both didn't like the paper cuts that came with it.
The forum – held Tuesday afternoon at the NH Institute of Politics at St. Anselm College and broadcast on NH Public Radio – was presented by NHPR, NH Business Review and the Business and Industry Association of NH. The moderator was Laura Knoy, host of NHPR's "The Exchange," with questions from panelists Jeff Feingold, editor of NH Business Review, and Josh Rogers, senior political reporter at NHPR.
Sticking to issues
Sometimes the answers were vague or acrimonious.
When asked about what can we do to improve internet security after the cyberattack on Dyn Inc., Ayotte talked about how the U.S. should be more forceful with nation states and work with the private sector. Hassan agreed, but used the opportunity to take a swipe at Ayotte's previous support for Republican nominee Donald Trump, who at one point encouraged Russia to hack into Hillary Clinton's emails.
Ayotte swiped back in the next question, claiming Hassan opposed state business taxes cuts because she vetoed a budget that included them. Hassan said she was "standing up" for fiscal responsibility with the veto, but eventually went along with the cuts when safeguards were put to ensure that they would not go forward if revenues were affected.
But most of the time they stuck to the issues:
• Federal corporate taxes: Hassan said she would close tax loopholes allowing companies to move overseas and avoid taxes. Ayotte said she would lower the tax rate so businesses wouldn't go overseas to avoid paying them.
• Paid family leave: Hassan is for paid family leave, paid for, again, with closing tax loopholes, whereas Ayotte would require employers to permit employees to bank their comp time, increase the flexible spending accounts for employees that take it and give tax credits to employers that offer it.
• Immigration reform: Hassan said she favors reform allowing illegal immigrants – after paying back taxes and fines – to eventually become citizens. Ayotte stressed border security, as well as a "workable" e-verification system, but she would allow some immigrants to stay here on work visas.
• Financial regulations: Ayotte said she favors increased congressional oversight of the Consumer Financial Protection Bureau. Hassan said she opposes anything that would weaken the agency.
• Rail: Hassan said extending commuter rail to Manchester is "critical" to a 21st century economy and blamed Ayotte for doling "literally nothing" to help the state get it. Ayotte said she is open to rail, but said she was still waiting for a proposal from the state on how to fund it.
• Minimum wage: Hassan said she supports phasing in a $12 minimum wage. Ayotte said he is open to an unspecified increase, depending on the economy, if "we don't lose jobs" because of it.
Both oppose the gas tax, both oppose eliminating the penny, and, if they weren't pursuing political careers, Hassan said her dream would be to run a gym, and Ayotte said she would learn to fly.