Author follows NH's creepier scenic trails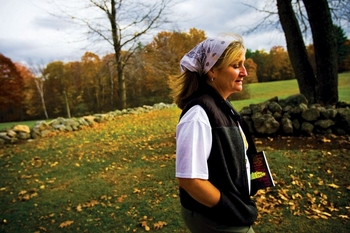 NASHUA – It was while walking on a trail at Coit Mountain in Newport when Marianne O'Connor got the feeling she was not alone.
"I kept seeing someone in the corner of my eyes running through the woods," she said.
It was only after talking with the town's park and recreation coordinator that O'Connor learned that this was something people had been reporting for years, the sense that they were being chased.
O'Connor was walking the trail as part of the research for her book, "Haunted Hikes of New Hampshire." The book, published in June, is filled with similar spooky stories and tales about strange noises in the night and mysterious ghost sightings.
With Halloween here, it's a great time of year to take a hike on one of the trails listed in the book – especially at night.
This is O'Connor's first book and aside from now being a published author, she is also a guidance counselor in the Nashua School District.
Up until this year, she had worked at Bicentennial Elementary School, but this fall took a position that split her time between Bicentennial and Pennichuck Middle School.
O'Connor said she has always enjoyed scary movies and books. She is also an advocate for encouraging children to spend more time outdoors, having been involved with initiatives such as "Leave No Child Inside."
"This really combined both of those things," she said.
O'Connor said she first started out with the idea of a book listed places where families could go for hikes in New Hampshire. But when she proposed the idea to publishers, there wasn't a lot of interest.
"It didn't fly," she said.
That was when O'Connor started thinking about what would be appealing to kids, while still encouraging them to go outdoors. That's when she came up with the idea for a book about hikes and incorporating some spooky legends about them, as well.
"It started going in one direction, then took a complete 180 degree spin," she said.
O'Connor was able to find a publisher and the book was released in June. It has since sold about 6,000 copies and there is currently a third printing in the works, she said.
O'Connor suggests people that go on the hikes should bring cameras, just in case they see anything spooky. She said people have shown up to her book signings with images of what they think might be ghosts.
"The idea is that it's all in good fun," she said.
One of the hikes featured in the book is at Monson Village in Milford, where O'Connor writes that people have reported hearing drums beating and seeing flashes of light.
O'Connor said this particular trial is under investigation by Ghost Quest, a paranormal research group based in New England.
"It's a neat, easy hike to take," she said.
There are 34 trails featured in the book. The difficulty of each hike is measured in ghosts, with four ghosts being the toughest, and one the easiest. But the book doesn't just focus on reported paranormal activity; it also delves into the detailed history of each area, going back hundreds of years.
O'Connor said she spent much of the year it took to write the book researching with historical societies and traveling to the sites.
Even for those who may not believe in the supernatural, O'Connor's book still provides an in-depth history of each of the hike locations, as well as maps and lists of other things to look for.
After authoring the book, O'Connor said she has been contacted by many organizations that investigate ghosts and paranormal activity, including the New England Ghost Project.
The book is available at most local bookstores and online at Amazon.com.
O'Connor will be signing her book today from 3 to 5 p.m. at the Borders Express in the Pheasant Lane Mall and on Saturday from noon to 2 p.m. at the larger Borders store on Daniel Webster Highway.
She will also be at the Ancient Moon in downtown Nashua Nov. 15 and 28.