Around the Towns: Wilton – Lyndeborough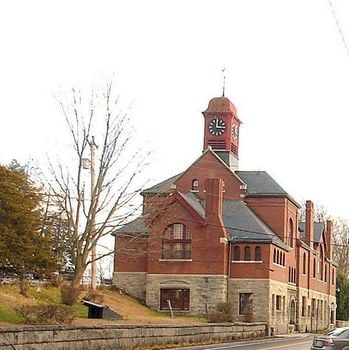 Wilton Town Hall Theater to get historic marker Traffic meeting
The Town Hall Theater in Wilton has been providing movies since around 1919, and before that there was live entertainment, including vaudeville shows.
The Heritage Commission thinks the theater, along with a number of other sites in the downtown area, should be recognized with a historic marker.
Last month, commission members Stanley Young and Michael Dell'Orto described their plans to selectmen.
The planned sign, with a short history of the theater, would be placed between the arched front entrance to the Town Hall on Main Street and the arched window to the left of it.
A second sign would be placed near the Maple Street entrance. Selectmen OK'd the request.
The Heritage Commission has already placed historic markers in Wilton Center near the Unitarian Church, in Davisville near Frye's Measure Mill, at Vale End Cemetery and at the historic "Red Bridge" on Route 101.
The Heritage Commission meets on the fourth Tuesday of the month at 7 p.m. in the Wilton Public-Gregg Free Library.
No portables
Acknowledging that "90 percent of the people in town don't want them," the Central School Board of Lyndeborough will not include a portable classroom as a second option for kindergarten should a proposed bond issue fail again next March.
Instead, the proposal will be renting space – possibly from the United Church, where the former Babes In School Land Preschool was located – "until such time as the voters decide on a permanent solution."
Renting space for up to a year will be included in the bond proposal since completing a kindergarten addition to the Central School by next September is nearly impossible; a mid-year occupation date is considered the earliest possible option.
By state statute, all school districts must offer a kindergarten program of some kind next September.
The school board recently asked architect Kyle Barker to prepare three building addition options: kindergarten only, kindergarten plus one new classroom, and kindergarten plus two classrooms. All plans include various amounts of renovations to the present school. The larger plan was narrowly defeated by voters last March.
A special meeting of the building committee has been set for Wednesday. Cost estimates for the plans should be available then and the board expects to make a final decision on which option to pursue.
The Mont Vernon police department is hosting a community meeting at the Village School today to discuss traffic safety issues within the town. The meeting will begin at 11 a.m.
Police say they have seen more problems, including accidents and speeding, in town.