ARMI's expanding network presents economic opportunities
Millyard initiative continues to gain momentum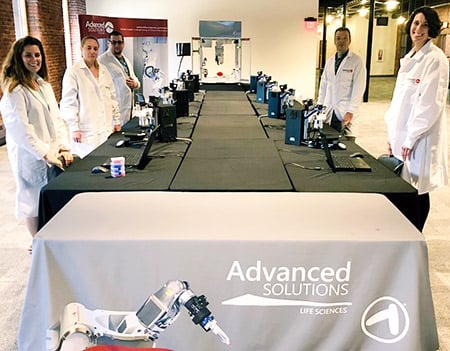 Bruno Brisson is co-founder and vice president of business development for Poietis, a French laser-assisted bioprinting company.
He flew into Manchester in June to attend a summit at the Advanced Regenerative Manufacturing Institute in the Manchester Millyard.
"I know they are welcoming startup companies here, and this is something that might be of interest for us, to have a few square meters and to have a system here," said Brisson, who is attracted by the enthusiastic environment and prospect of being surrounded by new ideas and developments. He said "there is real political support" behind ARMI, "and the way they want to make that a real industry is very, very interesting. Probably also very unique in the world."
At the federal level, that support came through an $80 million Defense Department grant. In fact, the DoD has said it is interested in providing further financial support to aid efforts to commercialize the regenerative medicine industry, which would produce products for severely wounded soldiers.
At the state level, the legislature passed a bill providing a 10-year exemption from the business profits and business enterprise taxes for companies that conduct 75 percent of their business in regenerative medicine. The state is also offering student loan forgiveness to people employed primarily by the industry for at least five years.
Michael Golway, president and CEO of Advanced Solutions, a Kentucky bioprinting company that moved its research and development team to ARMI's startup space, told NH Business Review that political support for ARMI "creates momentum" and communicates the vision.
"I think it's a great example of how government and business can bring their respective strengths together to make a situation a lot better. What the bill signing did was take away some risk that's going to enable us to invest even more than what we were," said Golway.
Golway added that he had been "really concerned" about an adequate labor supply for the venture, "and I think this bill addresses that in a very strong way. It just accelerates the whole model for us. In what we're trying to do here, time is a precious commodity, so the quicker you can move and build and grow, the better."
Gov. Chris Sununu shakes the hand of Sen. Jeb Bradley, R-Wolfoboro, at the signing of SB 564 at ARMI
'
s headquarters. Inventor Dean Kamen stands at far right.
Setting the vision
Another key to the ARMI initiative is Dean Kamen, the man the DoD sought out to apply for the federal grant to explore the expansion of regenerative medicine on a large scale. It was Kamen who Brisson, a continent away, had heard about.
"Having Dean Kamen, I think that's a really good thing for this whole field because he doesn't belong traditionally in this area," and therefore can drive change, said Mrignayani Kotecha, CEO of Oxygen Mapping Medicine in Chicago.
And it is Kamen, who as president of DEKA Research and Development, which is housed in the Millyard, has sought to marry electrical and mechanical engineering with bioresearch.
At ARMI's launch last July, Kamen introduced Rockwell Automation as a key partner in bringing cellular research to scale.
Wayne Charest, Rockwell's biomanufacturing automation solution architect, works at ARMI and is developing a production line utilizing bioreactors that serves as a working demo for members to test as they attempt to scale up.
"It's slower than we're used to because a lot of people are protecting their IP, and a lot of people aren't willing to share with everybody right now, so there are a lot of contracts being signed and making sure everybody's going to play well together, but once all that gets worked out, it'll be a steamroller effect. It'll just start taking off," said Charest.
"Within the next six months, we're gonna start building some automated processes that we can have some success stories in place to share with everybody. And we're right on the cusp of starting them."
"Dean has set a vision for what the group can do, and we've gotten funding to do it, and I think things can go fairly fast," said Marcie Black, co-founder and CEO of Advanced Silicon Group in Lincoln, Mass. "It's amazing how fast things can move when people are all focused on the same goal. It's not going to happen next year, but it could move faster than people expect."
A valuable resource
Already, partnerships with ARMI have shown promise in accelerating individual companies' development.
ARMI
Chief Regulatory Officer Richard McFarland
(Photo by Allegra Boverman)
"We do biosensing – we have a sensor that can measure protein and DNA concentrations – and ARMI's been really good for us because it's actually connected us with a lot of companies that can use our sensors," said Black. "We've pivoted our business plan slightly as a result of the input received from other ARMI members."
Lisa Larkin, CEO and founder of STEL Technologies in Ann Arbor, Mich. – a firm that fabricates a tendon ligament graft for anterior cruciate ligament (ACL) and rotator cuff repair – said she has found significant value in the consulting services provided by former U.S. Food and Drug Administrator employees Richard McFarland and Becky Robinson-Zeigler, who are now both employed by ARMI. ARMI offers services that Larkin said cannot be found anywhere else.
"It's amazing, because especially out in the regenerative medicine space, where the FDA doesn't necessarily know how to regulate what we're creating, you get a lot of people out there that say they have the expertise to actually help you get through the FDA, but when you actually sit down and talk to them, they really have no idea how the FDA's going to regulate it," said Larkin. "So to have two people sitting in front of you that know what the pitfalls are, know exactly what the FDA's looking for, and they can very quickly say, 'That's not going to work and this is what you need to know about in the future'."
Overcoming challenges
Navigating the summit, it became clear how disparate companies and academic institutions could come together to collaborate on projects, and how severe challenges could be overcome by meeting the right contact.
One challenge, noted by Lance Weed, a Kingston, NH-based consultant with a biomanufacturing background, is the logistics of delivering final products to patients – especially considering the delicate nature of maintaining cells, which cannot be contaminated nor experience a temperature change.
"Is it going to take an RV to take the production to the site, to eliminate the logistics problem? There may be a number of ways to solve the problem and deliver it, we just don't know if that's localized manufacturing or you have a stable product that can be transported," said Weed.
Symbolic of ARMI's purpose as an ecosystem connector, the very next interview took place with a company that has a potential solution: a cryocooler driven liquid nitrogen system.
"We have a new product called the Fusion. It's a product that you charge with liquid nitrogen once; you don't have to have regular supplies," said Buzz Bies, vice president and general manager of Chart Inc., a cryogenics company based in Georgia.
A nitrogen freezer requires a regular liquid nitrogen supply to maintain the necessary temperatures, explained Bies. Nitrogen is a liquid at minus 196 Celsius (minus 320 Fahrenheit).
"It acts as the refrigerant, cooling these freezers, so you typically need to continue the supply of the liquid to maintain these cold temperatures for preserving of the samples," said Bies. "We have a small electric-powered acoustically driven Stirling engine. It uses sound waves to drive the device to cryocool evaporating nitrogen. It uses very little electricity and it just recycles the liquid. As heat causes evaporation, the cryocooler regenerates the liquid nitrogen."
The technology, said Bies, is "unlike anything that's been introduced."
Beyond the realm of possibility of scientific concepts, Alan Lotvin, executive vice president of specialty pharmacy at CVS Health, a new ARMI partner, reminded researchers that the focus needs to be on how to progress in a manner that is cost-efficient, to make these innovations widely accessible.
Dean
Kamen
speaks to attendees at
ARMI
's summit.
C
lick
on image to enlarge.
"In one sense, I think the industry's progressing at a really fast pace," said Jaime Giraldo, a scientist and researcher with JDRF (the former Juvenile Diabetes Research Foundation) in New York City. "When you think about it, we just had stem cells in 1997, and now we can make beta cells that secrete insulin in response to glucose, which is fascinating; it's incredible. Now it's a matter of, can we make them at a cost where it makes sense economically to make these therapies? If you're actually going to market it at a commercial scale, these are all things we need to take into consideration."
Manchester on the map
Despite boundless jokes about navigating a Northeast winter snowstorm to attend ARMI's first summit, held in January, attendees generally were positive when it came to traveling to and staying in the Manchester area.
"The January meeting was a nightmare because it was three feet of snow," said Larkin.
Returning in the spring, Larkin found time to walk downtown. "It's really a cute little town. It's actually very much like Ann Arbor. We don't have the nice brick roads like you do, but very quaint shops and restaurants, so it was really fun to walk downtown."
"I hate to say it, but one of the most attractive things about New Hampshire is it's close to Massachusetts," said Paul Goodwin, science director at GE Healthcare Life Sciences, who works out of Seattle, though the company's U.S. life sciences headquarters is in Massachusetts.
"I really think Boston is the center of the universe for biotechnology and an awful lot of technology, [but] really in a multinational world and the electronic world we live in, it's less important exactly where it is. Certainly New Hampshire has some advantages in terms of the structure of the state, their willingness to support initiatives like this — I think it's very courageous of them — and even having the physical space to be able to do something like this. In Seattle, you'd never find the space because Amazon's already taken it."
Interestingly, Brisson, who had traveled the longest distance, from Bordeaux in southwestern France, didn't think ARMI should be located in Boston.
"First of all, it's very crowded, and the prices are phenomenal in terms of leasing, in terms of housing. Driving's nothing here. So I think it's a very nice place, very nice location," he said. ​