ARMI update shows an industry beginning to take shape
'You've already seen companies moving here and opening up shop, and you'll only see more of that'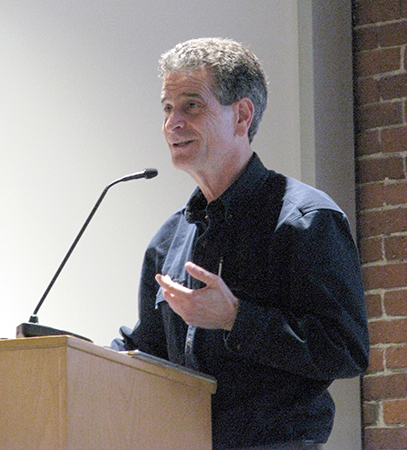 Less than a year after its launch in the Manchester Millyard, the Advanced Regenerative Manufacturing Institute has established itself as the access point for a national network of regenerative medicine partners, said Gray Chynoweth, chief membership officer and deputy chief operating officer at ARMI.
"You've already seen companies moving here and opening up shop, and you'll only see more of that," Chynoweth told an audience of 300 people Thursday evening at an event organized by the NH High Tech Council's BioTech/MedTech Cluster, at ARMI's headquarters in the Millyard.
He said companies such as Cellink, Advanced Solutions, Histogenics and Fluid-Screen as well as Worcester Polytechnic Institute are now key partners in the areas of raw materials, manufacturing and automation, tissue engineering, monitoring and measurement and sensors and imaging.
"The reason we have this much excitement is not just because we have an exciting goal, but because the organization is so focused on delivering a return on investment for the members that are coming to the table," Chynoweth told the audience. "We designed this not only to leverage the $80 million we have from the federal government, but to create that ecosystem in the community that is really going to draw people together and plant that seed here in Manchester, to be part of the greater Boston ecosystem that is a leader in the world in terms of life sciences."
Gray told NH Business Review that Kentucky-based Advanced Solutions, which developed a sophisticated robot to print biotissue materials, is moving its research and development team to the Millyard in the spring, followed by another firm he could not yet disclose.
"Our partnership with the state government is excellent so far, and we really enjoy working with Taylor Caswell, whose put his office at ARMI's disposal to make sure – when companies are interested in finding out what it would take to locate in New Hampshire – that he's available and his team is available to give them information," Chynoweth said. "I was just in touch with his office today, trying to help another company."
Caswell is also helping to organize the New Hampshire table for the 2018 BIO International Convention, which is being held this June in Boston. Chynoweth said ARMI will be holding an event to capture the attention of industry professionals in the area.
Governor's support
Inventor and entrepreneur Dean Kamen, who was approached by the U.S. Department of Defense to apply for the $80 million grant to launch the institute, said he's certain the partnerships he's helped form with businesses across the nation will create a new health care industry.
But, Kamen stressed, there must be state and community support to ensure New Hampshire becomes the capital of the regenerative medicine industry.
Also present was Gov. Chris Sununu, who expressed his support for Senate Bill 564, which would exempt companies associated with ARMI from business taxes for 10 years and provide a $5 million fund to help students who work in the regenerative medicine industry repay their college loans.
The bill has passed the Senate, but faced some scrutiny at an April 5 hearing of the House Ways and Means Committee.
"Everyone understands workforce is one of the biggest issues facing most states in America right now," Sununu told NH Business Review after speaking to the crowd. "We've made strides – programs like this really put them into high gear, so I think the Legislature is doing a great job, asking tough questions, making sure it's viable, but there's clearly a lot of support for it and I have full confidence it's going to move forward."
When asked if 10 years was too long for a business to be tax-exempt, Sununu disagreed.
"We're not talking about an idea or a business that may have its moment in the sun and then flail. We're talking about regenerative medicine, the future of all medical technology worldwide. This is going to be here for the long term; we want to make sure that we're here for them in the long term," he said.
At the event, Sununu also announced plans to include approximately $30 million in capital funding over the next two budget cycles to partially support the University of New Hampshire's proposed research park in Durham, a nearly $100 million investment.
"It's informative in terms of science, engineering, mathematics programming that meld right into creating a workforce and it sets the tone in the next 25 years for New Hampshire and the world, and we're excited to be the capital [of regenerative medicine]," he said.
Kamen, who mentioned in his speech that the state was working on "neat programs for keeping people here," also supports the bill.
"I think it's great, as long as they don't dilute it," he said. "I think it could be a huge, huge draw to get new companies here, to get young kids right out of school here, it could be a huge win. Give the kids the reason to come here and let them prove they created all this value."
In April 2017, in an interview with NH Business Review, Kamen had hoped for strong state support, although keeping in mind that New Hampshire did not have the dollars available that other states offered. When asked if SB 564 was the kind of support he was looking for, Kamen said it was "a very good start."
"I do recognize the reality is this is a very small, very conservative state with a very limited budget," he said, later pointing out that most companies associated with ARMI would be too small to pay taxes anyway, so the state would not lose revenue, but the bill would be a goodwill measure to bring companies in.
State Sen. Andy Sanborn, R-Bedford, told NH Business Review this type of tax policy has been done before and attracted one of New Hampshire's biggest employers, Fidelity Investments, which has approximately 5,200 employees in Merrimack.
"So we actually have a proven track record that when we as policymakers can gain that vision to truly see into the future a little bit and make the right decisions, we can do amazing things," said Sanborn, who said Fidelity "fundamentally changed New Hampshire's economy."
He urged businesspeople who were in the audience to call their representatives to encourage them to pass SB 564.
"We forget that government goes to those who show up, and these people need to show up in government for a couple of days and help impress upon them just how important this is at every single level."