Arizona tech firm makes its move to New Hampshire
Sununu rolls out red carpet for Digital Skin Imaging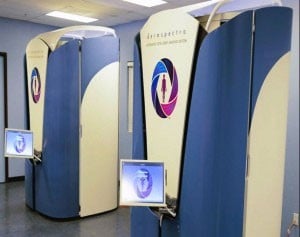 Medical device company Digital Skin Imaging Acquisition Inc. officially announced its relocation to New Hampshire on Tuesday night at an event held at Medtronic's Portsmouth office.
The firm, known as DSI, which was previously based in Tucson, Ariz., will be temporarily housed at the UNHInnovation Center in Durham while it seeks a more permanent location in the state.
Gov. Chris Sununu, who had met with DSI's CEO Karleen Seybold in January, expressed excitement over the news of the company setting roots in the Granite State.
"When you can promote the fact that new companies like this are coming in, other companies take a look," Sununu told NH Business Review. "Pretty soon the word gets out that New Hampshire is a place to land your company."
Seybold reached out to Sununu during his "100 Businesses in 100 Days" initiative, during which Sununu said he made contact with 100 businesses to discuss moving to New Hampshire.
Thus far, Andover, Mass.-based market intelligence firm BAO Inc. and Quebec-based advanced composites manufacturing company Deflex Composite have opened offices in New Hampshire, and there a few other Canadian firms in the process, said Sununu, who noted his administration expected the effort to be a six-month to three-year process.
Through talking with out-of-state companies about New Hampshire, Sununu said the most common response was unfamiliarity with the state.
"That really triggered this concept that we need to promote better. We have great fundamentals, and we're fortunate, we're one of the fastest-growing economies in the Northeast over the first six months, but part of it is that promotion of what we have to offer," said Sununu, who pointed to lower business taxes and his deregulation efforts.
Seybold said meeting with Sununu "absolutely" influenced her decision to return to New Hampshire, where Seybold grew up.
"People are willing to do anything to help to make us successful, so that feels different than where I was before," said Seybold who also looked at moving to Florida or Denver, Colo. "He offered a lot of resources and whatever they could do to help, and they continually say that," Seybold said of the governor's office.
In a press release, Seybold had earlier said that the plan is to build DSI into a $100 million company over the next five years and hopes to create "hundreds of new jobs and opportunities" in New Hampshire and the Portsmouth area.
Skin alert system
DSI has developed a Class 1 medical device called the DermSpectra Automated Total Body Digital Imaging System — a five-foot-by-five-foot device that monitors skin changes such as moles, psoriasis and eczema. Seybold says it's the first of its kind that captures 360-degree images with proprietary software.
DermSpectra is currently being used at Walter Reed Military Medical Center, a dermatologist's office in New York City and American Well Clinics, to name a few facilities.
Currently the device serves as an alert system for doctors, but all facilities are currently performing testing as a Class 2 device, which if approved by the U.S. Food and Drug Administration would certify it as a diagnostic aid.
Seybold, who once worked as a senior manager at Raytheon performing image analysis comparisons, was able to separate licenses to apply the technology to a dermatology. It was while working on the algorithm for DSI's software when Seybold realized the poor quality of the medical industry's methods for tracking skin change when she requested data from physicians and received a pile of pictures with different lighting and resolutions.
DSI plans to lease out its equipment to physician's offices and hospitals, with the goal of making digital skin images a regular screening.
The company foresees the technology could be used in biometric data collection, and plans to integrate image recognition technology and thermal mapping down the line.
Linda Fanaras, executive vice president of DSI and president of Millennium Integrated Marketing in Manchester, said Suzanne Foster, vice president and general manager of Medtronic, provided great support in connecting DSI with other businesses in the medical technology community.
Fanaras said DSI was considering other locations, including Rhode Island, but settled on New Hampshire due to the community support available as well for personal reasons — Fanaras and Seybold grew up together in New Hampshire.
"New Hampshire's really focused on growing its economy and supporting a skilled workforce," said Fanaras. "We want to bring a company of this size where we can get the support of community leaders."