Are two slaughterhouses enough to handle meat processing in the entire state?
Among livestock producers in New Hampshire, lack of access to slaughtering plants is frequently cited as a major impediment to growth in a state that, until very recently, had just one federally inspected slaughterhouse.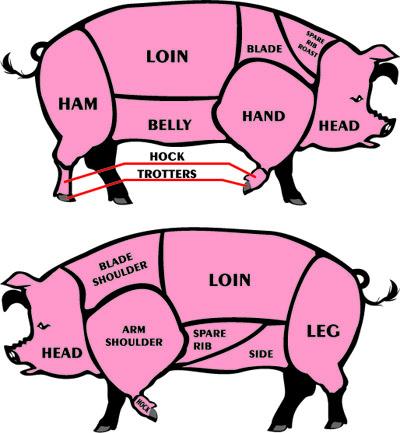 Richard Aldrich, who owns The 1780 Farm in Chesterfield, has two pigs that will soon be ready for slaughter. He also has a problem.
The slaughterhouse to which he brings his four-legged livestock — which is about 30 miles away in Athol, Mass. — is booked solid during these peak fall months, and he can't get the two hogs in until January. So until then, he'll be feeding them another 100 pounds or so of feed a week, at a time when livestock feed prices have skyrocketed because of the drought in the Midwest.
"I would slaughter them myself, but I'm not USDA-inspected, and it's a real pain," he said.
At 35 acres, his farm is a small operation, even by New Hampshire standards, where farms average 113 acres (418 acres is the national average). It has four cows, three pigs and about 150 chickens, and sells most of its products through a community-supported agriculture program and a farm stand.
Aldrich said there is palpable demand from his customers for local meat, and he'd love to have more animals to help meet the growing appetite — but only if he had better access to a slaughterhouse.
Aldrich is not alone. Among livestock producers in New Hampshire, lack of access to slaughtering plants is frequently cited as a major impediment to growth in a state that, until very recently, had just one federally inspected slaughterhouse: LeMay and Sons Beef in Goffstown.
The state welcomed its second federally inspected slaughterhouse this June, when PT Farm in St. Johnsbury, Vt., moved over the border to a larger facility with 9,000 square feet of processing space, in North Haverhill.
'A bottleneck'
Whether the opening of PT Farm in New Hampshire is enough to fill the unmet demand for more slaughtering capacity in the state, or if it's just a step in the right direction, is still a matter of debate.
In order for New Hampshire farmers to legally sell meat to restaurants, stores and at farmers markets, it must be processed at plants that are inspected by the U.S. Department of Agriculture. There are several custom slaughter plants in the state — the kind of places hunters frequent during deer season — but meat processed at these places is solely for personal consumption, and can't be sold to consumers.
So with few options in the state, many of New Hampshire's livestock producers turn to slaughterhouses in the neighboring states of Maine, Vermont and Massachusetts to process their meat. "It's something that all of us have identified as really a bottleneck that is keeping New Hampshire livestock producers from being able to fill the growing demand from our customers here in New England who are more and more discerning how great locally produced meats are," said Lorraine Merrill, New Hampshire's agriculture commissioner.
In hopes of alleviating that bottleneck, the New Hampshire Department of Agriculture is hoping to revive New Hampshire's own meat inspection program — something the state hasn't had for 35 years.
Starting in the late 1960s, New Hampshire ran a meat inspection program in cooperation with the USDA, said State Veterinarian Steve Crawford.
In those days, slaughterhouses were much easier to come by.
Former longtime Agriculture Commissioner Steve Taylor, a Plainfield dairy farmer, remembers a time when just about every town in the Granite State had good access to a slaughterhouse.
"It was a function of an agrarian society," said Taylor. "People had animals and wanted their own meat supply."
The state ended its inspection program in 1977, which it did as a cost-savings measure, and after that there was trepidation in building new slaughterhouses under federal guidelines, said Taylor.
"The feds have pretty high standards, and a lot of people just didn't want to spend the money to build to federal standards."
Another factor that slowed the slaughter industry in the Northeast was the wide-scale concentration of the food industry in the center of the country. Over several decades, large-scale meat processing in the U.S. largely became the provenance of the Midwest. As the food industry shifted west, local producers had a difficult time competing with the "big meat system," said Merrill.
In turn, many slaughterhouses were shuttered and the state lost most of its processing infrastructure — infrastructure that is now in demand as the local food movement has gained traction.
State-run program
The plan to revive New Hampshire's state-run inspection program has been in the works since before the recession
A number of states have revived or have considered restarting their state-run inspection programs in the past few years to increase access to processing capacity, according to a June USDA report, "Slaughter and Processing Options and Issues for Locally Sourced Meat."
The plan to revive New Hampshire's state-run inspection program has been in the works since before the recession, and it finally got legislative approval in 2011 with the bipartisan passage of House Bill 339.
The bill gives the state the go-ahead to revive its meat inspection program, but no appropriations beyond $1 to get it off the ground.
"We have a state meat inspection program authorized in statute at such time as we have the money to start it," said Crawford, who was wary to speculate on its startup cost beyond saying it's likely in the six figures. The hope, he said, is that if the state inspection program gets up and running, some of the state's custom slaughter facilities might choose to upgrade and expand.
"The Legislature has said they want it to happen but they haven't seen their way to funding it," said Merrill. "You know what the state budget situation has been like in the past few years."
Eventually, the goal is for the program to be self-funding through per-animal slaughter fees and annual fees paid by inspectors and slaughterhouses.
The department has been working with USDA officials on some basics of how the program would look if funding is secured, said Crawford.
By law, state-run inspection programs must be either the same as or "at least equal to" federal standards. So even if the state-run facilities aren't totally identical to federally inspected facilities in things like construction or software, "they would have to be effective at producing the same quality product," said Crawford.
As to why facilities might come online under state inspection versus federal, Crawford said what he generally hears from facilities is that it's much easier to work with state officials than USDA officials.
But there is a limiting factor to state-run inspection — at least for now.
Meat that is slaughtered in state-inspected facilities can only be sold within the state, whereas meat from federally inspected facilities can be sold beyond state borders. An exception to that was included in the 2007 Farm Bill — called the Cooperative Interstate Shipment Program — which allows state-inspected facilities with fewer than 25 employees in approved states to sell meat interstate. Three states have moved ahead with the program, but so far only Ohio has been approved.
Other hurdles
Peter Roy, who co-owns PT Farm with his wife, isn't so sure the state needs more slaughterhouses. It's a year-round business, and while demand backs up in October and November, he's not certain there's enough work to go around during the slower months.
The seasonality of the livestock industry, with varying periods of very high and low demand, was also in the USDA report as a constraint for slaughterhouses in New England.
Besides which, "it's a miserable business," said Roy. "You deal with the government every day, there's federal people in your plant every day. The deck is stacked against you."
As is the case at all federally inspected plants, his has a taxpayer-funded USDA inspector on site at all times. If the inspector works more than 40 hours per week, the plant pays the inspector for the overtime.
That cost is nothing, though, compared to the cost of building a slaughterhouse in the first place. Roy took out a bank loan to help finance the $2 million facility in North Haverhill.
"There's quite a bill that came from this place, there's also quite a learning curve to run this place," said Roy, who said business has been slow to pick up, though he has recently had interest from farmers from as far away as Durham, Conway and Peterborough.
There are other hurdles too. As in many industries, there's the difficulty of finding skilled laborers, and opposition from local residents that can sometimes freeze proposed slaughterhouses in perpetuity.
Such has been the case in Goffstown, where a proposed slaughterhouse that would specialize in halal meat has encountered strong opposition from local residents and the town zoning board.
"They have had a real problem with getting local zoning approvals, and that's another problem that you can have — a not-in-my-backyard kind of reaction," said Merrill.
Once they're in a neighborhood though, the plants are often surprisingly discreet, she said.
Taylor isn't convinced that the state really needs many more slaughter facilities either.
"There's some people who think that (a state-run inspection program) would attract more investment, some new plants to come online. I'm not sure that that's the case. I think if PT (Farm) is saying they can kill 50 cattle a day and 100 pigs a day, that'll take care of a lot of the need for processing," said Taylor. Then again, he added, "Things are changing, there's a lot of interest in locally produced food and meat and vegetables, so it's entirely possible we'll bring on some new production."
In fact, they may already be in the works.
Charlie Burke of the New Hampshire Farm to Restaurant Connection said he has heard rumblings of a potential slaughterhouse opening in Barnstead, and Merrill said she has heard of a couple of others who are considering slaughter and meat processing facilities in the state.
Until then, Aldrich will keep crossing his fingers and feeding his pigs.