April EYE Award Winner: Jenny Chartier, Abigail's Bakery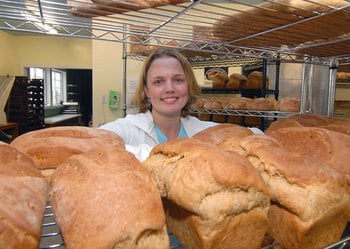 It wasn't unusual for Jenny Chartier to visit the family bakery in the early hours before school when she was a child. But while time spent at Abigail's Bakery made for fond memories, it wasn't until she became a mother herself that Chartier considered taking over the family business.
Driven by a desire to spend more time with her family, Chartier decided to leave nursing and take over Abigail's Bakery seven years ago, at the age of 22.
Chartier and her six-person staff have continued a tradition first started in 1973 by the Weare bakery's namesake, Abigail Easterly, and later continued under the direction of Chartier's grandmother and mother, who purchased the business in 1981.
While the breads created at Abigail's have been wearing the "Certified Organic" label since October, they have been created from organic ingredients supplied by local farmers right from the beginning — long before today's growing movement toward eating organic began.
Under Chartier's leadership, the bakery's wholesale accounts have grown to 60 and now include Shaw's supermarkets.
Recently named one of the 25 Best Small Companies to work for by Working Mother magazine, Abigail's Bakery offers a rare level of flexibility for working moms, keeping in line with Chartier's philosophy that family should come first.
What inspired you to start your business?
I knew I would be able to make up my own schedule, one that would allow me to work around my family's needs, which was really important to me. I've always believed family comes first, and this business allows me to make sure that happens.
What about this endeavor are you most proud of?
I'm able to offer a work environment that promotes family values. We have flexible work schedules that allow my employees to put their families first too and that's so exciting to me.
Where do you see your business 10 years from now?
I see it just taking off. The sky's the limit. Hopefully we'll be nationwide by then.
How do you kick back?
We love spending time together as a family. We take vacations and do a lot of snowboarding in the winter and biking in the warmer months. We love to go on camping trips as a family. We love the beach, anything outdoors.
Who are your role models or sources of inspiration?
Definitely my mother. She is the one I have to thank for the business and the values she passed on to me through the business.
What is it about New Hampshire that made you want to keep your business here?
I see a lot of push toward buying local and buying organic with this generation, and organizations and programs like New Hampshire Made and the Farm to Restaurant Connection are just wonderful. I love playing a role in that. I love that Abigail's is part of it and can help other vendors become part of it too.
What advice would you give other entrepreneurs like yourself?
Just don't give up. This is my seventh year, and I'm still not where I want to be. Know that it is really hard to run a business and to run it successfully. You really have to have strong will power to get through the tough times. You need to believe in what you're doing and know your hard work will pay off.