April EYE Award: Jennifer Mazzei of J Maze Design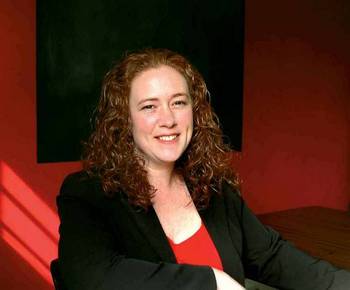 Jennifer Mazzei must have the entrepreneurial spirit in her blood – as a college student, she became a Realtor to help pay for her tuition. At 24, she started her own company, J Maze Design, as an online arts store — only to realize shortly after start-up that her real talent wasn't necessarily in art but in designing Web sites.
So, seeing the opportunity, Mazzei retooled J Maze Design, turning the Concord-based firm into a full-service Web design and development company that today has four full-time employees – her husband Michael DelloIacono is vice president — and whose clients include the Northern New England Real Estate Network, Ippolitos Furniture and the New Hampshire Highland Games.
---
NHBR: What inspired you to start a business?
JM: I've always felt as if I wanted to own my own company. I've always envisioned my life like that. As a kid, I didn't have dolls; I'd own a store and the kids would have to come and buy my toys. I've just always had a passion for it.
NHBR: What about this endeavor are you most proud of?
JM: We're really proud that we were able to do this business pretty much free of debt. We started with $800 on a credit card, and we've been able to grow it ourselves. Our growth has been incredible. We never could have imagined it would be this big. Once we got on a roll, it never stopped.
Our customers always come first and that's what has gotten us so far. We don't forget how important customer service is. We still have our very first customers. We began with 10 core customers, and those customers are still with us today.
NHBR: Where do you see your business 10 years from now?
JM: We're absolutely going to be in New Hampshire, though we'd eventually like to relocate our office. We'd certainly like to be a little bigger, but not so huge that we lose sight of what's important. Sometimes when you have a bigger company, you can't always do that.
NHBR: You've got a lot going, how do you kick back?
JM: Mainly the time spent not working is with Dillon, our 2-year-old son. Family time is important and he's a bunch of fun, but he certainly keeps us busy. Sometimes it's like you come home from work, do the family thing, and then it's back to work.
NHBR: Who are your role models or sources of inspiration?
JM: In general, I admire people that have a goal in mind and achieve it, but still understand that it's not always about business and money. There are so many other things that come into play.
I really admire when people can multi-task, for example — to have a family and do well in business and be able to balance the two is tough. I admire anyone who puts in that effort. Michael, my husband, inspires me every day. If it weren't for him I wouldn't have even graduated college. He has an amazing ability to be a businessman one minute and a loving dad the next. I look to him for guidance and advice almost on an hourly basis. He understands balance and I can't imagine there is anyone else that I could admire more.
NHBR: What is it about New Hampshire that's kept you here?
JM: I grew up here. I just really love New Hampshire. I also feel like there's a lot of opportunity here. People here are really great, too. It seems like no matter where you go in the state, people always seem to be friendly — even in the business world. New Hampshire is crazy like that- everyone is so welcoming.
NHBR: Do you have any advice for young entrepreneurs like yourself?
JM: If you have a good idea, I think you need to go with it. But you also have to know when to stop. You want to make sure what you're doing has relevance and don't let people tell you that you can't do something.
J Maze Design did start out of our house. In fact, for the first three years, this was a huge risk for us to take, but you've got to be willing to put yourself out there.
The Emerging Young Entrepreneur awards program is presented by New Hampshire Business Review in partnership with Centrix Bank. The monthly award honors New Hampshire's young business owners for their creativity, determination and business success. Visit Centrix Bank online at www.centrixbank.com.