Appropriation sought to boost workforce housing
Proposal would add $25m to decades-old loan fund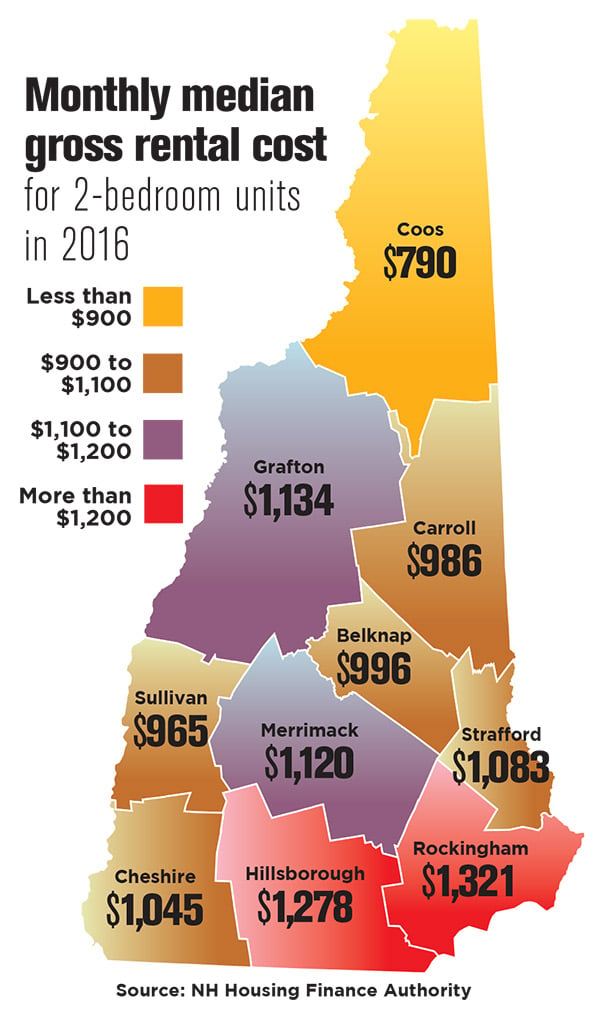 Over the years, there have been a lot of discussions about various ways to address New Hampshire's shortage of so-called workforce, or affordable, housing. But there has been nowhere near as much action.
One state senator and a housing advocacy organization think they have at least a partial answer, and it involves reinvigorating an affordable housing program that has been in existence for almost 30 years.
The hand-wringing over affordable housing in New Hampshire has been going on since the 1980s, during a previous real estate boom and a previous Sununu administration. At the time, lawmakers created the Affordable Housing Fund, a revolving loan fund that provides low-interest loans and grants to build, rehabilitate or acquire affordable housing. In 1988, when the fund was created, it was launched with a $4.5 million appropriation.
But in the 29 years since then, there have been only a handful of instances when additional cash infusions were put into the fund, despite its apparent success.
Creation of the Affordable Housing Fund came at a time when states around the country were grappling with the issue of affordability, said Elissa Margolin, director of Housing Action NH, a coalition of some 80 organizations and businesses that advocate for more workforce and affordable housing options.
Gov. John H. Sununu, father of the current governor, was behind the effort to create the fund in 1988, she said.
"When it was launched in 1988, the Legislature made a capital appropriation. Unfortunately, other states around the nation continued to fund their trust fund, but New Hampshire didn't see another appropriation into the trust fund until 2002, and that was for $5 million," said Margolin.
Since 2002, there have been three other times when money was put into the fund, said Dean Christon, executive director of NH Housing Finance Authority. In 2007, during the Lynch administration, some $750,000 was added. In 2015, $800,000 was added, and last year $2 million was appropriated, but that money is targeted specifically to fund housing for people with substance use disorders.
During that same period, other states around New England have gone in the opposite direction, said Margolin.
"We're the only New England state that doesn't regularly invest in our housing infrastructure," she said.
According to Margolin, Rhode Island voters recently approved a $50 million bond for that state's trust fund, on the heels of a $25 million bond in 2012 and a $50 million bond in 2006.
Maine, which has a similar population size to New Hampshire and similar workforce challenges, regularly funds its trust fund through their real estate transfer tax. The fund has been regularly raided and diverted, but about $6 million is still invested annually. In 2009, a $50 million bond was approved, followed by another $15 million bond in 2015.
And in Vermont, "a state less than half our size," said Margolin, a percentage of the real estate transfer tax is appropriated automatically for its housing trust fund — about $9 million a year, she said.
The larger states of Connecticut and Massachusetts have recently appropriated far more sizable dollar amounts totaling hundreds of millions of dollars a year, she said.
Wage pressure
Margolin said the cost of housing has had "an unbelievable crunch" on the state's workforce. "They're spending a very significant portion of their income on housing. When you get lower on the income scale, it means they can be spending somewhere between 60 and 75 percent on monthly housing costs, which obviously leaves little for anything else. And that has an impact on other parts of the economy."
Currently, the statewide median rent in New Hampshire is $1,206 a month, she said — a 15 percent increase from five years ago. The vacancy rate, which is driving the rising rents, now stands at 2 percent statewide and about 1 percent near the larger job centers.
"Rents have become so high that it's become a wage pressure for employers," said Margolin, who said that employees need to earn $46,440 a year to afford the average two-bedroom apartment in New Hampshire — and that's with 30 percent of income going to housing.
"What we're saying is that housing is where jobs go to sleep at night, and we're living in a time where we as a state and our political leadership are going out to recruit more industry. Many people are excited about a new, young workforce and new businesses coming into the Granite State, but we have to address the housing shortage because we can't attract employees if they have nowhere to live," said Margolin.
As developer Michael Kane of the Kane Company said at a meeting of the Portsmouth Housing Committee last September, while the Seacoast continues to attract large employers, "you're essentially telling them to have their people go live in Alton Bay or Farmington" because of Portsmouth's high housing costs.
"You're not going to continue to attract quality businesses if that's the deal," Kane added.
'Competitive disadvantage'
To address what he calls the "housing crisis" in New Hampshire — which "affects our jobs, our workforce and our economy" — Sen. Dan Feltes, D-Concord, is sponsoring a bill that appropriates $25 million to recapitalize the fund.
The appropriation would not be made through the state's biennial operating budget, but through the capital budget, which is where the 1988 funding came from.
"I know that housing has been an issue of concern for the governor, so I'm hopeful that this is something that folks can get behind," said Feltes.
Feltes said that, when it comes to addressing the need for affordable workforce housing, "we are at a distinct competitive disadvantage with neighboring states. New Hampshire should step up to the plate and step up now."
Christon of NH Housing said while the total investment in the fund has been about $13 million over the years, the state is getting a bang for its buck. In fact, the state has leveraged about $26 million in lending for projects.
"The Affordable Housing Fund is a very flexible fund. We can do almost any kind of housing with it as long as it has an affordable component. We've used it to do everything from shelter to special needs to senior housing to affordable rental housing," said Christon.
All told, the fund has backed the creation of about 2,000 affordable units around the state, he said.
"We've never had enough money to do big-scale projects with this fund. It's always been kind of used for gap financing. We are usually leveraging other resources by using this money in a strategic way," said Christon.
Right out of the box, a $25 million infusion could help fund the development of 1,500 more rental units, said Margolin.
Margolin also said that the failure to reinvigorate the fund means that New Hampshire "walks away from federal resources" through an allocated federal tax-exempt bond capacity that the state is unable to reach because "we don't have the leverage capacity — we're not tapping into it as much."
In the end, Margolin said appropriating more money for the Affordable Housing Fund "would be a wonderful part of the workforce package that our governor is putting together."
A sizable appropriation, she said, "gives our governor the chance to say to corporations and businesses that might be interested in moving to the Granite State that he made the biggest investment in affordable housing infrastructure in New Hampshire. He can say, 'We know we have workforce challenges. New Hampshire is a wonderful place to live, do business and raise a family, and we're going to do something about our housing challenge to attract new business."
But whether the governor supports any kind of appropriation is thus far unknown. By deadline, the governor's office did not respond to several NH Business Review requests to discuss the fund.
And it's not just the governor who has to be behind any appropriation.
"We've always said basically the same thing to the Legislature," said Christon. "Clearly there's a need for more affordable housing. More resources would help us do that, but in the end it's a policy call by the Legislature whether they want to invest state dollars. We're always prepared to try to use the money effectively."