Animetrics named among world's top facial recognition software providers
Conway-based firm sells largely to law enforcement agencies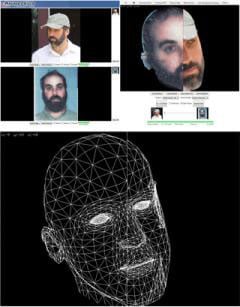 Animetrics, a Conway-based developer of facial recognition software and related tools, was recently listed by market insights firm Report Linker as among the top 10 vendors in the world in the facial recognition field.
That's largely because Animetrics sells its software to police departments within the U.S. and abroad. Some of its notable customers include New York City's and Seattle's police departments, which use the technology to identify criminals.
And while facial recognition has some limitations when it comes to lighting and the positioning of the face, if not straight on, Animetrics also sells police departments a tool that provides pre- and post-processing of incomplete images to build a complete representation of an individual's face from one or more photos.
The tool can also come in handy when a database search pulls up multiple matches, providing tools to compare the geometry of the eyebrows or nose, for instance, says Marc Vaillant, president and CTO of Animetrics.
But Animetrics – founded in 2004 – first started its business by working with the Department of Defense, developing tools to enhance facial recognition software used in Afghanistan to identify terrorists on the U.S. Army's watch list, even working with DOD to stream images from cameras on a soldiers' helmets back to run through a facial recognition database.
When sequestration occurred in 2013, Animetrics turned its focus to law enforcement.
"A lot of the technology we developed for the Department of Defense translates nicely to local law enforcement, opposed to specific commercial applications like access control for mobile devices or banking," said Vaillant.
But Animetrics does sell its facial recognition algorithm to companies interested in making their own application.
"We sell them essentially a little toolkit, and that comes in a couple different forms. They can have their own user interface," says Vaillant, for example for a mobile banking verification system.
According to Report Linker, the facial recognition market is estimated to grow from $3.35 billion in 2016 to $6.85 billion by 2021, an increase of 15.3 percent.
And Vaillant has seen the technology improve over the last five to ten years.
"There's been a breakthrough in general in machine learning. For example, Google's self-driving cars – that requires a computer to record imagery and identify objects with high accuracy," he says. "A lot of what's propelled biometric technology and machine learning in general [is] largely due in part to the amount of data we have now and the computing power and organizations like Facebook and Google who have the power to acquire large amounts of data in a huge fashion."
But Vaillant assures that companies like Facebook prevent companies from accessing its database of images or using an algorithm to collect public images.
"Only someone like Facebook would have access to that kind of data," he says. "I'm sure law enforcement pulls on social media and you can imagine Facebook and Google put in significant measures to prevent that from happening, and it's partially about privacy but also about value."
Among the Report Linkers list of facial recognition companies are large firms Valliant is aware of like NEC Corporation, based out of Tokyo, and Cognitec Systems in Germany. Vaillant thinks Animetrics has benefited from entering the space early on.
"Over the past 12 years, we've done probably $10 to $12 million of business. We got in early on. I think now, with all of these breakthroughs, one thing [that's difficult] is the actual facial recognition technology is becoming commoditized, so it's easier to acquire the core technology," says Vaillant. "I think the value comes from the application side."